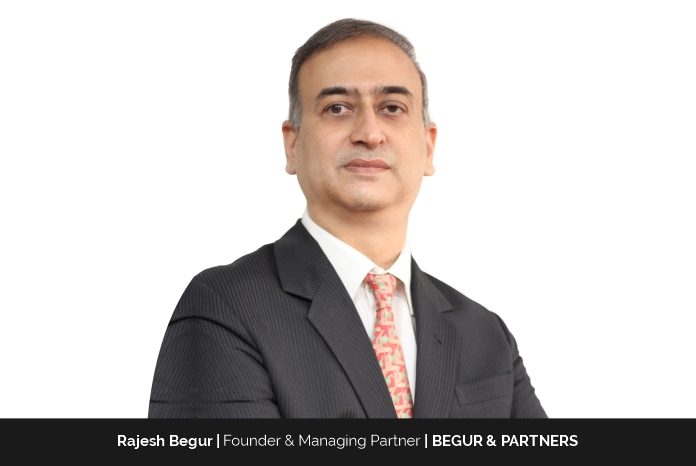 Rajesh Begur, the founder and managing partner of BEGUR & PARTNERS, is one of India's leading corporate lawyers whose career spans over three decades of practice experience. Rajesh provides counsel and representation to a broad base of domestic and international clients on a range of corporate areas encompassing Mergers & Acquisitions, Private Equity, Infrastructure, Real Estate, Capital Markets, Banking and Finance and Telecom Media and Technology.
Known for his breadth of experience, Rajesh has the insight and perseverance required to handle complex and challenging legal, regulatory and business transactions. He is recognized as one of the prominent lawyers in the legal arena for his Mergers & Acquisitions and Private Equity practice. He has been acclaimed and is well known for his acumen, knowledge and experience on mutual fund regulations.
BEGUR & PARTNERS – Its services and growth under Rajesh's distinguished leadership
BEGUR & PARTNERS, formerly known as ARA LAW, has grown exponentially over the last two and half decades since 1996! "The privilege of serving marquee clients, be it Fortune 500 companies or transnational companies. Our reputation for quality work and negotiation skills has given us repeat clients," says Rajesh.
BEGUR & PARTNERS have offices in Bengaluru, which caters to southern India. They have moved to a new office in Mumbai and Rajesh states they are looking forward to open more international offices. The quality of training, mentoring, and exposure their lawyers have gained with the firm is unimaginable. Today, many of their former colleagues are successful entrepreneurs themselves.
Success can be categorized monetarily and by work satisfaction
Rajesh's career started as an article clerk with Rs. 300 with MKA and Rs. 1600 with Amarchand Mangaldas. "Today when I look back, I can only say that other than hard work, there is deep gratitude to my god to whom I owe my success! Solving my client's problems over the last three decades is the absolute satisfaction and reason for success," he says.
Every challenge is a chance to grow
Like anybody else, Rajesh too has encountered and dealt with multiple challenges in his journey. For example, when he started in 1996, he was too young compared to the senior professionals and brands. Convincing foreign clients and demonstrating their legal skills and acumen was more straightforward compared to Indian clients.
Today, challenges are different and competition can vary from set off consultancies and advisories to big law firms who compete with you on all types of transactions. On the other hand, there are the big six accounting firms, that do almost all legal work. Likewise, many Chartered Accountants and Company Secretaries do legal work, not to mention the legal tech. In this circus, the constant challenge is to differentiate from the crowd and add value to the client who continues to be demanding, and rightfully so! "The availability of skilled talent and retention of skills you have nurtured over time remains a crucial challenge," states Rajesh.
Rajesh's professional life before and after BEGUR & PARTNERS
Rajesh's career began in 1988 when he commenced his articles with a law firm, Manilal Kher Ambalal & Co. The litigation exposure he got there was humongous, and his exposure to diverse matters was invaluable.
"The best recognition as a leader was when time and again, marquee clients reposed their faith and entrusted high-value and complex transactions to me instead of a large law firm. That, to me, was a huge statement," he exclaims.
Rajesh claims that his primary responsibility for BEGUR & PARTNERS is ensuring they live up to their values. Mentoring young lawyers and other than that, client generation are his passion. Before entering the legal profession, he was in the family business. "Typical family business with my father and others from a young age, so responsibilities have been part of my growing up," he explains.
Maintaining a healthy work-life balance
"While work-life imbalance was not that much of an issue during our days today, it is," states Rajesh.
He further notes that at BEGUR & PARTNERS they have maintained a healthy schedule and a 5-day week for ages. Unless something urgent or an essential assignment needs to be achieved, they do not bother their colleagues on weekends. They have consciously built a fair amount of fun activities over the years, including off-site, etc.
Plans for the future of BEGUR & PARTNERS
"Frankly, in retrospect, god has been kind and achieved much more than I even thought of, leave alone dreaming about it," Rajesh proudly states.
BEGUR & PARTNERS plans an international foray soon. They want to be a top-tier go-to firm in their core practice areas of M&A, PE&VC, B&F, IF, and Real Estate. There is no substitute for hard work and knowledge management has always been their key to success.
It is true that large firms can never replicate the experience and exposure one gets in boutique firms like BEGUR & PARTNERS. Rajesh believes that during a fresher's formative years, a general view of a range of practice areas is good but focused, and a specialist approach is a must gains more experience.