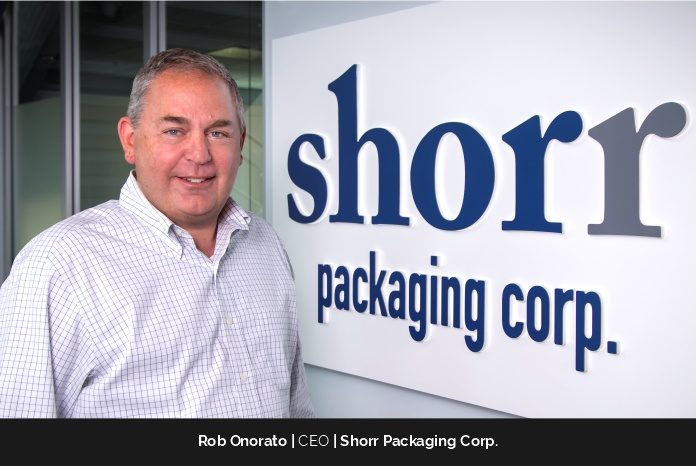 With a proven track record of managed expansion and innovation, Rob Onorato, Chief Executive Officer at Shorr Packaging Corp., is a seasoned distribution and logistics leader who understands the sector well. Through his extensive experience, Rob provides an industry-unrivaled dedication to customers and internal talent development.
Shorr Packaging, an employee-owned national packaging distributor, offers everything from automated packaging equipment to primary and secondary packaging consumables, and strategic packaging solutions. Their services include packaging design, technical services, contract packaging, and even logistics. Rob explained, "Everything we do revolves around helping customers improve their packaging situation. In fact, our most satisfied customers leverage our full range of resources resulting in increased productivity and streamlined packaging processes." Their recipe is straightforward, collaborating closely and listening carefully to the customer, then assembling the best resources to design innovative efficient solutions. This approach positions them to successfully deliver highly impactful projects.
A Look at Rob's Journey
Rob spent the first part of his early career executing strategies that were developed by senior leadership in his respective companies. His early belief was, "Success was defined only by achieving the financial targets." As he progressed through into management positions, process training became increasingly important to help expand the corporation.
Rob considers himself fortunate to have worked at Xerox, which at the time devoted a great deal of effort into developing world-class sales training. After ten years at Xerox, Rob pursued his MBA from Case Western Reserve University and learned how to establish organizational strategies while helping organizations execute their plans to achieve desired results.
Over the years Rob went on to assume senior-level roles in other companies ranging from Vice President of Sales to Senior VP Sales and Marketing, and most recently before joining Shorr, Chief Operating Officer of Crescent Electric Supply Company. Throughout these roles, Rob dedicated time to better understand the true needs of the customers, then matched people and technology to bring forward innovative ways to solve customers' problems, while growing his respective businesses.
When Rob accepted the President position at Shorr Packaging, he knew he'd found the perfect job. He recalls, "I came in as President knowing that I had a 14-month transition to become the CEO upon the current CEO's pending retirement." He further adds, "I had the great fortune of working alongside that successful CEO while developing my thoughts about the next stages of growth for the company upon my taking the reins."
Multiple Views on Success
One view of success might be characterized as meeting the financial goals established by the board of directors, employee-owners, and senior management. Because the definitions are black and white, it is simple to assess; however, an additional component of success is building a culture where all employees are invested in the company's ultimate goals. It incorporates their inclusion in understanding the markets we want to compete in, knowing how to expand our value to our customers, and becoming a customer-centric company that leverages technology to make us more accessible.
Rob shares that in his experience, achieving success includes: "Making sure we are putting the best interests of our customers first and using technology to enhance the customer experience while making the organization more productive". He has been with other companies where technology investments were internally focused and didn't get input of what the customer felt from the investment. He thinks those initiatives were typically over budget and not completed on time. He says, "Without a talented leadership team who creates followership in the organization, the road will always be uphill."
Contributing to Redefining the Industry
Shorr's customers frequently benefit from their comprehensive packaging solutions by utilizing their group of packaging engineers to assess their packaging workflow and continuous improvement projects. As part of this, the team identifies methods to boost productivity and cut costs through equipment and automation.
Following the development of an equipment suggestion, the team packages it with the entire range of packaging consumables, including corrugated boxes, tapes, protective packaging, flexible packaging, and any other goods needed to complete the task.
When it comes to figuring out what a customer needs, the Shorr team goes straight to them and asks. They listen, explore, suggest, test, and keep in continual contact with their customers to determine the best way to innovate their packaging, boost their productivity, lower the overall cost, and meet their packaging goals.
This is enhanced and measured through Voice of Customer Surveys, Quarterly Business Reviews, and leadership engagement. Rob says, "Our very best offerings and refinements to our business model come from these interactions. They are priceless."
Building an Outstanding Team
Rob believes the best way to take a company to the next level is to establish an amazing team. Shorr's management has elevated employees into leadership positions inside the company and gone outside to recruit new positions to expedite expansion. We have also developed new vertical market strategies as well as horizontal and unique services.
Rob asserts, "Our business has grown by over 40% in the last 2 years, but more importantly, the future is set up to be extremely bright for the organization."
Enjoying Every Moment
"The balance between personal life and professional life has been easy," says Rob. In his earlier years, Rob spent free time with his family: his wife of 35 years and their four children. He recalls, "My children were very active in school sports and activities, and it was always a wonderful way to disconnect from work." Today, Rob's children have all graduated from college and are gainfully employed. They are scattered throughout the country, so he and his wife love to travel and visit them.
In terms of motivation, Rob feels that acknowledging someone doing something great, whether through a simple letter or a phone call, is the best way to motivate them. He believes that recognizing all activities and behaviors on the route to properly implementing the go-to-market strategy plan is critical. He mentions, "My executive leadership team believes in the same philosophy, and it works very well."
The management team regularly shares the company's financial information with all employees because Rob believes it is critical for everyone to experience and appreciate their contributions to the company's overall success.
A Promise to Be Excellent
Shorr was founded a century ago in northern Illinois. Exceptional people have helped develop into the nationally known, award-winning company it is today. In fact, Shorr's passionate and motivated employees are owners of the company. For over 40 years, the corporation has operated as an ESOP, Employee Stock Ownership Plan.
The employee-owners are personally invested in satisfying the needs of their customers because they own a portion of the business. "We love what we do, and we have a deep stake in our company's future." Rob asserts, "Our financial results have been outstanding over the past 10 years, and we all look forward to accelerating them even more."