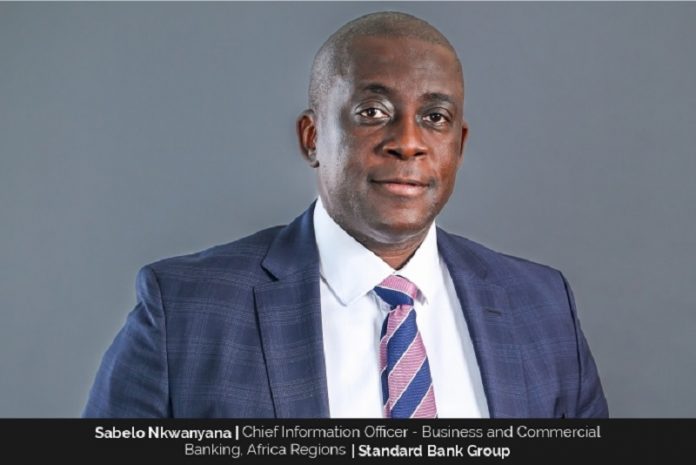 Sabelo Nkwanyana is the Head of Technology for Africa Regions at Standard Bank's Business and Commercial Banking division, which is responsible for growing the bank's market share in Africa and increasing its revenue by enabling the growth of clients' businesses.
He joined Standard Bank more than two decades ago, and over the years has cemented his place in the financial services sector as a visionary IT leader. He recently received the CIO of the Year award for 2023 at the Connected Banking Summit Innovation and Excellence Awards, which are a benchmark for excellence in the banking, financial services, and insurance (BFSI) sector.
The CIO of the Year award acknowledges Sabelo's exceptional leadership and vision in driving technological advancements within the banking sector. It also recognises his innovative strategies and remarkable contributions, which has positioned him as a trailblazer who inspires leadership. This respected accolade, he says, is the best recognition he has received to date.
Sabelo is passionate about the work he does. For him, the most important thing is to do a job that is meaningful, makes him happy, and keeps him excited to wake up every morning for work. He also aspires to be the chief information officer for a Group business unit or even the whole Group.
An Architect Turned Visionary IT Leader
Sabelo is a name to reckon with in Africa's banking space and is especially known for its innovative IT ideas and solutions. So, it surprises many when they learn that he studied architecture at Wits University in Johannesburg, South Africa, and that he had worked with two architectural companies before taking a plunge into the banking sector. His first job was for a company that renovated Park Station, and then he worked for Balwin Properties, a developer of townhouse complexes. At Balwin, he worked onsite as a building foreman. "It is only later on that I decided to change careers and focus on IT," he says.
When he was studying, Sabelo worked as a part-time teller at Standard Bank on Saturdays, during school holidays, and on those days when he did not have lectures. He is not the first in his family to work for the bank. His father did too, and a young Sabelo saw his father's passion for banking. "In our family, we had Standard Bank accounts, which introduced us to the bank as clients while we were still relatively young," he says.
"Standard Bank was a well-liked and respected brand at home," he adds. "I knew early in my career that I would like to join the organisation." For Sabelo, joining the bank was more of an active ambition and less of a leap of faith. It is because he had seen what the bank did for his family and others, and he wanted to be a part of what he saw as "an amazing organisation that makes a real impact on Africa."
Sabelo describes himself as an "integrator" who believes in dreams. For him, success is about happiness, measured by dreams achieved over time. "I believe in dreams, not just goals, as success is long-term, encompassing everything in life and not just a career," he says. "When you look at it this way, success becomes about achieving happiness across a range of ambitions – encompassing family, health, spirituality, career and wealth – within set timeframes." Once he is happy that he is making progress towards achieving these dreams, he knows that he is achieving success.
Learning from Challenges
Sabelo believes that challenges make you stronger and alter your thinking by taking you out of your comfort zone. One of the challenges that he recalls is of a time when his boss resigned, and he took over as acting manager. It was a big stretch for him, and he still remembers that he worked like he had never worked before. Despite performing successfully for more than a year. Sabelo was told that he was too young to be given such a senior position permanently. He really loved the role and had built up a great team.
Obviously, Sabelo was disappointed, but he did not allow that to dispirit him. He chose to prove himself elsewhere by taking on another role. His work and abilities were soon rewarded with a promotion. Despite the setback of not being recognised for the work he had done as acting manager, things eventually turned out even better for him. Sabelo says that it happened because he never gave up, persevered, and was flexible enough to choose another path and start again. He was able to learn even more because of this experience.
In the early 1990s, when Sabelo was in high school, he faced discrimination because he was black – one of only 16 people of colour in a school of over 1 000 learners. He also experienced racism later, while working onsite in the building and construction industry.
"These experiences helped me not only to build resilience but also to navigate these types of situations without losing my focus on the bigger delivery picture," says Sabelo.
He found the corporate world to be a better place to work. In the early phase of his career, he was often the only person of colour in leadership positions, and he does not recall facing discrimination based on the colour of his skin. Sabelo felt his voice was heard most of the time.
About Standard Bank Group and its Services
Standard Bank is the largest financial services organisation in Africa by assets, with reported total assets of R2.9 trillion (about USD170 billion) and a 161-year history. Its market capitalization is R284 billion (USD17 billion). The bank, says Sabelo, is committed to providing banking and financial services to meet the needs of individuals, businesses, institutions, and corporations in Africa and abroad. Standard Bank's Business and Commercial Banking division is dedicated to leveraging the power of small, medium, and larger to sustain and expand inclusive domestic business growth across Africa.
Sabelo points out that emerging-market growth stories are generally characterized by the proliferation and expansion of small and medium businesses. Even in developed economies, the SMME sector defines and sustains the kind of economic expansion and broad-based employment on which long-term prosperity and stability are built.
"Standard Bank's commitment to driving Africa's growth has contributed to the evolution of a highly developed African business support capability," Sabelo says.
Standard Bank's Business and Commercial Banking division has experienced and capable workforces, recruited from within the country and working on the ground. The division supports full-service business banking operations in 15 African economies. In addition, a banking platform managed by Sabelo, and his team are directly supporting the emergence of domestic and regional businesses across the continent.
For a long time, Standard Bank has made significant input into the development of broader policy, legislative, and infrastructure environments that are conducive to independent business formation in Africa's emerging and frontier economies. Sabelo explains that this means that the bank's Business and Commercial Banking division is "ideally placed" to lead the next wave of business growth formation on the continent.
Previous Roles and Current Responsibilities
Over the past 13 years, Sabelo has been the CIO of six different business units at Standard Bank. In these roles, he implemented new IT strategies and rationalisations as well as digitisation programmes within the personal and business banking environments. Sabelo says that his role as CIO involved leading and coordinating teams of IT executives, other CIOs, and IT engineers, in addition to managing operational teams focused on building and embedding new technologies and systems in support of Standard Bank's transformation into a platform business.
Sabelo notes that one of his key strategies was to partner with a line of business CEOs to provide the strategic vision and operational IT leadership for the transformation of business IT functions. By directing, planning, organizing, and controlling the delivery of business features, he became accountable for overall digital service delivery at Standard Bank Business and Commercial Banking in Africa Regions.
Today, as Sabelo points out, technology has become a critical enabler within the banking sector. Consequently, his focus is on building solutions that differentiate the bank from its competitors. Sabelo also provides thought leadership where Business and Commercial Banking has a presence.
Johannesburg and in 15 other African countries where Business and Commercial Banking have a presence.
Sabelo partners with in-country CIOs to deliver effective systems which enable clients to grow across the continent.
Although his job requires a lot of travel, Sabelo and his family have found a work-life rhythm that works for them. And, because of the hybrid way of working, he is not required to go to the office every day.
On days when he works from home, he makes the most of time spent with his family. He does that by taking and fetching kids from school. Sabelo's wife is also in the IT field and works from home, which allows them to connect on the days when both of them are at home.
As a leader, Sabelo strives to create a work environment where people can be themselves which allows them to perform at their best. He also encourages an open and honest culture that views failure as a part of learning. "This makes failure visible quickly, speeds up learning, and delivers workable solutions early while sustaining ongoing innovation," Sabelo says.
Vision and Plan for the Future
Sabelo sees great growth opportunities for Standard Bank in Africa outside of South Africa. He also believes that the bank has the opportunity to change people's lives, change the continent, and change the view that outsiders – and investors – have of Africa.
"Growing small businesses into family enterprises or larger importer/exporter or wholesale distributor propositions, or eventually even into regional private and listed corporates, will sustain inclusive, privately owned economic growth in Africa for generations to come," Sabelo says. "This will increase employment and broaden economic inclusion, creating the conditions for general prosperity and long-term social and political stability."
Sabelo and others in Standard Bank's leadership team also expect to grow the bank's market share across African economies and, of course, generate more revenue.
"As a truly African bank, we will continue to drive and expand client growth while growing our own revenue and balance sheets across the continent, deepening domestic capital markets while identifying and leveraging African opportunity for domestic, cross-border, and global growth," Sabelo says.
Adapt to Change and Go for What You Believe In
In the new economy, the ability to navigate and thrive through change is increasingly becoming a key determinant of success. As a role model for many in the IT field, Sabelo wants to influence the next generation of leaders to equip themselves with the ability to adapt to change.
Sabelo hopes to coach and mentor future leaders, helping them understand the huge responsibility that comes with leadership. "Beyond title and influence, true and effective leadership involves a critical ethical component that is key to solving for the many challenges in our economy, society, and country," he says. "Central to ethical leadership is a genuine selflessness, providing the vision to lead for the benefit of others for the greater good."
Sabelo encourages aspiring business leaders to be proud of who they are and what they stand for, even if it is not popular. "Go for what you believe in and live your life the way you want to live it as long as it makes you happy," he says. "Work hard and play hard!"