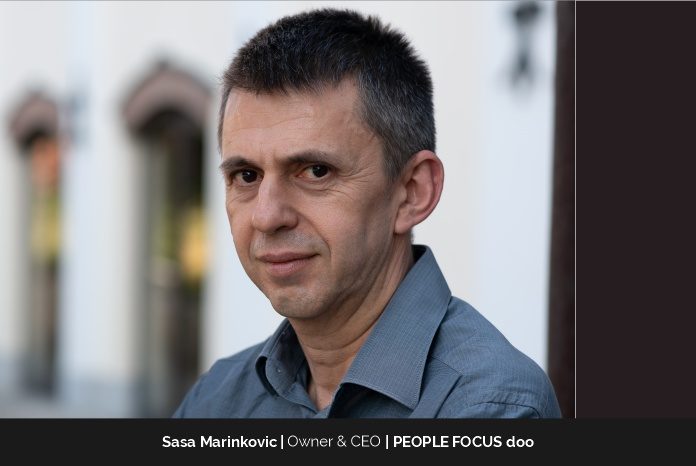 Business Development Specialist, Saša Marinković has more than 20 years of experience as Managing Director in five-plus companies in Serbia and Romania. Saša is an expert in establishing foreign companies in the fields such as IT, Real Estate, Agriculture, Sports, and leading the sectors of HR, administration, and finance. He is the Owner & CEO of PEOPLE FOCUS doo; a company that mostly focuses on the IT and software industries, but their work reaches beyond just that, enabling them to help clients make a mark in whatever industry they might be in.
PEOPLE FOCUS and its growth under Saša's exclusive leadership
PEOPLE FOCUS is still a young start-up company, founded in August of 2021. Even though they are such a young company, they managed to be recognized as a good IT recruitment company in a short time, with additional support that can be a very good business development partner for any company combined with big experience and young professionals from different educational backgrounds.
As a recruiting company, PEOPLE FOCUS is more focused on clients from the DACH region, because of Saša's Austrian background and as a German native speaker, but they are also dealing with clients from other countries like France and Britain.
Their main focus is to work with clients with whom they have a good mutual understanding and good communication. "This makes our life easier and all sides are more satisfied. Connecting good and right people with good companies is our passion," states Saša.
Success is the ability to do what you love and while maintaining balance in life
If you are in a position of choosing the clients you want to work with, your team, the partners, all the people you cooperate with and also have your time under control to do most of the things you like without having the feeling that you are working at all, then you may say you have become a successful leader in your area of expertise, and Saša proudly says, "I am lucky I am almost at this point in my career."
In this situation, you will also have a good work-life balance. Therefore, everyone should focus more on people and choose the right people to work with. In order for Saša to select a person he looks for 3 traits:
to have great energy and passion for what they do and to be a trustworthy person.
to be a proven professional in the area she/he is involved in or that she/he has the potential to be one of the best in their area of expertise and to be interested in expanding their knowledge when needed.
to be capable to teach others and also be taught, for sharing knowledge is the highest form of creative connection on the road to sustainable mutual success.
Challenges make you wiser and help you grow
Saša claims that his whole life has been accompanied by great challenges, starting from his birth. He believes that challenges, even if they make our work more difficult, are necessary elements of individual growth and bring out our true potential. In today's environment the earlier you start to cope with challenges the better you are capable to deal with new challenges.
"I would like to point out a major challenge I faced when I was 27 years old. It was the end of 1999 and I had just moved from Vienna to Serbia. I started almost from scratch (with no contacts in Serbia) to deal with big challenges and to do business development for different businesses in parallel," says Saša.
One of the specific challenges he focused particularly on was solving a lack of talent in the IT industry.  To expand the IT talent pool, he supported innovative solutions created by startups. The three most successful ones specialized in conducting IT specialization and requalification training and developing an online tool for testing job candidates. This has become one of the best apps in the world in this category where People Focus is also a Sales representative.
Achievements and recognition received as a talent acquisition leader
Saša has a great passion in playing key roles in assembling winning teams for various projects where he connects and brings together people from different fields. He had that chance in his previous work experience where he developed and led multiple successful projects from different fields in parallel at the same time, but most of all he had a passion in somehow bringing people together from Serbia and the region and connecting them to Austria, where the end result was successful and everyone was satisfied, which was not an easy task but he states it was so fulfilling for he finds inspiration in creating a win-win situation.
The importance of a team is best described by Steve Jobs who used to say – Great things in business are never done by one person. They're done by a team of people. And that is something I always have in my mind.
Personally, Saša finds gratitude and satisfaction in occasions when the employees or people that he worked with on a project told him that they liked to come to work because of the people in the team, that this was the key factor that motivates them to work where they have found a mutual purpose a friendly environment to grow that moves them way beyond the monthly paycheck.
"As a leader there is a need to create a good team which is capable of organizing and reorganizing themselves for different things that pop up in a working day in order to achieve success in any field, and when that is achieved, then there is no better recognition for me than knowing I have assembled a functioning "self-sustaining" team that didn't fail," states Saša. It is like in sports teams. As a leader you have to select the right people and put them together but you have to do this often smoothly, and sometimes you will choose the wrong people, it happens and it is normal, but you have to react very fast and choose the right ones for every position you need in your team, then you need to also give your team time to adapt and to learn to work together. "As a leader your main task and goal is to be the team support in reaching the defined goals," he says.
Life before and after becoming CEO of PEOPLE FOCUS
Born in Vienna, Saša lived and worked in Vienna until the end of 1999, when he moved to Serbia. He started his career in Vienna in 1994 with part-time jobs, for instance, Hewlett Packard in the credit & finance department for Eastern Europe. Also, for over three years, he worked as a technical support team lead at Netway, one of the first Internet Providers in Austria (founded by Raiffeisen Group).
In 2000 Saša accepted a job offer to move to Serbia to re-establish an Austrian company, Teletrader Beograd, in which he remained a managing director for the next 21 years. Teletrader was one of the first IT companies in Serbia that he developed from its inception to a business that now employs over 150 employees. He also managed another smaller IT company, a subsidiary of SUPERFUND for over 15 years. He was also the representative for Sports Sponsoring of the Austrian investment fund SUPERFUND in Serbia.
Another domain of Saša's expertise was agriculture business development. Two companies he established and managed for more than ten years in this domain were Bio Farma d.o.o. in Serbia (Organic Production) and Agrimir în Timișoara, Romania.
Another complex challenge was from 2017 to 2021 where he ran a complete engineering reconstruction project of an 800m2 office space (two floors), the undertaking of Teletrader Real Estate.
Saša, who defines himself as a 'people-oriented' person states that his passion is playing a key role in selecting the right people for every project, connecting people and therefore supporting businesses to reach their goals. To create a win-win-win situation.
Saša's motto is a saying that you don't build a business – you build people. And then people build the business.
As owner and CEO of PEOPLE FOCUS Saša's responsibilities include a wide range of tasks focused on managing the company's overall operations and resources. Starting with finances, administration and legal work and ending with sales or finding good clients. He is consistent with what he does and the way he does it. Focused on building teams and making people he works with feel valued, included, and motivated in their work.
Plans for the future of PEOPLE FOCUS
The future plan for PEOPLE FOCUS is to become the No. 1 company in Serbia and the surrounding region in the IT recruitment area and in becoming a long-term partner for companies from German speaking countries like Austria, Germany and Switzerland.
Saša states that he has achieved most of the dreams he put on paper when he was 23, but not all of them. "There are a few more I would like to fulfill, hopefully, by this time next year to accompany my 50th birthday celebration," he exclaims.
Staying motivated to maintain a balance in life
"Focus on working with the right people (in a company that has an understanding for work-life balance) gives you a chance to be successful in this mission to maintain balance in your personal and professional life," says Saša.
If you treat every employee as a human being with the respect and acknowledgment they deserve while also apologizing for any mistakes made and allowing your employees to be open with you and express their opinions freely on a regular basis, then you will have your employees motivated.
Also, to offer customized benefits for your team, the company needs to focus on what is important for the employee and not be only focused on what other companies are doing, i.e. to customize benefits with the personal needs of employees. Each and every company needs a different approach with their employees depending on both the company and the employee needs and capacities. "I can personally say I am mostly motivated when my clients and employees are equally satisfied in reaching the mutual goals," Saša states.
Saša's message to aspiring entrepreneurs is you should always be fully focused on your goals and should always find the time to find the right people that you can count on. A good team and partners you can trust give you peace and mind space to concentrate fully on business and private matters. If you make a mistake in choosing the wrong people you can still do the right things eventually, but you will lose a lot of energy, opportunities and more. So be wise in your choices.