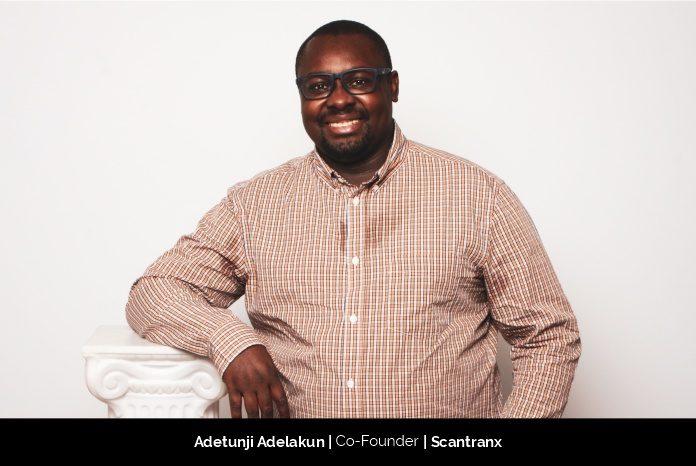 Having solid problem-solving skills and a strong passion for entrepreneurship, Adetunji Adelakun, CEO of Scantranx Technologies, brew the concept of the company into reality to help retailers manage their online business operations and customer experience. He always wanted to help people with his vast experience in the retail and financial domains. He believes entrepreneurship is about creativity, perseverance, and innovation, so he structured a solid foundation of Scantranx Technologies on these core values.
Scantranx Technologies: Creating cost-effective and flexible solutions for retail businesses
Scantranx Technologies Inc. is an IT company that focuses on mobile innovations and customized software applications for the retail sector.
Their flagship product is Scantranx Omni-channel Solution, a cloud-based omni-channel retail solution that helps businesses to increase sales and productivity, reduce operational costs and improve their customer experience by seamlessly integrating offline & online sales channels in real-time.
Scantranx's unique platform provides retailers with unique integrated components such as a powerful Smart Inventory management system, Point of Sales (POS), eCommerce, Customer Loyalty, built-in API for third party integration, and powerful analytics dashboard for retailers to make informed business decisions in real-time.
Deploying smart strategies to grow
They have implemented different growth strategies for the expansion of the company. One of their strategies is partnerships with big players in the payment industry such as Elavon, Moneris, Stripe etc. These partnerships have helped them to expand to other markets easily. Adetunji states, "For example, our partnership with Elavon payments would help to make our services available in the USA and Europe. These partnerships are critical to the growth of our company."
Additionally, they have completed integrations with major Accounting Platforms in the market such as QuickBooks and Xero to complement and enhance their products. Other strategies that they have implemented include partnerships with retail businesses and value-added resellers in different continents. Their corporate head office is based in Canada, but they plan to open a US office in the coming years for full business expansion in the US market.
Cornerstones of Scantranx's Success
Scantranx stands on four pillars namely, Integrity, Innovation, Fun, and Teamwork. Carrying innovation at the heart of Scantranx, Adetunji and his teams are always engaged in numerous R&D projects that have proved to be groundbreaking in the retail and payment industry.
To stay ahead of the growing competition in the retail technology and FinTech industry, he states, "We differentiate ourselves with our innovative and technological capacity and leverage modern technologies such as Artificial Intelligence (AI) and unique technologies to support our clients and provide valuable offerings at an affordable price."
As the retail industry is witnessing a huge metamorphosis with a shift in consumer purchasing habits and the emergence of e-commerce and mobile technology, there are new doors opened for omni-channel retail operations. Explaining this further, Adetunji shared, "Omni-channel basically means seamless integration of online and in-store sales channels. As an award-winning retail technology company, we have worked extensively in this area with different retailers and brands. One of the major advantages of the omni-channel solution is that it helps retailers to increase sales and improve customers' experience. With a modern retail solution like Scantranx, retailers can remove barriers and create a consistent experience for consumers."
Ever since the global pandemic hit, retailers have started switching towards different online mediums. With the seamless integration services across all the sales channels be it, brick & mortar, e-commerce, m-commerce, and social media, customer experience has magnified. Thus, their high expertise and experience are helping retailers with a robust retail management solution that doesn't even cost them a fortune.
Further, their single and robust platform helped retailers to opt for omni-channel retail and even allowed them to access a unique suite of applications such as inventory management, point-of-sale (POS) applications, CRM, e-commerce, Loyalty Programs, and analytics all under one roof that is quite budget-friendly for retailers.
Leading Scantranx forward
Being the CEO of Scantranx Technologies, Inc., Adetunji has to work in multi-faceted roles. From implementing and suggesting business strategies, supporting the development & improvements of the products, to coordinating the team and working on strategic partnerships for the company's growth, he manages everything with finesse. Keeping a flat company structure, he has framed an incentivizing culture to keep the employees pumped to work hard.
Owing to their hard work, Scantranx products have gained international recognition. He adds, "We were recently awarded the "Best cloud-based & e-commerce solution provider by Corporate Vision – a United Kingdom-based organization. However, our best recognition was being awarded the best Software idea by Intel."
Further, during the COVID-19 pandemic situation, a Big Canadian Retailer for whom they streamlined the entire manual to digitization process gave him the best feedback and even recommended their services to other retailers.
A unique approach to success
In Adetunji's opinion, success is having a sense of fulfillment in whatever one does. As humans, people feel successful mostly when they are happy with whatever they are doing. Their passion plays a major role in how they perceive success as an individual. If they are passionate about what they do, they feel successful irrespective of the challenges or obstacles they encounter.
He states, "Success does not happen overnight. Success is working from failure to failure with no loss of Enthusiasm."
Crossing the obstacles on the way
Adetunji believes that it is impossible to build a company without facing any challenge. As an entrepreneur, one must be ready to face the challenges along the way and should possess the passion, determination, and skills to overcome them without losing any hope.
He stresses the point by adding, "Believe in yourself, take on your challenges, dig deep within yourself to conquer fears."
On his journey to success, the major challenge that honed his skills and groomed his personality was understanding and managing clients from different backgrounds and cultures. He mentions, "It does seem easy at the beginning with small numbers of customers until when the company started growing and expanding across the globe. While some features of the product are of high priority to some of our clients in North America, other customers in Europe or Africa do not feel the same. Therefore, there was a need to understand and improve on our product/solutions to what will work perfectly for businesses across the globe. This is one of the challenges that has helped shape and enhance the growth of the company significantly."
Growing with Innovative benchmark
Adetunji has always visioned to ensure that Scantranx keeps imparting all the right tools needed for the further growth and improvement of retail business through innovation, research, development, and implementation. In the future, he desires to spread the wings of his company's services globally via different strategic partnerships so that they can open at least one office in every continent.