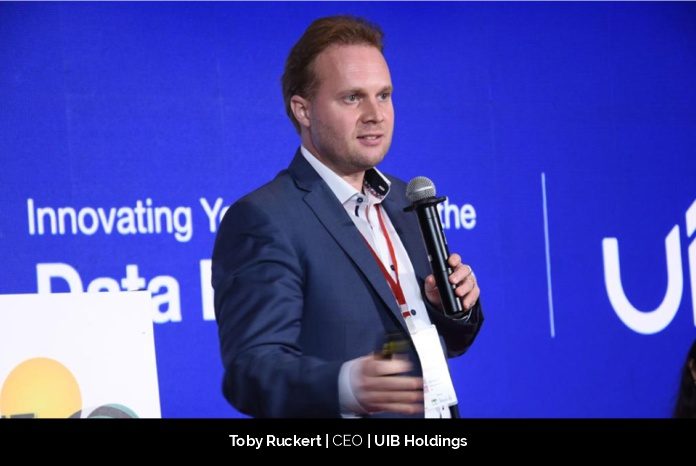 Being a passionate leader, Toby Ruckert, Founder and CEO of UIB, is transforming human-to-machine (H2M) communication and increasing IoT's usability. He states, "I realized that if I could create solutions to solve my business' problems, those solutions would naturally attract other business owners who lacked either the ideas, the time, or simply the resources to develop a suitable solution."
Building his own ladder of success
Toby was born and raised near Stuttgart, which is in the heart of Germany's automotive invention and innovation hub of Baden-Württemberg. He was surrounded by engineers and the design talents of Mercedes Benz, Porsche, and hundreds of "hidden global champions."  The Swabian culture saying, "if you understand a problem well enough, you can invent a solution to fix it," planted the seed that grew into Toby following a career in the technology domain.
The seed was further nourished while still in school when he bought his first modem in the early nineties, did software testing for IBM, and tried out speech to text (early voice recognition).
He further adds, "Given my background as a classically-trained pianist, where the ability to build bridges between time, space, and culture is of the essence to become a successful interpreter of major works across the centuries, I was intrigued about the possibility of inventing cutting-edge, AI-powered solutions to bridge the human-machine communication divide."
He was fascinated with the voice and mobile communication technologies that led him to venture into the H2M communication industry, and he founded UIB in Singapore in 2014.
Learning the importance of your network
From starting his first company in 1999 to the advent of UIB, Toby realized the importance of building a personal network that can be leveraged professionally and of having a professional network that he could identify with his personal network to accomplish both his goals and the increasingly complex projects that came his way.
He states, "I learned that you need to get out there and build your personal and professional network — be authentic, pay it forward every day without expecting anything in return, and say 'yes' to the opportunities that present themselves."
He came to know about the importance of the right timing to hit the market with his ideas. He stresses the point by commenting, "If you're either too early or too late to a market's zeitgeist, the efforts and resources required to make it with an idea and be tremendously successful are quite often not worth the risk."
Transforming the industry with UIB
Described as a "Unified Intelligent Brain," UIB's technology platform works across all communication channels, translating back and forth between human and machine languages. UIB's platform creates the future IP of any organization, where conversational data, knowledge, processes, and ownership responsibilities can be safely and securely stored in a private cloud or on-premise.
Toby explained, "We invented UIB's technology to simplify human-to-machine communications. But we also offer unique solutions such as omnichannel messaging APIs for developers who use them to create AI-powered chatbots and virtual assistants. With our certified partners, we provide unified chat solutions (including conversational interfaces) for customer service, e-commerce, facilities management, smart home device manufacturers, and many more."
He believes that the desire to invent unique ideas and the ability to tap human ingenuity to satisfy human curiosity are two crucial areas in which UIB excels.
He adds, "We are continually reinvesting in R&D to advance how we think about human-to-machine communications. As for the IoT industry itself, there was a lot of focus on industrial IoT, but we now see a huge opportunity in the consumer IoT space as well as with smart cities. In 2020 a lot of people thought about how to make their home smarter now that they have spent more time working from home during the global lockdowns and many cities used the opportunity to strategically think about resource allocations and the sharing economy and how a more connected mobility infrastructure will impact the future livability in city centers."
Staying ahead of the curve and tackling the COVID pandemic
The COVID pandemic has made all leaders realize that the must-have skill for us today is mental health and resiliency combined with the ability to collaborate remotely.
Toby says the team's vital traits are humility, self-awareness, and authenticity. Staying close to the customers, even remotely, and helping others has allowed them to make it through the challenges of the pandemic.
Beyond the Coronavirus, today the world is confronting more systemic problems than ever, but he believes that humans have a near-limitless ability to identify problems, harness their creativity, and leverage technology to solve those problems.
He says, "In these uncertain times, our team could rely on our existing remote collaboration and contactless communications capabilities to help other businesses not just survive but thrive. In the wake of the pandemic, we came with a large number of solutions and new innovations, from using a chatbot to find the nearest Coronavirus testing site with open testing slots to using a virtual assistant and automatically (pre)-register building visits with on-site temperature screening, facial recognition, and emergency contact tracing by integrating with security cameras and receptionist robots."
Leading the company and the industry
As Founder and CEO, Topy simultaneously serves UIB's customers, team members, resellers, partners, investors, and board, while keeping a broad view and open mind towards all things in life helps him to drive his ability to constantly innovate.
He considers himself a polymath, constantly learning, evolving, integrating the different subjects to see a bigger picture emerge finally.
Evolving further, helping people, repaying communities, and harnessing the power of technology to solve problems motivates him, and he makes sure that his team members are on the same page.
Toby is highly inspired by the adage, "A healthy mind resides in a healthy body." He knows the importance of physical and mental well-being in today's world.
He believes that if he is not in a good mood, then that will affect all the aspects of his professional and personal front.
He states, "I try to live a healthy lifestyle, eat well, exercise a bit, consciously and proactively take breaks when needed, and meditate daily."
Delivering UIB's future
The company's roadmap keeps invention at the company's core by continually investing in R&D to satisfy the demands of customers.
He concludes, "I love to bring ideas from one industry vertical to create results in another. The world is entering the golden age of collaboration between human intelligence and artificial intelligence. UIB will be the universal translator, the H2M communication exchange, offering complete H2M interoperability between all connected users and all connected devices."