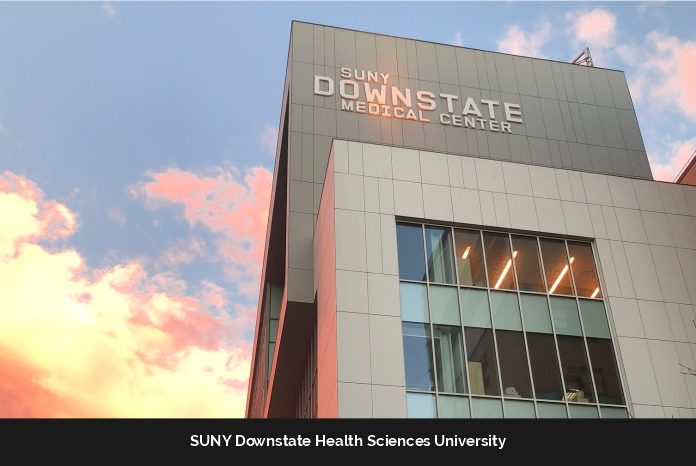 SUNY Downstate Health Sciences University recently launched a transformative rebranding campaign that reflects its long-term vision for advancing education, research, and clinical care while honoring Downstate's historical legacy of achievement.
"This rebrand is our effort to capture our true spirit, the prominence of our contributions, and the value of Downstate on the local, national, and global stages," said Wayne J. Riley, M.D., MPH, MBA, MACP, president of SUNY Downstate.
The new brand incorporates the breadth of Downstate's multipart mission. It provides a platform for strategic growth expansion, all while allowing Downstate to better tell its story as an institution committed to innovation, inclusiveness, and health equity.
The launch featured a new logo and website that establishes an approachable and contemporary visual identity. In addition, a sub-brand encompassing all of Downstate's clinical offerings, services, and sites—Downstate Health—was announced. Supplementing this change, Downstate's flagship onsite teaching hospital was renamed "University Hospital at Downstate." The brand roll-out includes a series of ads targeting key stakeholders and the Brooklyn community to be launched in early spring.
This initiative is the most significant effort undertaken by Downstate to revamp its institutional identity comprehensively. Rebranding was essential given the current healthcare landscape and that academic medical centers must be increasingly forward-thinking and agile to remain competitive.
As part of the research and thought process for representative imagery in the logo, Downstate needed to strike the right balance. In capturing Downstate's mission and legacy, the logo adopted the shield—a traditional symbol of strength—surrounding iconic elements: the Rod of Asclepius to represent clinical care, an open book to capture Downstate's education programs, and a representation of the nitric oxide molecule as an homage to the scientific accomplishments of Dr. Robert F. Furchgott, who was awarded the Nobel Prize in Physiology or Medicine while a member of the Downstate faculty.
Downstate's new website is one of the rebrand's most dramatic and visible components. The new look is a modern design created to accommodate easy navigation, better showcase Downstate, and be user-friendly. It also offers prospective students, employees, researchers, medical professionals, and other stakeholders a more comprehensive understanding of the Downstate enterprises. In all, more than 30,000 pages of content were migrated to the new look.
"We work in one of the best academic medical centers in the country," said Carla Boutin-Foster, M.D., Associate Dean for Diversity Education and Research in Downstate's College of Medicine. "When we step out our doors, we see the reality of health disparities. But we also see the possibility of how with innovative ideas, we can center and anchor equity in excellence – and that's the future of medicine and the future of Downstate that we want to tell with this rebrand."
More information on SUNY Downstate's Brand Transformation can be found at:
A New Year and Exciting New Look for SUNY Downstate Health Sciences University.
About SUNY Downstate Health Sciences University
SUNY Downstate Health Sciences University is the borough's only academic medical center for health education, research, and patient care. It is a 342-bed facility serving the healthcare needs of New York City and Brooklyn's 2.6 million residents. In addition, the University Hospital at Downstate serves as the Institution's onsite teaching hospital, backed by an outstanding medical school's expertise and world-class academic center research facilities. More than 800 physicians, representing 53 specialties and subspecialties—many of them ranked as tops in their fields—comprise Downstate's staff.
In addition to high-risk neonatal and infant services, pediatric nephrology, and dialysis (kidney diseases)—and offering the only kidney transplantation program in Brooklyn, among many other distinctive programs—Downstate also sponsors a major learning center for young children with developmental disorders and disabilities.
Downstate also comprises a College of Medicine, College of Nursing, School of Health Professions, a School of Graduate Studies, a School of Public Health, and a multifaceted biotechnology initiative, including the Downstate Biotechnology Incubator and BioBAT for early-stage and more mature companies, respectively. For more information, visit www.downstate.edu or follow us on Twitter at @sunydownstate.