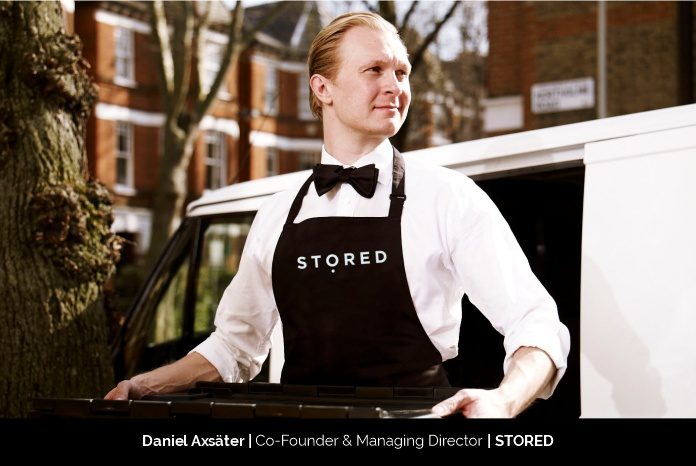 Holding 12 years of startup-running experience, Daniel Axsäter, Co-Founder & Managing Director of STORED, is a computer engineer-turned-entrepreneur. Early on, he worked in investment banking (GE Capital) and management consulting (Bain & Co) however, later he pivoted back to his business roots. Curbing the issue of storage in London, he and his team designed a hassle-free storage service that assisted with transport, loading assistance, easy bookings at a great price! He is happy to cater to thousands of people till date with this perfect storage provision.
Daniel himself went through the hassle of moving flats with some items always left out as they didn't fit in the new space. He shares, "The hassle of doing that is just unprecedented. First calling around to try to haggle a price, then rent a van, ask a friend to help you carry or transport the items to a dark warehouse – it was all such a hassle! So, we decided that there must be a better way of doing this. STORED was the answer."
Roadblocks to Success
Ever since his college days, Daniel has learned numerous lessons for attaining success. In the past, he and his friend together built a social media site competing 'The FaceBook' (what later became Facebook) and emerged as the largest social media site for university students in Scandinavia. However, they understood that in some industries, the winner truly takes it all as Facebook killed their built platform by being a global platform.
Thus, he knew that to build a business from scratch would require overcoming many challenges with flying colors and taking lessons learned ahead. He adds, "For instance, COVID is one of the biggest challenges for any organization in the world. Overnight, we had to completely re-design our processes for how we delivered items to customers. We obviously had to be extra careful about health and safety standards. This combined with a major loss of revenue from business customers. Some of our drivers left the country to sit the pandemic out in their home countries and all of these factors combined caused a huge amount of stress on the company."
However, now in 2021, they have marked their territory and are now in a stronger position with an increase in efficiency, processes, and customer satisfaction.
He feels that attaining success largely depends on the passion to follow the dreams. In case, someone works with their maximum potential, they will definitely be happier and successful. He further states, "Being able to attempt to fulfill your dreams is an opportunity that only comes to those who strive for it. Most successful people I know and know of, have become exactly that by pursuing their dreams."
Excellent services of STORED
Established in 2013, STORED is mainly a stress-free storage provider that comes with its all-inclusive storage service that brings storage to your doorstep. They offer customers with a big package that consists of a free collection of their belongings from their homes or offices along with a moving van and two removal experts (who can also pack for you), a storage unit for as long as they require, and their belongings are brought back to their designated room when they want them returned.
Serving all types of students, businesses, people moving house, or anyone who requires a personal storage, they also render packing assistance, materials, moving and removals services, and international shipments. In short, they cover everything needed for storage!
Redefining the traditional way of storage
Daniel expresses, "We have taken the "self" out of self-storage and made it a completely hassle-free experience for our customers, that is "complete" in every sense of the word. We have left nothing for customers to do except book and I think that is very important and necessary in 2021."
In today's capricious world, people have a lot of things to manage so the company removes the hassle of keeping a check on storage. "We really don't want them to be spending their time, energy, and money on managing their belongings, which is why we offer a package that helps them save all three! Storage was never this easy and we think if everything else is now brought to your doorstep and super easy, why not storage?" he adds.
Fueling the growth of the company
Daniel feels fortunate to have an amazing team working at STORED. The COO of the company handles all day-to-day operations of the company that allows Daniel and his co-founder to focus on devising smart strategies for the company. He expresses, "A lot of my time is spent on strategy for where we should expand and how we can continue to grow our customer base. This is combined with working on the technical strategy on how we can improve our technology platform to make our customers' lives easier."
Besides deploying the strategies, Daniel spends his time collaborating with the team in meetings, discussing strategy, reviewing what has been going on, and staying up to date with all the aspects and things happening around.
Daniel knows the importance of keeping the team's morale high so he aims to create a working environment where everyone's opinion holds equal importance and nobody is neglected. He further adds, "We make sure everyone is heard and there is a lot of delegation so everyone can see the impact they are making on the company. We are always grateful for the effort our employees put in and we openly express it."
Work-life balance: A million-dollar question
Bringing a sense of balance in his work and personal life is a work in progress for Daniel and he is improving on it day by day. The company is now fortunately in a position where he doesn't need to get involved in too many firefights, so he looks forward to plan his time in a better way. He clarifies, "This doesn't mean there is less to do, just that I have more of an impact on when I do it."
At home, he tries to spend time with his two young children and keeps his phone and laptop away. He taps into work only when the kids are in nursery or sleeping to finalize some things and prepare for the next day.
A glimpse on the future plans
Daniel states, "STORED has already started to expand in the rest of England and our ambition doesn't stop there. We see a very clear route to having STORED in several different countries around the world." He aims to take the company to the top, spread its roots and make it the number one brand for storage services.
Pearls of wisdom
Daniel urges aspiring business minds to believe in their vision.  He says, "You'll meet so many people who know way less about what you're doing than you do – and they'll try to alter your views. Believe in yourself. But don't forget to listen to your customers and your data – they'll help to guide you to where you should go."