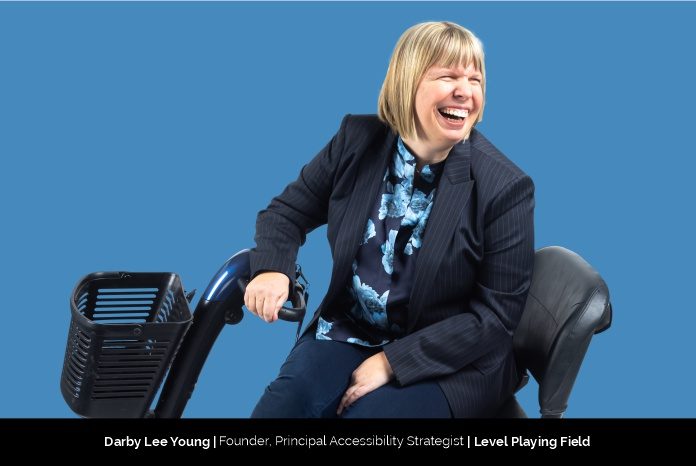 Having witnessed the social and physical barriers of a disability closely, Darby Lee Young, Founder and Principal Accessibility Strategist of Level Playing Field, is working to offer workspaces that work for everyone, regardless of any physical or social constraint.
Long journey to success
Regular life was not just regular for Darby. Diagnosed with mild cerebral palsy, she has faced several physical barriers getting around, from the get-go.
She comments, "When I was a child, I was bullied by some of the other kids for having a disability. Because to them I appeared different, they told me I couldn't sit with them at lunch. They laughed at the way I walked and said I'd never participate in sports. It's not easy for someone who doesn't have a disability to sit in the shoes of someone who has a disability, let alone understand what it's like to walk an inaccessible mile in them."
However, she refused to believe that this was the best people could do as a society, and she set out to do that for herself and for others. She decided to use her lived experience and learn all she could about accessibility and universal design and started her own accessibility consulting company to help clients design new spaces or modify existing spaces, making them truly accessible for everyone. This marked the advent of Level Playing Field.
Transforming the corporate market with Level Playing Field
LPF makes the world more accessible, one day at a time. They offer accessibility consulting services, helping architects, designers, engineers, builders, managers, developers, and government organizations implement Universal Design principles, Human-Centered Design principles, and accessible best practices around North America.
Darby adds, "A key part of our work is supporting clients in making accessibility integral to the design. Accessibility cannot be an afterthought or an add-on bullet point within a project. The old-school, "band-aid" approach to making spaces less inaccessible after they have been built has never worked."
She thinks that as a society, everyone is getting better at listening and realizing that there is a lot to learn about diversity and different points of view. It includes disability, but it's also about diversity in other areas like age, religion, skin color, gender, and more. All the multidimensional features that make people special and unique.
The concept of Universal Design is an improvement on codes and standards. The industry is now going for a new milestone.
She states, "Human-Centered Design engages people with diverse lived experiences into the design process. It focuses on serving the full diversity of real people, going beyond the traditional, old-school processes of evaluating and auditing. It's a design that is informed by research and the experience of a variety of real users. That's the only way that accessibility can actually fulfill its purpose of serving everyone, leaving no one behind."
The team at LPF believes that all future and existing environments should be accessible by everyone, regardless of age, ability, or circumstance. They believe that building active, healthy cities requires opportunity and the participation of people from all "walks of life," which of course includes persons with disabilities.
She comments, "We know getting there is tough, but we never give up. At the end of the day, we stand for true accessibility that levels the playing field, so everyone gets to play, live, learn, work, and carry on their life as best as humanly possible."
Having strong determination to bring a change and a never-give-up attitude has helped Darby tunnel through the challenges and reach a new level of heights. She has shown that it's possible to overcome the barriers of a physical disability like CP and show grace in the face of unkindness.
This thing is backed up by several feats attained by Darby in her life. In 2018, she was recognized as one of Canada's Top 40 Under 40. This year, Darby was awarded a Top 25 Women of Influence for approaching her favourite shoe designer John Fluevog with a problem. The best-selling Fellowship "Darby" now includes 5 colours that are sold internationally. She has served on The City of Calgary's Advisory Committee on Accessibility and on the Premier's Council on the Status of Persons with Disabilities, helping to make sure that Calgarians and Albertans with disabilities can be part of conversations at any table developing policy in service of everyone.
Life as Founder and Principal Accessibility Strategist of Level Playing Field
Taking the onus of the roles of the company, Darby makes sure that the clients are happy with their services, and the association results in a win-win end result. She knows when to lead upfront and when to delegate the work of some domains to experts to get the best results for the company.
She gets her constant dose of motivation from the work they do for their clients. The very purpose behind the company fuels the fire to grow in her, and she wants to instill the same feelings in her team.
Moreover, she knows the value of a fun workspace. She states, "I am a happy person, and so I try to make work fun. There's nothing like a good laugh to break the ice during a meeting. If we got the job done that day, and we all laughed, that's a really good day in my books. And most days are really, really good."
When a person loves the work, then the work never feels like a burden. Being passionate about her work, Darby never gets bored or irritated from work. Rather, she tries to make it fun for everyone around her.
While fueling the growth of her company, she also indulges in hockey as she loves the game. She knows the value of family and good friends and finds them as the savior in troubling times.
Future prospects of the company
Darby states, "As a team, LPF has built accessible playgrounds. LPF has advised on accessibility on a variety of projects, including the TAZA development by Tsuut'ina Nation and Canderel, which is part of a $5B initiative to create one of North America's largest Indigenous developments. We've advised on the Kivalliq Long Term Care Facility in Nunavut, the $328 million BMO Centre Expansion (BMOx), and the Stagecoach Music Festival in California, and the Canadian Museum for Human Rights."
There are several aspects on the roll, and they are looking forward to them in the coming years.