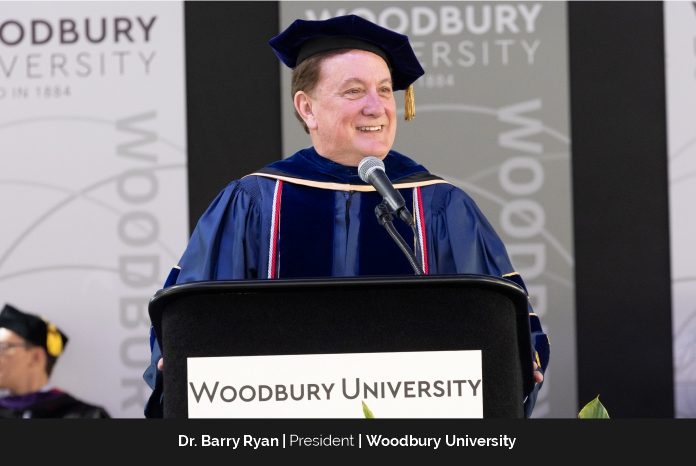 With an extensive and distinguished career in university leadership, Dr. Barry Ryan, President of Burbank, California-based Woodbury University, has served as a tenured faculty member, department chair, dean, vice president, provost, and president at several institutions — in addition to being elected twice to the WASC (WSCUC) Accreditation Commission, serving the maximum six years.
Dr. Ryan earned his Ph.D. in History from UC Santa Barbara and a J.D. from UC Berkeley. He holds a postgraduate diploma in global business from Oxford University. He has been a visiting doctoral scholar at Oxford University and the University of London. Beyond academia, Dr. Ryan has a long history of volunteer service and leadership in charitable organizations.
Dr. Ryan is not only an accomplished educator, but he also has an extensive legal and government background. Dr. Ryan served as the U.S. Supreme Court Fellow in the chambers of Chief Justice William H. Rehnquist and is a member of the Supreme Court bar, as well as multiple federal and state bars.
It seems to be a challenging yet exciting time for leaders in the education industry. Leading change, especially the attempt to shift a learning institution is a huge task for leaders in higher education. We recently sat down with Dr. Ryan to discuss what he sees as the major forces shaping the education industry today, particularly for smaller-sized universities like Woodbury, with an enrollment of approximately 1,000 students.
Being resourceful & building a foundation for growth
Due to his vast experience in the industry, Dr. Ryan has been able to see firsthand that large state and private institutions have the resources available to their administrators, leaders, and board members that small institutions simply don't.
"A small institution has to be really careful because they can drain the resources that they're trying to keep available for the education of their students," he explains.
On the other hand, he says small institutions have a greater ability to be nimbler. When there are changes in the marketplace, when demand rises for new areas of study, concentrations, or degree programs, it is much easier in a smaller institution to adapt programming to meet those needs. For a larger institution, that's hard to
It takes some time, and understandably there's a structure that goes with that, but it can become very difficult to react quickly to changes. Smaller institutions also have the ability to do it on a more granular level with smaller class sizes and the ability to actually know your students.
"There are advantages and disadvantages to both types of organizations, but we actually need each other. We need every type of institution in higher education. My hope is that we can all work together for the good of our students and for society, as a whole," Dr. Ryan states.
Effectively Tackling the Diminishing Enrollment Statistics
Dr. Ryan notes that California's higher education has seen a huge drop-off in enrollment numbers, particularly in community colleges — which he says has dropped 28% in recent years. "Those are remarkable numbers," Dr. Ryan exclaims.
"We talk about the demographic cliff in the United States in terms of first-time freshmen and what's going to happen to that population. If colleges just keep doing what they're doing, small colleges that are on the edge are not going to be successful," Dr. Ryan explains. These colleges really have to adapt, and that takes a couple of forms. The need to internationalize should be recognized. Part of that involves bringing in more students from abroad, and part of it involves sending more students abroad. There are many facets to it, but the population is growing in many parts of the world, and the need for education is growing, as well.
Dr. Ryan advises small university leaders to think beyond the 18-to-22-year-old demographic and consider the educational needs of adult learners. He believes that we need to be able to adapt and offer not just degree programs, but different modalities like certificate programs and seminars that appeal to working adults. He also says, "We also need to focus on continuing education for our own alumni because the needs or education requirements of many of their jobs have changed. We should be the place that they go to for help to make those adaptations and grow professionally."
Dr. Ryan offers some reassuring news: The need for education hasn't changed. "In fact, it's growing," he says. That particular younger demographic is shrinking, so there is a need to find ways to adjust and meet those needs in other demographics. The opportunity is there for institutions that are agile, nimble, market-aware, and committed to their mission. "We have to find how to execute that mission in different settings and with different people," he states.
Managing the Recent Increase in College Closures
An increase in higher education mergers and closures has been well documented in recent years — a development Dr. Ryan says that, if not done carefully, can be devastating for students, their families, and the future generations that are affected when their current college or university shuts its doors. Relationships with other institutions can help smooth the way for students affected by such changes.
COVID obviously had a tremendous effect on colleges — and disproportionately so for small institutions with limited resources and budgets. That's one of the reasons why Dr. Ryan would like to see more support provided to smaller colleges and universities since they fill a unique higher ed niche that otherwise would be vacant.
"We are able to reach different kinds of students who have different goals than those who are in a large state university," he says. "You know the old adage 'it takes a village'? I think the same is true in higher education — it takes everybody working together to help advance the cause of education in our country."
The New Reality of Remote Learning
On the plus side, Dr. Ryan believes that COVID helped Woodbury rethink its approach to remote learning and to listening to what their students need to be successful.
"I think there have been some good experiments in the last couple of years," he recalls. "There have been some failures, but we learned from them, too. One thing we've learned is it's not just about flipping on a camera and having the faculty member talk to the students. That's not online education — that's a Zoom meeting," he asserts.
Dr. Ryan is of the opinion that there is a growing student demand for accessibility to modalities that fit individual student schedules and learning styles. There will always be a percentage of students that are looking for a traditional residential, broad-based four-year bachelor's program. But the pandemic helped a lot of students realize that they need flexibility in their education.
"To meet those needs, we have to be pretty smart. We have to be market sensitive. It definitely keeps us on our toes," states Dr. Ryan.
Being a beacon for success
Looking back at his professional accomplishments, Dr. Ryan feels extremely grateful.
Dr. Ryan is a first-generation college student and claims to be very privileged because of that. His parents knew how important education was — even though they hadn't experienced it — so they enabled him to have a college education.
"I still remember my first class on my first day and what the professor talked about. It was an exchange of ideas and thoughts and perspectives. I thought, 'This is the most exciting thing I've ever experienced.' As I went on, I was just in love with the atmosphere of learning," he recalls.
What's been the key to Dr. Ryan's success?
"You have to know in your heart of hearts what's right and be willing to stand for that," he says. He further states that at the end of the day, if you can go home, look in the mirror, and say, 'Yes, I was true to my values,' you can get through almost anything.