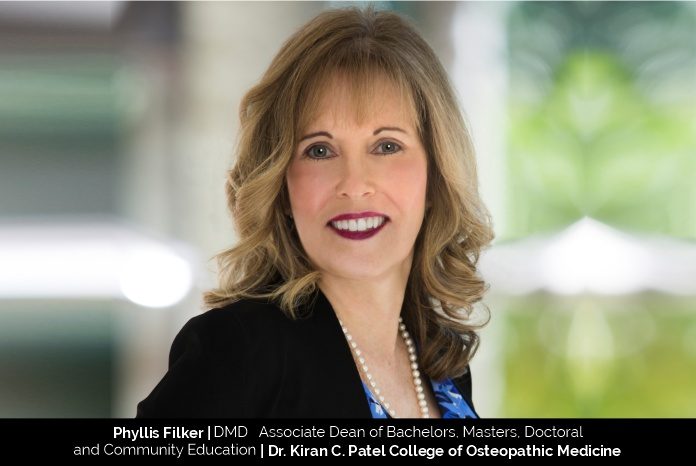 One of the wonders of life is how predictably unpredictable it can be. Take, for example, the life of Phyllis J. Filker, D.M.D., M.P.H., who serves as associate dean of undergraduate, graduate, and community education for the Dr. Kiran C. Patel College of Osteopathic Medicine (KPCOM). Despite pursuing a career trajectory that involved dental medicine throughout most of her adult life, Dr. Filker made the surprising decision to transition from dentistry to osteopathic medicine when she accepted a KPCOM leadership position in July 2014.
According to Dr. Filker, if you had asked her 10 years ago if she would have foreseen herself working as an administrator in an osteopathic college, the answer would have been an emphatic no. During her decade-long career at the NSU- College of Dental Medicine (CDM), Dr. Filker's role gradually transitioned from classroom instruction to a primarily administrative function, which was a development she embraced. "I realized that this career direction would open new doors and new areas for growth," says Dr. Filker. She had actively participated in the Master of Public Health (MPH) program reaccreditation process and served on the program's advisory and curriculum committees while she was still a full-time CDM employee. Because of her close involvement with the MPH program, Dr. Filker heard that a significant leadership position was becoming available in the Dr. Kiran C. Patel College of Osteopathic Medicine, which she decided to pursue. In July 2014, Dr. Filker left the CDM to ultimately become the KPCOM's associate dean of undergraduate, graduate, and community education.
Challenges Make You Stronger
"Everyone faces struggles, setbacks, and failures at some point in their career journey, yet we so rarely talk about them," states Dr. Filker. She further reminds us that in the early '80s women in health care were nurses, hygienists, and assistants. Her first experience shattering that glass ceiling was deciding to pursue a career as a Doctor of Dental Medicine. She opened a dental practice in Delray Beach, Florida, and followed that milestone by getting married on November 13, 1982. Navigating politics in a predominately male profession taught her a great deal about communicating with colleagues and patients.
Dr. Filker practiced all facets of dentistry but mostly enjoyed being involved with cosmetic cases. "It was a very family-oriented practice, and during those years, I attended many of my patients' christenings, bar mitzvahs, and weddings," reminisces Dr. Filker. She also enjoyed joining her dedicated team for lunch to catch up on the latest soap-opera twists on Days of Our Lives whenever time permitted.
Defining Success 
"My definition would be based on the attainment of successful outcomes with our daily initiatives," explains Dr. Filker. Her personal feeling of success is rooted in the accomplishments of the team. Throughout the pandemic, the diligence of the faculty and support team have created successful outcomes that kept students engaged and provided the quality education that is one of the core values at the University. She also adds that during the pandemic the college did not face much difficulty in providing education, as many of its graduate programs were already online so the transition for those programs was easy.
In addition, the bachelor's programs are taught by the same faculty that teach in the master's courses, so those faculty members could easily be transitioned to the BlendFlex model which offered students the option of in-person or online education.
Contribution in Redefining Education
Nova Southeastern University (NSU) has always been at the forefront of lifelong learning, regardless of a person's age. In 1977, Dr. Abraham Fischler, NSU's second president, created the Lifelong Learning Institute (LLI) so that NSU could have educational continuity and opportunities, from early childhood (Mailman Segal Center), through older adulthood (LLI).  In recent years, the LLI expanded its intergenerational programming opportunities so that older adults, college, and high school students could interact and learn from each other.
Through a collaboration with NSU's University School, high school students interviewed LLI members learning about their personal histories and becoming acquainted with older adult interests. In partnership with the NSU Halmos College of Arts and Sciences, the LLI has also facilitated intergenerational book discussions with undergraduate literature and writing students.
Another opportunity for intergenerational learning is with the renowned NSU medical immersion camps, AIM-High and AIM- Higher. Established in 2017, each of these camps was established as a one-week opportunity for students who want to actively explore a career in medicine or any health care profession. Students enjoy an action-packed week, interact with faculty, practice clinical skills, and hear from current medical students and residents to get a real-life jump on their future journey. LLI Director Linda Maurice, M.A. says that these intergenerational opportunities are beneficial for all ages. "Pairing older adults with youth is an invigorating learning experience for all involved, not only from an educational standpoint but also for creating positive socialization opportunities," says Maurice.
In addition, KPCOM has established a unique program to engage high school students who are interested in the health care professions. In November 2017, ­the Dr. Kiran C. Patel College of Osteopathic Medicine, and the NSU University School Upper School collaborated to create a fellowship. The KPCOM/U-School Fellowship has quickly become one of the more popular fellowships in the Upper School, and applications have steadily increased every year. The KPCOM/U-School Fellowship is now going into its fifth year and offers this program as a course where the fellows must complete a research project and present it at the end of the fellowship for a grade.
Responsibilities as the Associate Dean
Dr. Filker's responsibilities have a very broad scope, which is why she chose the word 'supportive' to describe herself. A day in her life begins at about 7 am and includes reviewing emails for the day. Those that need additional follow-up are flagged. ZOOM meetings begin most days by 9 or 10 and last until 5. She meets with most of the team's ten departments/programs weekly and attends some of their faculty meetings. Every Tuesday morning from 9-11 the academic deans meet with Dean Wallace to discuss updates and bring to the Dean any questions for her guidance.
As her daily work responsibilities include general management her week is essentially that of a CEO dealing with the operations of a large organization with many moving parts. At any one time, she is working as an interviewer and hiring new faculty or administrative team members, and each day there is usually a concern somewhere to address. She also shared "Once a month at 8 am the deans meet to review current academic issues through journal article reviews. This also provides a time to relax and get better acquainted with the views and insights of colleagues." 
Motivation and Life Balance 
"I struggle with maintaining work balance every day. I am motivated by the desire to always perform at my best and to respond to the needs of my team." According to Dr. Filker, her goals are aligned with those of the Dean and the core values of the University. She strives to achieve those goals daily. She asserts, "My strength lies in the ability to see the big picture and move towards a great outcome maneuvering through roadblocks when necessary. When plan A is not an option, I am always ready with plan B and ensure that our team does not let their emotionality block the outcome they are seeking to achieve."
Dr. Filker loves to travel and wants to travel to every great place on the globe. When she's not busy helping lead the college to new heights, she and her husband indulge their love of travel. "I have a map of the world where I place colored pins on all the cities I have visited, and my goal is to cover the map with pins."