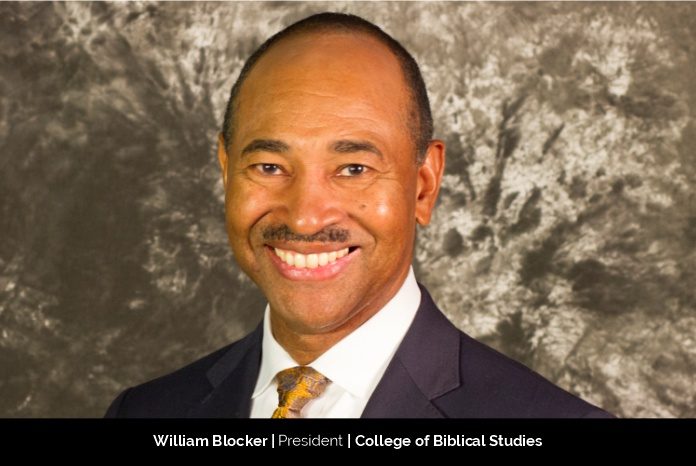 In 2012, Dr. William "Bill" Blocker, DMCE, was named president of the College of Biblical Studies. During his tenure, the college became one of only a few Bible colleges in the U.S. to be accredited by both the Southern Association of Colleges and Schools Commission on Colleges (SACSCOC) and the Association of Biblical Higher Education (ABHE).
Before coming to the College of Biblical Studies, Dr. Blocker served as vice president and dean of educational services at Moody Bible Institute for 11 years and as senior pastor of Christian Fellowship Church on Chicago's south side. He also spent 15 years as chief information officer at TMI Consulting in Chicago and the Robinson & Cole Law Firm in Hartford, CT. Dr. Blocker has led several strategic projects, including marketing, global impact, and technology, among others.
Dr. Blocker's journey began when he left a large educational institution and came to a small Bible college. He was amazed to see what such a small college offered to the surrounding communities. While other schools are training people to go out into the world to be successful, the College of Biblical Studies is training the world. Dr. Blocker states, "The demographic of our board, senior management, faculty, staff, and our students represents the diverse culture of Houston and the world."
Joining the College of Biblical Studies
When Dr. Blocker joined the College of Biblical Studies, it had one campus in Houston. Now the college is impacting communities around the nation through its online programs and additional campuses in Indianapolis and Fort Wayne, Indiana.
In his first year at the College of Biblical Studies, Dr. Blocker gained a greater understanding of how the college was transforming the Houston community. He says," We took one of our life transforming degree programs and made it available in the Spanish language – one of the fastest growing populations in Houston and the country."
In his third year, Dr. Blocker focused on expanding the college beyond Houston. This allowed him to use his technological skills in the creation of online programs that would impact communities across the nation. Since that time, his focus has been finding ways to ensure the college's tuition base remains affordable and accessible, and offering innovative and creative learning styles that meet the needs of students.
The College of Biblical Studies serves working adults and believes that biblical higher education should fit within the busy, complex daily life of those it serves. Dr. Blocker says, "Our classes go beyond the typical lecture. We see the benefit of an environment that allows learning from other students as well as being taught by accomplished faculty. There is something powerful about learning and growing together with others from all walks of life – hearing their life stories as well as coming from different cultures."
Working as an Educator and the Significance of Education
Before the College of Biblical Studies, Dr. Blocker earned his Master of Divinity from Chicago Theological Seminary and a Doctor of Ministry in Christian Education from Dallas Theological Seminary.
Dr. Blocker's vision for the education field is to not only teach people how to live life, but to also understand who they are and their "raison d'etre" – their reason for being. Education has always played a significant part in his life. He saw the difference it made in him and the position it placed him into impact on others. "When a person's mind is equipped, it changes their entire life. I know what education has done for me, and I want to pay it forward," he states.
Dr. Blocker emphasises that obtaining the competency component is critical in moving to the highest level of being. It is also critical in finding out your real identity. He believes education creates a mindset; having a mindset becomes behaviour; and behaviour becomes a lifestyle. He says, "Education should provide the knowledge that allows you to understand your purpose in life and how it can benefit others. This is servant leadership."
Challenges Make You Stronger
Pain and suffering are a natural part of life. Dr. Blocker believes challenges can make people stronger. If one understands their purpose, growth happens in the most difficult times in life.
He recalls, "Years ago, I was working in a firm where money was the priority. I knew that life was not about what you gain. The challenge for me was changing careers, leaving the world of "plenty", and going to a world of uncertainty. One of the most valuable lessons was looking at how others around me made decisions that negatively impacted their lives. This taught me to realize how even seemingly good decisions can keep you from making great decisions."
Adopting New Ways of Education
Dr. Blocker believes that the pandemic has shifted the landscape of education in such a way that institutions need to be more aware of the needs of students. When COVID first hit, the College of Biblical Studies had to quickly switch operations and in-person classes to 100% remote with as little stress to the students as possible.
The team immediately surveyed students to understand what they were going through, not only with classes, but with all the challenges created by COVID. Dr. Blocker states, "Even though we're an educational institution, our first concern is for the welfare of our students and staff. In a crisis event, such as COVID, family comes first – above all else. We immediately put in place a prayer and pastoral support team, began calling our students, and provided creative resources, including financial help, laptops, routers, virtual tutoring, and mentoring to help students manage the challenges and uncertainties."
During the process, it was clear that the college had to keep their focus on life transformation. The mission of biblical higher education is to train and equip students to see God's purpose in their life and how to use it to serve others. Dr. Blocker says, "Knowledge is purely academic, but knowing how to apply the knowledge is wisdom. We now serve students across the nation. However, my greatest contribution is not just providing education to students but equipping them with the ability to apply the knowledge in their own lives."
Responsibilities as the President of the College
At the college, Dr. Blocker is responsible for servant leadership and fulfilling its mission, which states, "The College of Biblical Studies exists to glorify God by educating and equipping multi-ethnic Christian leaders to impact the world for Christ."
Being the president of the college means never having a "regular" day. His days are consumed with leading strategic initiatives, meeting with students, talking with stakeholders, attending faculty meetings, being engaged in the community, lecturing, speaking, encouraging staff, casting vision, and putting out fires.
What does success mean for Dr. Blocker?
"Education is a lifelong pursuit, even for a college president," says Dr. Blocker. One of his goals is to learn Spanish so that he can better connect with this growing culture. He also believes strongly in equipping young men to understand their role as a husband, father at home, and a servant leader in the community. To assist with this goal, the College of Biblical Studies offers fully paid tuition for young men who have grown up without a positive father figure.
Vision for the College of Biblical Studies
Dr. Blocker sees this pandemic as an opportunity to rethink how the college teaches and trains the students. As the world is moving forward in this new environment, the College of Biblical Studies is learning that being agile means having the ability to flex as needed to provide the best student experience possible.
He believes that the College of Biblical Studies is uniquely positioned to equip all ethnicities to understand the value of life and effectively connect with all people groups. His plans for the future of the College of Biblical Studies is to bring this transformation to metropolitan cities across the U.S.
Dr. Blocker firmly believes success is not in materialistic aspirations. "Success is seeing how one's gifts and abilities are used to equip others to recognize and become the best they can be." He believes that assisting others in discovering and manifesting their purpose not only transforms the individual, but also positively impacts their community.