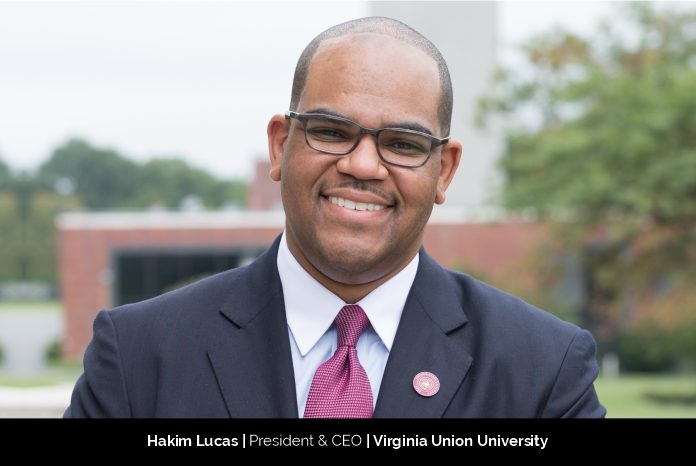 With more than two decades of experience in higher education, Hakim J. Lucas 13th President and CEO of Virginia Union University, is an expert in fundraising, strategic planning, and the engagement and retention of students in challenging educational experiences.
At VUU, Dr. Lucas advocates for student-driven policies and the inclusiveness of students and faculty in developing and implementing the university's strategic plan. He is also a strong believer in the importance and significance of Historically Black Colleges and Universities (HBCU) and works to ensure their viable sustainability.
Education and Experiences
Dr. Lucas holds a bachelor's degree from Morehouse College, a master's degree in teaching (History) from Tufts University, an Executive MBA from Stetson University, and a Master of Divinity (Church History) from Columbia University's Union Theological Seminary. Fordham University awarded him his doctorate in education. He is a transcendent leader who has decided to advocate for social justice via education. As a result, he participates in a number of advisory councils and organisations, including Alpha Phi Alpha Fraternity, Inc., Prince Hall Free Masonry, and 100 Black Men.
Dr. Lucas is the editor-in-chief of a series of publications on HBCUs for Information Age Publishing, where he is a leader in the field of HBCU research. He also works with the Southern Education Foundation as a senior research fellow. His most recent work, Not for Ourselves Alone: Legacies of Two Pioneers of Black Higher Education in the United States, was released in 2019.
Virginia Union University
Virginia Union University is a top liberal arts urban institution of higher education and a centre of excellence for the training of students and the development of leaders for the world of tomorrow. VUU was established in 1865 as a Historically Black University (HBCU) to provide newly liberated slaves with a chance for education and progress. Virginia Union University has five academic schools and 33 degree programmes to offer a diverse variety of educational possibilities. The academic programmes promote liberal arts and STEM education, teaching, research, continuing education, civic engagement, and international experiences through liberal arts and STEM education, teaching, research, continuing education, civic engagement, and international experiences.
Dr. Lucas's role at Virginia Union University is push the strategic goals set forth by the Board of Trustees, to envision the future of the university, and to help build recognition with donors. He says, "Customer service is our first priority. We must offer the best service, communications, and academic opportunities for our constituencies. We also measure success through benchmarks."
Redefining the Field of Education
Like any other business sector, the global health pandemic has forced a change in the business model for higher education. According to Dr. Lucas, students in the twenty-first century want greater freedom in acquiring their higher education degree in a way that fits their lifestyle. Some students, he says, choose to go the traditional path of living on campus and attending in-person classes. Others want to study from wherever they are and take online programmes. Additionally, some students want to work while they study and get their degree.
While educators at VUU continue to work on a semester plan, they currently provide seven terms with varied student linkages. Students can now choose whether to enrol in their courses for a four-, six-, eight-, or sixteen-week term with the help of their adviser. This gives students the freedom to study not just where they choose, but also how quickly they want to get their degree. This allows kids to study more effectively for their lives, at their own pace, while also working toward workforce training and ultimate generational riches.
A Wide Opinion on Individual and Organizational Success
The notion of success is, for many leaders, the intersection or marriage between preparation and opportunity. And if the table of success is supported by the legs of opportunity and preparation, then one has to dive deep into what opportunity and preparation means. Dr. Lucas says, "How do you understand the notion in the context of this nebulous subjective perception and the perceptive qualitative adjective called success. Oftentimes, we want to make success a noun. It can also be a verb by saying: I want to get to the place of success. I want to be successful." 
When individuals talk about success, according to Dr. Lucas, they're talking about their hearts and mind sets. He claims that a heart set is "the object of one's passion, the thing for which one yearns and craves sincerely." On the other hand, he defines Mind-set as the mental state, habits, lessons, and perspectives that determine one's viewpoint. He goes on to say that a mind-set is a proven static method of addressing anything; it is the state of one's mind, as well as all of the assumptions that have established a specific viewpoint, behaviour, and the manner in which we do what we do through time. He asserts, "Heart sets are those things that I'm passionate about, those things that drive me, those things that emerge from within in my silence, or in my sound begin to reverberate through me as an energy that moves me closer to this. It is who and what I want to be. What I want to achieve and I want to feel drives the heart. A good heart and a good head are the perfect combination. "
Dr. Lucas opines, "Our goal is to help everyone in the organisation to feel and experience success, whether that is the outcome of a group mission, or whether it is the realisation of an individualised mission. Every organisation is trying to fulfil the group mission while also feeling its individual mission. "
Dr. Lucas also finds that success is trying to achieve individual and group goals. It is trying to acquire a sense of various benchmarks. Whether it's a mission, whether it's a benchmark, whether it's a target, whether it's a goal, whether it's an objective, all of the language of understanding the progress of an organisation is defined by being interested in having our hearts and our minds set on success. He says, "We all want to be successful. It mandates our drive and what we bring to our jobs. It's a feeling. It's described by wealth. It is described by what you have done, and so we have this whole notion of success. It is not just a feeling of success. It is not just a corporate identity and an individual identity. However, success can be used to extract and exchange personal and corporate value in a tangible and measurable way.So, we want to be the best as a comparative to success and a tangible way of accumulating certain goods, services, medals, accolades, accomplishments, and a series of things over time, to distinguish ourselves from others so that we can accrue and grow our own professional, personal, individual, or group value. For success to be real and tangible, and not just be a feeling and not just be a part of our identity, it must be consistent and it must have a certain mass.