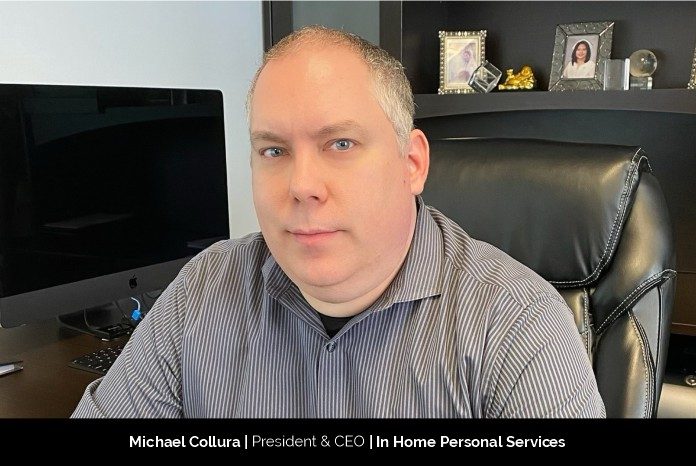 Helping elders in today's life with their lifestyle so that they can enjoy this phase of their life comfortably is one of the noblest deeds. Having a passion for helping the elders, Michael Collura, President, and CEO of In Home Personal Services is steering his facility in the right direction. He states, "Inspiration does not have to be hard to find. Sometimes it is the simple things, like being kind, that make the difference."
Inspiration behind In Home Personal Services, Inc.
Michael expresses that the growth of the services under In Home Personal Services Inc. is fueled by the genuine desire to provide care for the elderly. He adds, "It is a guiding principle in everything we do and stands as a consistent requirement in every job description we have ever produced. It is also the main requirement for anyone who is seeking to be one of our systems franchisees. Sometimes just wanting to do good and do it the right way is simple enough."
The constant source of motivation comes from achieving success in this principle. The team just doesn't use this tag line to attract more customers but makes it a part of the very fiber of their brand. Every step they take revolves around it.
Getting stronger with challenges
From the dawn of the organization, the team has faced many challenges. However, with the right attitude, they have found the best solution for them and learned from their mistakes.
Michael states, "We face many challenges every day, and we earn the right to be a leader in this industry by overcoming those challenges. We find ways to make a challenge into an opportunity. Not just as a business model and franchise system, but in the very daily lives of others."
Covid-19 came with its own issues. However, he kept himself and the team motivated by seeing the good in the midst of so much terrible.
He believes that gloating over the services is of no use. Rather, showing the results and caring for their clients is the prime concern. He focuses on the point by saying, "We could brag about all the ways we do it better, we have a better idea, our system is superior, blah, blah, blah. Or we could simply say we have been the trusted provider of tens of thousands of seniors since 2004. I think that says it all."
Serving the elderly with In Home Personal Services
In Home Personal Services, Inc. is a non-medical senior care provider which is commonly referred to as a "caregiver agency." However, they are bigger than a mere caregiving agency.
Michael states, "We are a forward-thinking, innovative, don't care what the "other guy" is doing because we can, have and will do it better kind of company that has earned its place in the industry. We do it better because we have worked hard to study, learn and listen to those around us, so we are delivering the very best world-class care that they would expect from us and should have every right to as a cherished senior citizen who has already fought, served, loved and been valued as a member of the family and community. They have done their part, and we are here to do ours."
IHPS is transforming the definition of care and services for the elderly. Their chief aim is focused on the care of these people. He feels disgusted when the other so-called best agencies fall short on the core principle of providing the best care to the people.
Once, he witnessed an incident where he understood the reality behind the thick face of the other competitors present in the market. He expresses that he stood by a family when they interviewed another agency.
The family consisted of a daughter and a mother who was in a wheelchair and required the services. The representative of that agency just focused on explaining their services to the daughter and how they were more than enough to handle different things. Michael was shocked by this behavior and disgusted at the total negligence about the needs of the mother who actually needed those services.
He focuses the point by adding, "The representative then got up, shook the daughter's hand and left behind her brochure, prices and explained that they could have a caregiver ready that day. I nearly slammed the door on her as she exited."
Once he was alone with the family, he approached the mother and talked to her about the services at his company. She cried with a smile. The daughter understood the difference that In Home Personal Services provides.
He states, "The daughter expressed to me how overwhelmed she was and how my interaction with her and her mother was clearly the way it should be. We were chosen as the care provider. More importantly, we helped this family in dealing with this situation in ways no one had up to that point. It made all the difference. If you don't get it, you won't understand even if I try to explain it. We truly do understand what it takes to be a care provider in this industry."
Leading the company upfront
As the President and CEO of the agency, he makes sure that the whole team stays motivated and understands the company's core principle. He understands the value of his great team and knows that they can achieve new levels together.
He adds, "I'm the pretty face behind the desk ensuring all obstacles are removed from the path of others so we can do the right thing and make an impact on the lives of others."
He feels that passion and humor are important in life to succeed. Passion drives the person, and humor keeps everyone happy. However, there is a third trait, "nce" that is the secret behind his leadership.
He expresses "nce" by saying, "My arrogance is born out of my confidence in myself, my influence of others, my patience to do it right not fast, my experience that I have gained in all my career, my intelligence to see what others do not, and of course the evidence that I could and would create this sentence in a way no one else would or should have."
Future plans for the agency
Michael states that the prime goal is continuing to do better as they find new ways to improve on what is already their best.
He states, "This drives us, and we have already launched new programs in 2021 to deliver the care we are known for in new ways with innovation and forward-thinking. That will continue well into 2022 and beyond as we work to distance ourselves from those "other brands further" and stand out as a leader in the industry. I am also planning to add to my "nce" list as that was a fun exercise for me."
The team's vision is to continue this expansion and all the excitement surrounding their brand in order to branch out across the United States without ever having to sacrifice those values they started out with.