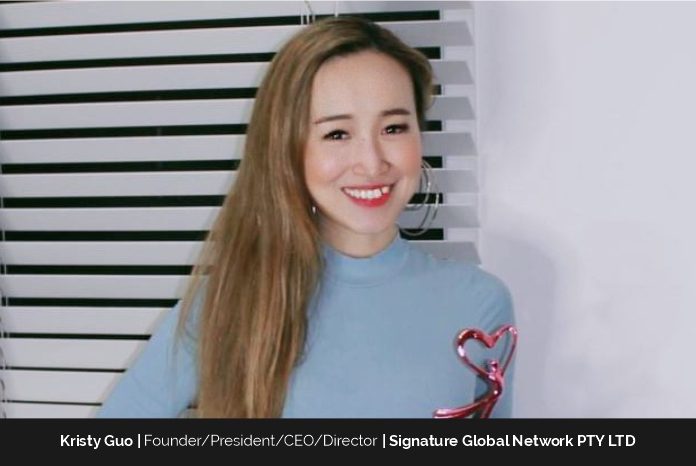 An award-winning Chinese-born Australian, Kristy Guo (Cuilan), is the founder, president, and owner of Signature Global Network PTY. With almost 20 years of logistics experience, she is also an influencer, speaker, and author of the Amazon best-selling book 'Changemakers." Kristy is a highly motivated and influential female leader who is renowned for her zeal, optimism, and distinctive personality, which gives people's lives brightness, power, and vitality.
Kristy is a Melbourne resident who is also active in the community as a volunteer and leader, a spiritual life influencer, and an audio book author and speaker for Bookboon Learning. When Kristy was 18 years old, she received her university degree. She is well-versed in logistics and the whole supply chain. In the last 20 years, she has attended or led professional international business conferences and meetings abroad in 15+ countries and 35+ cities. She also has significant experience travelling for business across the globe; she has strong relationships with people all over the world and is a part of numerous international leadership networks.
She enjoys multinational cultures as a result of her work sponsorship from global organisations and her work and travel experiences in various countries by visiting people from all over the world. She believes that "individuals" are the solution to all problems and has a mystical connection to diverse sorts of people. She has made a substantial contribution to business growth, corporate success, and team building everywhere she has worked thanks to her expertise and experience in all operational, commercial, and sales sectors related to logistics. In order to assist others in developing their talents and attitudes and discovering their best selves, Kristy likes to connect with them.
Journey before Stepping as Entrepreneur
Before founding SGN, Kristy's life was 'safe' and in a comfort zone. She wished to avoid taking too many chances in life. It was a typical day: she went to work, completed her tasks, helped her team with difficulties, and then returned home to take care of the house. The stage was too tiny for Kristy, even though she enjoyed making a difference and it was pleasant. She has always been eager to learn and develop, so starting her own business seemed like the ideal course of action. It's really difficult, but also incredibly rewarding. She asserts, "I learn every day from dealing with the hard things, and every problem sharpens me." She further adds that the more she tried, the more she understood that only dealing with her own fears (including doubts) could bring her complete faith. And it is exciting, challenging, and incredibly rewarding.
Lessons from Experiences
"Never stop dreaming." "Let your outcome speak louder than other judgments."
If everything is easy, then everyone could do it. It is the challenge that makes one different. Below is the lessons Kristy learned during her personal and professional journey:
Lesson 1: Don't let others lead your life for you. There was a time Kristy was judged by people, and she chose to listen to them, to restrict herself because of what they said. Then she started to be more fearful and lose her identity. She says,
"This taught me, leading a life that doesn't belong to others is important. We are the leaders of our own life. The moment I started to lead my life, everything changed."
Lesson 2: Don't stop dreaming. Get started. Kristy says that dream big and get started without thinking too much. A basic plan is important, but not overthink. The more one thinks, the more one is likely to give up.
Lesson 3: Be consistent. Roman isn't built up in one day. It's always those who give up first and couldn't reach their destination.
Lesson 4: Never stop believing.
Kristy was laughed at by people many times when she had dreams and when she wanted to do what she said. But Kristy was glad that she chose to take it easy, and instead of being upset, she chose to focus on her journey.
Signature Global Network PTY LTD
SGN is a stand-alone network that prioritises the values of excellence, reliability, fostering relationships, and cooperating with others. The network, which has global coverage, aims to connect skilled individuals and logistics firms in order to rescue their customers' supply chains and transform solely business partnerships into ones that care about people and produce win-win outcomes.
To join SGN, Kristy is seeking like-minded company owners. The slogan of the network is "By helping others, we rise." wishing to significantly impact both people's lives and businesses.
Kristy has made a contribution by elevating the status of logistics professionals and logistics superheroes. She says, "We helped to show people a great example that the logistics industry is a great industry to stay in; in fact, every industry has its own importance." The logistics industry was neglected and wasn't a popular job for new generations to seek. But SGN, as a leading network, has brought a fresh look to this industry.
The other great contribution is to bring back the focus on quality, trust, relationship-building, and mutual synergies as SGN's core values. There was way too much competition and resource waste before. This industry needs SGN.
SGN creates and expands opportunities to value the truth and useful knowledge. There were so many people who had amazing experiences but never got a chance to share them with anyone. Kristy says, "We don't hide anything just to sell. We are willing to share the knowledge as our purpose is to make a difference and to contribute more to this society."
Women Participation in the Corporate World
It is very difficult as people tend to believe that men are better at leadership. Women are better to be assistants. Kristy recalls that even though she had been a leader since she was in primary school. The opportunities available to her were still far fewer than those available to boys or men.She says, "I wasn't discouraged, but instead, I chose to keep believing and being brave to put my hands up to lead."
Kristy believes that it is difficult because women need to have babies and do many things at home in the meantime. But many women didn't realize that because of these painful challenges, women rise up more than ever. She adds, "Never be sad about any setbacks, they are all golden opportunities for us to be better and stronger."
According to Kristy, it is crucial to make an influential impact on the next generations. She shares, "We cannot expect each generation to be the same. Instead, we need to lead by good examples. Show sympathy and compassion to the new generations. Give them more opportunities to try. Understand them more." After all, each relationship has two sides. Our world is a networking community. It is all about people and relationships.
Growing Network Company
SGN is going to be the unique network that will be the logistics superhero HQ. Kristy states, "We are going to keep expanding to the whole globe." Every member will keep growing and thriving at the company. Any logistics suppliers or buyers would love to use SGN's members as their first option. SGN and its members will keep making a difference in this whole world; to lift people.
"We don't compete with others; we compete with ourselves. Every day, we do better," says Kristy. SGN's focus is on its members and its goals. It doesn't waste any single time competing with any other networks. But it will keep learning and improving so that it ensures the team provides the best service it can.
Leadership Notes for Emerging Woman Leaders
As leader, one has to intentionally make time and plan for the core things in life. She says, "NEVER steal any time that belongs to your personal life and your family from your work. I was a workaholic, but I learned." She shares that the best decision she made was to intentionally put her personal life into her daily plan and strictly follow up.
"Don't live for working and find the best way to enjoy work."
Kristy's definition of success is to be able to lift other people, to lead a joyful life of your own and others. Because to own a successful life means a happy life. She says, "Only living a life that is bigger than yourself can bring you true happiness."
According to her, leading by example and a great lifter is her way of leadership. She considers that her gift is to help to lift others up. Inspire many other people in her life. She adds, "Don't stop believing in yourself and others. Don't stop dreaming because you are a mum. Don't make excuses, make ways."