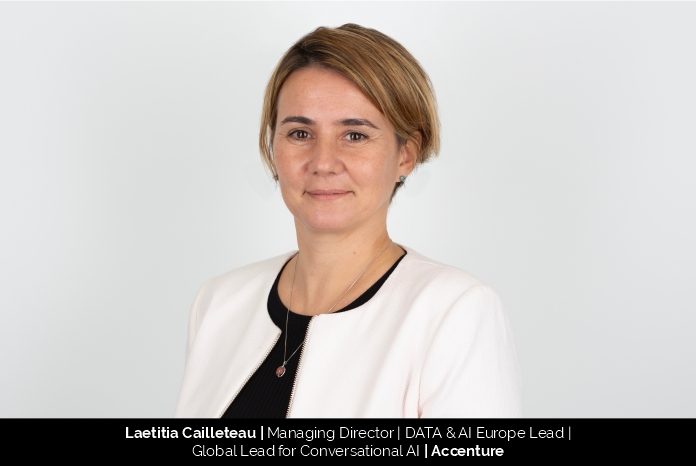 All of us are constantly driven by the desire to succeed. However, success is a relative term, because what you may consider 'successful', may not fit someone else's definition. Laetitia Cailleteau, states that success for her is about making the world a better place, working as one with clients, communities, and her teams. Creating impact and being a change agent are essential elements of her definition of success. Staying balanced and grounded across all her roles – mother of three, wife, and daughter is an important aspect of her successful journey.
Laetitia is the Managing Director, DATA & AI Europe Lead, and the Global Lead for Conversational AI for Accenture. She believes that the toughest part these days for many of us is to be in the now, to ride that crest and enjoy it. "I work hard at being present in the moment. But I've always got my eye on the future. I'm always thinking of ways to lead my teams to have that greater impact, to master the transformations required to better serve our clients," she says.
Leading A Company to Success with Courage and A Leap of Faith
The consulting industry, by default, always pushes you to the edge of a world of possibilities driving transformation and change. "The depth and breadth of the impact are exciting, especially in a company like Accenture that covers all industries and facets of transformation," she states.
She strongly believes in the fact – what doesn't kill you makes you stronger. "The biggest roadblocks are the ones we learn from most, forcing deep reflection, causing us to question things, reassess and change course. It's hard to pinpoint specific roadblocks," she explains. Laetitia's job is all about pushing the boundaries of what's possible, so perseverance, rethinking, and evolution are key.
There are precious few templates around how to be a woman and mother in such a demanding leadership role in tech. It requires vast stores of energy. And it requires constant awareness of the cultural stereotypes that must be resisted. "I can see meaningful progress in the industry but it's not happening quickly enough. The key is to grow your support networks with people who believe in you, who give you energy. And you must never stop believing in yourself," she states.
The Services of Accenture
Accenture is a global professional services company with cutting-edge capabilities in digital, cloud, and security. Their mix of specialist skills and experience is, truly, unparalleled. They've got 674,000 people working across more than 40 industries. They offer services in Strategy and Consulting, Technology and Operations, and Interactive, all powered by the world's largest network of Advanced Technology and Intelligent Operations centers.
"Without hesitation, I can say our people deliver on the promise of technology and human ingenuity every day, giving their best to clients in more than 120 countries. We embrace the power of change to create value and shared success for our clients, our people, our shareholders, partners, and communities," exclaims Laetitia.
Vision For a Bright Future
Laetitia believes that we have entered the 4th industrial revolution and that significant and accelerated change will power the world. She wants to be at the forefront of this movement – a shaper of a better future rather than a passive actor. She loves this quote by Churchill: If you don't take change by the hand, it will take you by the throat.
She strongly claims that Accenture is the best place to work and that's not only her biased opinion, but the market also agrees. It has an inspirational ethos and mantra: 'Let there be change'. Change is the only constant and it is what unites them all to be the best at what they do.
Julie Sweet, their CEO, is spearheading their transformation, and Laetitia exclaims that being on this journey with her is very exciting. The organization is about living a purpose. "How we infuse the crossroads of technology and human capability to deliver differentiated value to our clients is made possible only through the individuals here," she says.
She believes that their talented people are what will carry them forward to even greater success. She also believes they must keep investing in a diverse employee base, as the diversity of thought and experience is what will allow Accenture to thrive in an evolving society. She is committed to creating a vibrant and engaging community to help shape the paths of people, allowing them to see how important they are for the company's future.
Women Empowerment & Representation
Women represent more than half of the global population. They tend to be superstars at emotional intelligence, mastering versatility, and balancing various demands and needs. A society without the right level of women empowerment is a society that tends to be more divisive, power-hungry, and reactive, always firefighting. "We are essential in bringing more balance, openness, and harmony to our roles and we do it proactively – fact surveys and statistics tend to overlook," says Laetitia.
Laetitia surrounds herself with a very diverse team in terms of gender, religion, social background, disabilities, age, and sexual orientation. She states that she knows her teammates well. "I know what they can bring at work but also what motivates them outside of the office. I also make time to see how junior staffers and new hires are getting on in my division. I recently created what I call #nofilter sessions for the 3,500 people aligned to Data & AI," she adds. She invites all of them to book 20 minutes with her to discuss anything they like.
Authenticity is key in these sessions and Laetitia openly shares her struggles and her coping strategies. She creates a safe space for people to open up, to show her their true selves, and let her help them navigate the workplace. A recurring topic for working mothers is how to manage the guilt. She helps them find their ways and power in what others may see as quirks or vulnerabilities.
The ultimate recognition for Laetitia is the feedback she receives from members of her team and their clients. "It's often unexpected, coming out of the blue, and it's always appreciated. Knowing you're making a positive difference is such a great reward," she exclaims.
Responsibilities As Managing Director
Laetitia, who defines herself as a visionary, is the lead for Accenture's Data & AI business for Europe, which means she's responsible for ensuring its strategic growth. Data is a key enabler for business growth and having the opportunity to lead the charge in this space is a phenomenal opportunity.
"I would say my days are far from regular. That's why I enjoy my work. Oscillating between client requests and the business the piece of work we're doing, means wearing multiple hats and constant multitasking. Every day is exciting," she states. Laetitia thrives on the challenge of staying on top of market trends, innovating, and delivering leading-edge value to their clients is always on top of her mind.
Balance In Personal and Professional Life
Laetitia claims to be a very driven person and she is passionate about what she does. When she sets a goal for herself, she achieves it. That said, she states that she can't do it on her own. She has a fabulous support system. Her family understands the demands she places on herself and gives her the space to operate. Similarly, she recognizes that getting the balance right for herself and them requires the right dynamic. They create a good space to thrive as a whole.
Secondly, she surrounds herself with very smart, capable individuals. They are people she trusts, people who challenge her, people who are better than her, people who complement her and each other. Laetitia tries to create an environment for them to flourish. They create a north star and vision of what they would like to achieve as a business and consistently celebrate their successes. Giving teams autonomy and recognition sparks productivity and collaboration. It fosters growth and helps achieve shared objectives.
"It's also not always about work; we have great programs encouraging wellbeing. People are not just a set of professional skills. We consider the whole person," she says. In addition, Accenture provides a world of possibilities for reinvention. It's a great place for someone to define their space and their interest and drive their ambitions for growth. Laetitia states that when her team grows and is successful, so does the business. They strive to thrive together and that's how they keep raising the bar.
Pearls Of Wisdom for Her Younger Self & Aspiring Businesswomen
"I would give my younger self the gift of having more hope. Nothing is impossible if you put your mind to it. We are all humans, even the people at the very top of the career ladder. They are there because of their choices, their focus, their sacrifices, their hard work," says Laetitia, "Where you come from may give you an advantage, but it is not defining who you are. I'm proof of that, the proud daughter of a single teen mum," she further adds.
She now has a fantastic mix of international experience, she's made a wonderful family, and she's achieved things that amaze her every day. Laetitia believes in herself, in her abilities, and took opportunities that she created or that presented themselves.
Her message for aspiring businesswomen is – don't compromise on your values and interests. These become your framework and guide to reaching your level of success. "In the end, what matters is to be passionate about what you're doing. Stop proving yourself and keep improving yourself; do it because it matters to you. The rewards and recognition will follow," she adds.