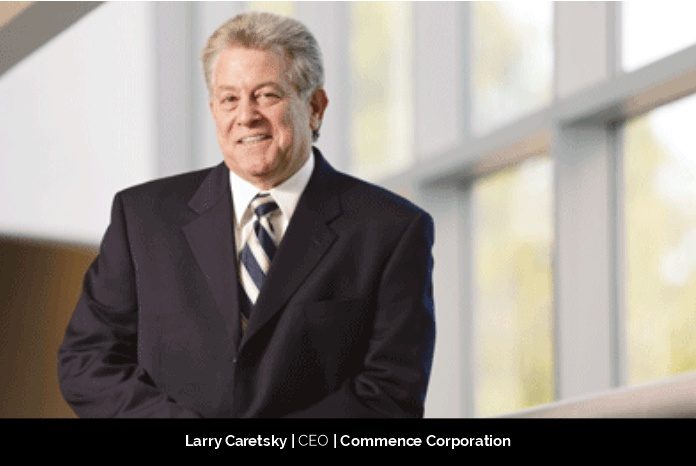 To become a leader and an example for others is by no means a piece of cake. It takes vision, courage, hard work, passion and plethora of other things. Likewise, becoming a leading provider of CRM solutions for sure doesn't happen overnight. It took its share of time, but it did happen for Commence Corporation. It became an award winning and leading provider of CRM solutions to small and mid-size businesses; and today, it has the best practices for improving sales execution. More than two decades ago, the founders of Commence Corporation had a vision where businesses could improve the efficiency of their operations by capturing, tracking and sharing vital customer information throughout their organization. This vision led to the development of Commence RM, a desktop software solution for managing accounts and contacts, sales, marketing and customer service. Earlier, the company's popularity was driven by the products' robust functionality, its ability to be used in a disconnected mode while away from the home office and the ability to be customized without programmer intervention. This uniqueness caught the attention of industry giants IBM, Compaq Computer and AT&T all of whom sold the Commence product under a private label agreement. This led to substantial growth and utilization in more than 35 industries in 22 countries around the world.
A series of best practices and more
Almost 24 years later, Commence provides a comprehensive cloud-based Customer Relationship Management (CRM) solution with functionality that rivals enterprise offerings costing thousands more. The company's professional service staff, who has been engaged in hundreds of CRM system implementations, has created a series of best practices for the clients. The company's top rated software coupled with these practices ensures that the customers realize a maximum return on their investment. Larry Caretsky, CEO of Commence and one of the most inspiring leaders in sales lead management believes in maintaining strategic alliances with technology partners, system integrators, resellers and business partners throughout the world. Larry proudly says that Commence is well positioned to continue to offer innovative products and services to its growing customer base well into the future.
Commence's products are utilized by small to mid-size businesses around the globe to streamline sales, marketing, customer service and project management. Customers that utilize Commence CRM have realized significant benefits in workforce productivity and positive customer engagements. Commence develops and delivers a diverse suite of business solutions that integrate people, processes and technology. The product automates the front office business processes that impact sales execution and customer service and includes; contact management, sales management, and lead management, marketing campaign management, project management and customer service. Commence CRM is browser base offering mobile connectivity and enabling customers to access the solution anytime, anywhere and from any device. The product is used by several thousand businesses around the world and has proven to increase workforce productivity, foster positive customer relationships and reduce operating costs.
Helping businesses create effective lead generations programs
Commence's "Sales Enablement Program" is designed to integrate people, processes and technology and help businesses create effective lead generation programs that drive new business, follow-up on new opportunities and manage the sales cycle from introduction to closure. It's a combination of CRM software and best practices and it is the key differentiator between Commence and those that just sell CRM software. Another distinguishing factor between Commence and other CRM providers is that Larry and his team understand that small to mid-size businesses are often resource constrained and cannot afford to recruit and hire professional sales and marketing personnel. Larry says, "Without this expertise, no CRM software in the industry is going to help these businesses improve how they market, sell and provide service to their customers. By wrapping the software with best practices that we have culled from 20 years of industry experience, we can deliver the return on investment our customers anticipated when they purchased the software." Although, Larry says it's a difficult message to get to the customers as the Commence team has to compete with all fanfare given to the industry giants and secondly because potential customers are still too focused on who offers the most features at the lowest cost. Despite that Commence is winning customers one at a time because it has proven to deliver a measurable impact on their business performance.
Committed to helping customers get sales
Larry affirms that Commence doesn't just sell CRM software – it is committed to helping customers get sales. He says his team is here to help customers implement best practices around sales and customer service that result in overall improved business performance. Commence CRM is a robust affordable solution with an experienced support staff that ensures the most bang for customers' buck. With Commence CRM, customers are able to automate their lead generation processes, plan marketing campaigns to nurture leads, and win at customer success by maintaining and analyzing every customer interaction. Commence manages this journey end-to-end for customers– from lead to repeat customer and beyond – by providing a variety of third-party integrations with email providers, accounting software, and other business applications.
Larry's firm has a proven track record of helping customers enhance sales by automating sales and customer relationship management. "We achieve this by providing a full set of tools that encompass contact management, lead management, sales opportunity management, activity management, marketing campaign management, customer service, project management, and more," Larry adds. Each feature is tightly integrated to help customers' grow their businesses faster by managing existing and potential customers from a single solution that breaks down information silos. "The seamless ecosystem allows you insight into every customer and lead interaction across your organization with powerful analytics and reporting features. Customizable reports combined with graphical representations of current sales, marketing efforts and customer service information enables management to make effective decisions based on a clear picture of the organization's needs and strengths," he further says.
Meet the CRM genius
When it comes to helping small to mid-size companies, understand and implement programs to improve sales execution Larry is a recognized leader around the world. Author of an E-Book, "Practices That Pay" and more than a hundred articles pertaining to lead management and sales execution, he is helping businesses implement programs to generate more leads and automate the internal business processes for managing the sales cycle. He has held executive level positions in several Fortune 100 software companies and his expertise has taken Commence to a higher level with strategic planning, building and optimizing organizational processes and fostering business partnerships with domestic and international organizations. His efforts have enabled Commence to build brand recognition and compete globally and driven the company's internal staff and global business partners to focus their energy on continuing to improve sales and operational efficiencies. His leadership has made Commence a formable competitor in the CRM sector and he continues to make Commence – the one stop solution when it comes to CRM.