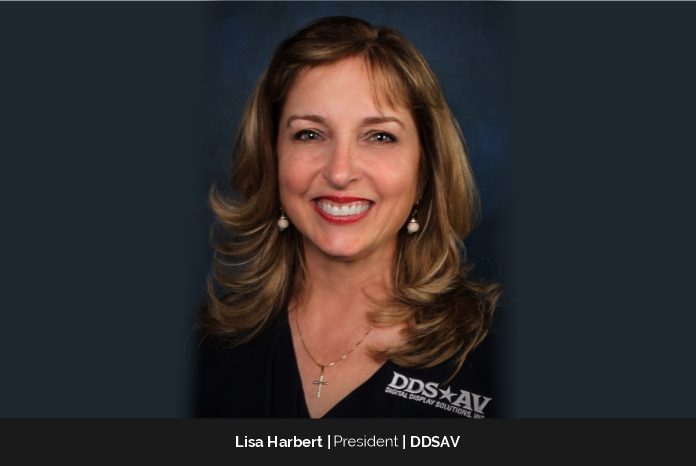 Many people think that discrimination against women still exists in the workplace, especially when it comes to assessing their capacity for leadership. However, just as vision is a matter of what one does rather than who one is, so too is leadership. It includes the capacity to criticize existing procedures as being insufficient, to come up with suggestions for novel tactics, and to persuade others of the potential in motivating ways. Therefore, having a vision does not equate to having charisma. It involves "identifying" broad patterns and formulating a plan of action based on those patterns.
Digital Display Solutions Inc.'s President, Lisa Harbert, founded the company in 2001 and assumed her current role in 2018. When COVID-19 struck, Digital Display Solutions Lisa, who is based in San Antonio, made a commitment to offer STOP COVID goods and technology solutions to improve and make safer the workplace and home office. She and her spouse have established DTS-AVI, a brand-new division of DDSAV. It's audio-visual integration by Digital Technology Solutions. To offer our customers a complete package—including technology, interiors, and overall integration—they also added an Interiors Division.
Best Audio-Visual System Design, Sales and Service
Award-winning Digital Technology Solutions (DTS), situated in San Antonio, Texas, offers its customers complete audio-visual solutions. In order to represent its expansion and the addition of health technology solutions, the firm recently changed its name from Digital Display Solutions, Inc. to "Digital Technology Solutions." The company was founded in 2001.
Like many companies, Digital Technology Solutions was having trouble adjusting to the new COVID-19 environment. To assist our clients in battling COVID-19 and other infections, DTS rapidly devised a technique to adapt and introduced health technology products.
All of the major A/V manufacturers, including Cisco/Tandberg, Creston, Extron, Biamp, Poly, AMX, and more, fully certify the engineers that DTS hires. For boardrooms, conference rooms, training rooms, classrooms, command & control rooms, operations centers, council chambers, courtrooms, auditoriums, and other spaces, DTS specializes in the design and implementation of A/V systems.
Digital signs, video conferences, health technology, interior design, visual data exchange, teleconferences, streaming, control panels, and any facility that requires sound or video are all things that DTS assists clients with. Additionally, the business will rent out conference rooms at its corporate headquarters.
The business has received various honors and prizes for its ability to solve problems. It received the Commercial Integrator Magazine's 2017 Best High Education Project Award for the UTSA Retama Room. It's a sizable room like a theater with theater seating, and it's in the University of Texas at San Antonio's Student Union. All of it was audio developed and designed by Chae Chang for DTS internally. Because the theater is used for so many diverse purposes, this was one of the most difficult audio and video projects. It functions as a classroom, a live music venue, a place to see movies, a stage for plays and comedies, and a place to listen to music. The business developed pre-sets for speakers, mics, lights, and everything else depending on usage in order to prevent any potential issues in the future.
In the days to come, Lisa and her team will look at self-branding products (groups that create a solution) and sell them under their company name.
The Transformational Journey
Lisa and Roger moved out to make it on their own, armed with their strengths, talents, and life experience-based insights. Lisa recalls the time she withdrew $350,000 from their long-term savings account.  "I had a certified check created at the bank made out to Digital Display Solutions," she says. According to Lisa, investing in one's future may be frightening, but doing so allows one to "basically" own and control it. The pandemic helped them understand that sometimes life presents them with obstacles that are completely out of their control, which is why she uses the term "mainly" in her sentence. We have to respond as best we can; we can't plan," Lisa explains.
Since starting DDSAV, Lisa and Roger have faced difficulties but have persevered by adhering to their core values of "Doing the Right Thing" for the business, their clients, their workers, and the community.
Difficulties make You Efficient and Resilient
Lisa believes that challenges make one stronger. "It's Biblical, and if you study things that turn out beautiful like diamonds and butterflies on Earth, it takes pressure and pain to get to the beauty to enjoy," she says.
She and her husband did not create the incredibly successful company known as Digital Display Solutions overnight. Lisa claims, "We have been to hell and back." They (tolerated) having their staff steal from them and monopolize their clientele. They had to struggle against uncontrollable factors and cash flow.
When Lisa was employed at P&G, she discovered how to view failure as a chance to improve. She currently adheres to that philosophy while overcoming obstacles at DDSAV. She and her team attempt to examine why things went wrong and apply what they learn to the future, rather than searching for blame.
"We don't blame the employees for the mistakes or issues but 'seek to understand' what happened and always, always ask "WHY" before we jump to conclusions," Lisa says. "We also address issues in the present and don't let issues linger."
Only when employees begin to make the same mistakes again do Lisa and her team write to them and make expectations clear. Additionally, they request a signature from the worker confirming their understanding that the behavior in question is unacceptable.
Responsibilities as President
As the company's president, Lisa is responsible for developing a fantastic culture that keeps employees' content and free of turmoil. "I work on culture every day," she claims. All of the financial plans are under Lisa's supervision. She also works every day to improve procedures, and she tries to assist if there are problems by exerting pressure on behalf of "The President." She considers the financial picture and job costs. Lisa is in charge of onboarding and HR. She claims that the statistics and the atmosphere of the place are all her responsibility. To maintain their position at the top, she also cultivates their ties with suppliers. And Lisa keeps a daily eye on the progress of new products. However, she usually depends on her team to know the details. She also cooks for her team of engineers, programmers, and operators and spends time with them.
Vision for Digital Display Solutions
The audio-video sector is expanding quickly. It is anticipated to expand at a rate of 32% in the upcoming year. DDSAV aspires to grow further and take the lead in the industry. DDSAV will launch its commercial showroom in January 2022 on a significant road adjacent to the San Antonio airport. We have two cutting-edge conference rooms that will display the most recent goods for in-person meetings or virtual collaboration, according to Lisa.
Additionally, Lisa claims that they will now go by the name DBA Digital Technology Solutions (DTS). They can use it to increase the capabilities of the business. They want to become the go-to tech specialists for board rooms, conference rooms, and any other.
Additionally, Lisa believes that DDSAV is looking at an exit plan for it in the next nine years. The company's dream is to expand the technology showroom/toy store to other markets. She also points out that they have a team that plans to create unique products for the company to sell, under the brand. She feels that the team is knowledgeable, and this team could create products for collaboration and business, and excellent audio and video that solves a need.
Note for Future Women Visionaries
"I would tell aspiring women to find yourself," Lisa says. "Know yourself inside and out. Be humble, and always seek to understand before you speak. Be kind. Don't be afraid to take care of your employees and feed them."
Highlighting an old expression, "If you feed me, then you love me,' Lisa says that women leaders need to care for others and inspire them to find their strengths, passions, and natural skills. She encourages them to listen to both sides of a situation and gather quality experts around them who can advise them. "Have smart and humble people around you," Lisa adds. "The most important thing is to listen to your heart. Always follow your heart."
She also points out to women leaders that it is their name, their debt, and their responsibility to lead the team to success. And, while women leaders should never be afraid to admit that they are human and have made mistakes, they should never speak in anger because it results in a loss of intellect.
Lisa's message to aspiring women leaders is to "Believe in yourself and invest in your health, mind, heart, and soul. You can do it! Persevere. Never ever give up." Her success can be credited to her persistence and I-don't-let- go attitude.