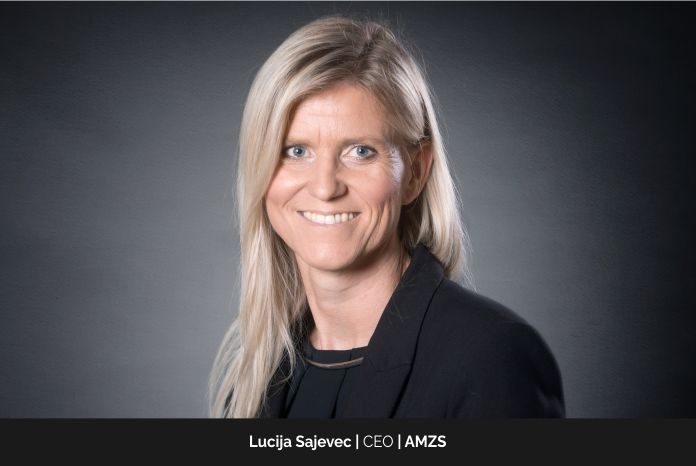 Mobility trends are rapidly shifting. In the sphere of mobility, there will be several opportunities for new business models. Different businesses are increasingly intertwined in the mobility market, so it will be critical to link even more. The development of new technologies, material innovation, and the advancement of connected technologies, as well as the movement toward autonomous cars, are all part of the interaction of services offered by energy firms, infrastructure, digitization, and integration with municipal administration. This will also lead to financial changes, and vehicles will be more expensive and less available in the future. "This will create a shift in awareness of "mobility on demand", which will, of course, also have an impact on the environment," says Lucija Sajevec.
Lucija Sajevec is the CEO of AMZS, Slovenia's largest roadside assistance service. Lucija's career is guided by the KAIZEN philosophy of continuous development and advancement through the inclusion of everyone. Her job entails connecting employees, discovering fresh skills, and building effective teams. Lucija, who is committed to the concepts of open communication and collaborative leadership, has made great strides in the creation and adjustment of the AMZS business culture and values in recent years, along with her team of collaborators. As a Master of Economics, she also gained professional experience at a global corporation.
AMZS; All Generations Trust Us
AMZS offers diverse mobility solutions (technical inspections, registration, insurance, vehicle maintenance, etc.). For tomorrow, it is carefully creating a mobility ecosystem and trying to stay its members' first choice for safe, carefree, and sustainable mobility.
By connecting various stakeholders, the company provides comprehensive solutions in the field of mobility. "On our journey, we always put our users first. That is why all generations trust us," says Lucija. "Through our care, we inspire and expand the membership community that is the source of our tradition and the inspiration for our future."
AMZS has been carrying out its noble purpose for over 112 years and is more than just a protector of safe mobility. As Lucija, it is a mobility solution integrator with 30 facilities throughout Slovenia, including the AMZS Safe Driving Center, the Driving School, and the Karting and Motor Sport Center, that surprises people with the proper solutions. She opines, "Looking to the future and seeking new opportunities, we are increasingly focused on the mobility of the future."
Love for Learning
Lucija has always been very active. She says, "Even during my studies, I worked in different committees and participated in various projects." Prior to joining the corporate sector, she was quite engaged in sports, and she had a strong interest in motorsports when she was a youngster. Above all, she has always enjoyed trying new things and learning new things. She worked for a large corporation in another country for a few years. Whatever Lucija undertook, she undertook with all her heart, and knowledge. She asserts, "Even now, in my time at AMZS, everything remains the same. I have grown up and learned a lot, but I keep my curiosity and desire for change."
In recent years, Lucija has learned to listen even more, to perceive, to accept. "It's hard at times, but in the end, I can say it has a lot of added value," says Lucija.
 'We Do What We Say'
Lucija believes that it is critical to approach every hurdle from as many perspectives as possible in order to discover the best solution, and that it is necessary to learn to leap. Every day brings a new obstacle that she attempts to learn from. Every adversity she sees as an opportunity to learn something new, a lesson on how to avoid similar problems in the future. That is why her leadership style includes asking a lot of questions; when one hears a lot of diverse viewpoints, it is easier to discover the proper solution. She states, "I think people having different opinions is good, it brings balance to an organization—if we were 'all on the same side of the boat, it would quickly tip over'."
According to Lucija, the main emphasis of AMZS's current activities is cooperation and integration at all levels. AMZS's team has created certain digital solutions that allow it to enter new markets. It actively monitors data, conducts analysis, and assists in changing the usage behaviors of its users and others.
Lucija believes it is critical that the team live things from the inside out. She says, "We need to continue to internalize sustainable mobility at all levels within the AMZS. Only then can we take stronger steps outside. We try very hard in this direction to "walk the talk".
'The Power Is in You'
Lucija considers her family to be her "charging station." Although she believes that nowadays it is impossible to separate work and life (it is more about life-life balance), the key to finding the appropriate balance is effective organization and selecting the right priorities within a certain time limit. She asserts, "Out of passion for my work, the computer sometimes doesn't stay closed, even on vacation, but that doesn't bother me."  She further adds, "I can 'mentally disconnect,' which I find extremely important and more important than the quantity of family time. Quality counts, and the fact that when we are together, we only dedicate our attention to each other."
Lucija follows the guide in life— "find your way and be open to all opportunities that come your way. I believe that the journey and lifelong learning are more important than the end goal. And most of all listen to and believe in yourself."
She feels that when people are happy, they are more involved. She recognizes that one factor that contributes to success is that coworkers are well-informed and capable of making decisions and that a place is established for an open culture of conversation. It appears to her that they must likewise be acknowledged and applauded. "Giving praise was not my strong suit in the past, but today I really express my gratitude and praise many times," says Lucija.
Lucija is interested in sustainability and technology since they are related to her own goals. She discovers that she has a lot of things she wants to experience and realize, but most importantly, she wants to learn. She wants to give back to society since she believes that "giving" is the key to happiness.
Success Demands Determination
Lucija thinks that the difficult trials one faces over the years make him/her stronger and more experienced. She sees that without falls, there are no successes. She adds, "The most important thing is that everything we do gives us joy, fulfills us, and gives us a sense of purpose, while remaining a challenge; success comes as a result." She also believes, "Carrying out our mission and doing what we feel in our hearts is right and good for the community is a privilege I afford to everyone."
Lucija enjoys finding meaning in her work. She considers her work at AMZS a calling. That's why it's not difficult for her to operate a firm that employs fantastic people and offers such a diverse range of services. Furthermore, mobility is changing dramatically, and AMZS views the problems that change brings as possibilities, which is beneficial since it provides the organization energy and a driving force for its operations. Lucija is happy with her team's and her own accomplishments throughout the years, but her attention is on the future. She opines, "Together as a team, we grow and learn every day."