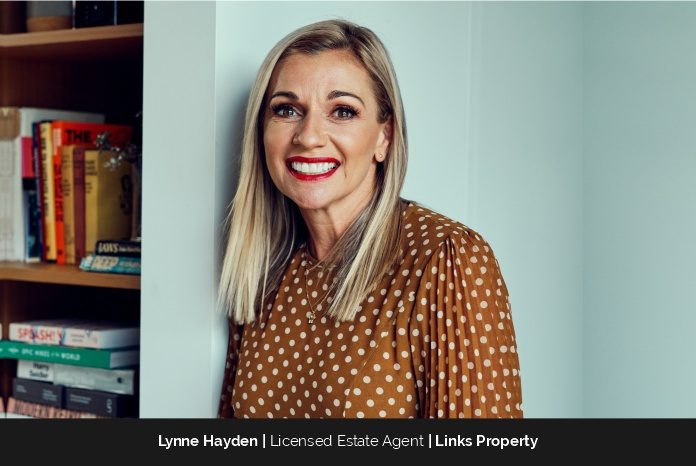 Women are succeeding in a range of fields today, including real estate. Women are not only catching up quickly, but they are also breaking preconceptions. Women's economic contributions have increased dramatically during the last decade. Women are, interestingly, among the fastest-growing consumer groups. While the industry of real estate development has long been controlled by men, women today, on the other hand, have a desire to build their own money and expand their investing horizons. Overcoming the stereotype that global real estate is controlled by men, women have carved out a place for themselves in this fast-paced industry that is always in demand.
Lynne Hayden, the owner and certified estate agent of LINKS Property, lives and breathes modern Surf Coast real estate. Lynne, who lives in the area with her small family, is an advocate for the region and all it has to offer. A well-known piece of information was conveyed by her friends and teammates. She is obsessed with not only real estate but also wonderful cuisine and superb coffee. Lynne's excitement and energy are contagious, and she is willing to go the extra mile to fulfil the requirements of her customers, whether they are buyers or sellers.
A Realtor by Blood
Lynne was born in 1976 and is currently 46 years old. She was raised on a farm in rural Victoria. She was born into a real estate family and married into one as well. She considers herself fortunate to have attended a private school for the last three years of her education and then a university, where she earned a double degree in Public Relations and Information Technology.
She relocated to the Torquay Coast after many fantastic years in public relations in urban Melbourne. Lynne says, "With no PR jobs in the region but with a love for real estate, I decided to explore a career change. I lucked into a job with Colliers in 1998 onsite selling exclusively the Sands golf estate." Her natural route was to carve out both a profession and a business selling and managing real estate in her favourite beach locale.
Lynne began her real estate career in 1998, and she founded Links Property in 2007. She was urged to take the leap by a mentor and former coworker. She declined the simple choice of joining the company's business and instead founded a modest, all-female spin-off called "Digital Girls Living in a Digital World."
She says, "If I had to name one thing that inspired me to take the step of faith, it would be my mum." "Hard working, driven and with an un-waiving interest in real estate."
The Multi-tasker Leader
Lynne is a multi-tasker, a social butterfly, and a clever businesswoman who knows how to get things done. She embodies Surf Coast sensibilities and is a proponent of the coastal lifestyle. Torquay is where she wants to raise her family. Lynne's 15+ years in the sector as a licensed agent with a B. Bus in public communications and an Ass. Dip. in IT means she appreciates the value of seaside property and regards Torquay and Jan Juc as smart lifestyle investments.
Lynne is a gregarious and friendly person. Her favourite part of her job (which she doesn't consider work) is being a part of people's deep emotional journeys when they buy or sell homes.
A Brave Business Heart
Lynne tries to measure success by the small wins every day. She loves helping her team do the same. She shares, "I don't strive for world domination and for our business to monopolies a market share. We have carved out a small but loyal customer base and strive to give them the best of us. We are working mums and families and want to emulate life on the coast, which can give you the best of both worlds – professionally and personally." She further adds that her feelings towards success changed in 2017 when she lost her husband (47) in a car accident. Widowed with two small children, Lynne had to redefine what she wanted to do in life. Before the accident, it was work first and family second. Lynne has spun the ratio around in the past five years and says, "I am proud to say we haven't lost our foot in the market."
Links Property
"At Links Property, we love what we do. Linking you with a property you'll love."
Links Property is a real estate marketing and sales organisation with decades of combined expertise. But recognizing that every real estate transaction dramatically influences the lives of all those involved is more than simply experience. Lynne says, "The significance of your home purchase or sale is at the heart of everything that we do."
The Links Property team offers comprehensive property management services. It specializes in home sales, land sales, and property management. Torquay, Bellbrae, Lorne, and Jan Juc are among the towns visited by the team. This is Links Property's neighborhood, according to Lynne, and it's where the business knows the market and is well-connected.
The firm's professional team is devoted to accompanying you on every stage of your real estate journey. The firm's strength is its sincerity and passion for real estate. Links Property strives to make your experience delightful, from managing expectations in person or virtually to serving as a local industry reference.
League of Female Leaders
Links Property is a female-only firm that understands what it's like to fall in love with a house, a location, a view, a lifestyle, or a new opportunity. Its wholehearted, attentive approach to house sales, land sales, and property management is professional, detailed, frank, and always flavored with the idea that how one "feels" about a home takes precedence over anything else.
Property, home environment, and functionality are all topics that women discuss passionately. They understand how a home must accommodate your needs. Lynne says, "We know what buyers want—from the thrill of architecture to the excitement of high tech. We recognise the home buying process is more emotional for some buyers and more rational for others. "
Women are the ultimate main decision-makers when it comes to acquiring a property for practical reasons. So, having women represent you and your home in the marketplace makes perfect sense. When it comes to real estate, women prefer to deal with other women.
Lynne's workforce increased from two in 2007 to six in 2022, with employees ranging in age from 40 to 75.
Consistency and Commitment
In real estate there is no 'off' button. The work is 24 hours a week. Lynne aims for Sundays with no technology, and after 8pm, her phone and computer hit sleep mode. She says, "The great news is that our digital-based systems and processes mean we can work on the run. We can often take time away, spend time with the children – but all the while being connected and available."
Links Property was the first real estate company to adopt cloud-based technology. It assists over 5,000 families in purchasing, selling, or leasing a house along the seaside and employing senior employees and older women, as well as reintegrating working mothers into the workforce and providing flexible work settings.
In 2019, the business received a national award (REB) for 'principal of the year' regionally.
Focusing on Organic Growth
Lynne is the driving force behind Links Property, the visionary who launched the locally owned, full-service firm and continues to steer it along a forward-thinking path. She wants to keep doing what the firm is good at. She describes organic growth as "happening in real time" and "creating a business that perhaps her daughters will be able to join."
Message from a mother and a Successful Leader
Lynne is the mother of two girls – Charlotte, 14 and Sophie, 11. She is and wants them to be independent women. She grew up in a family, being the only girl and having three brothers as siblings. She recalls, "We were on a farm, and every weekend was spent working. Watching my parents compromise and go without has shaped my definition of achievement." Lynne wants her daughters to be happy in whatever they do while also having a sense of purpose and independence. Above all, she wants her girls and the next generation to have gratitude and says, "Always be grateful for what you have and never take anything for granted."
As a woman entrepreneur, her message for all women is, "Don't take anything for granted. Life can change in a second. Be fluid and open minded. Everyone is different and builds roles to suit the people—not people to suit the roles."