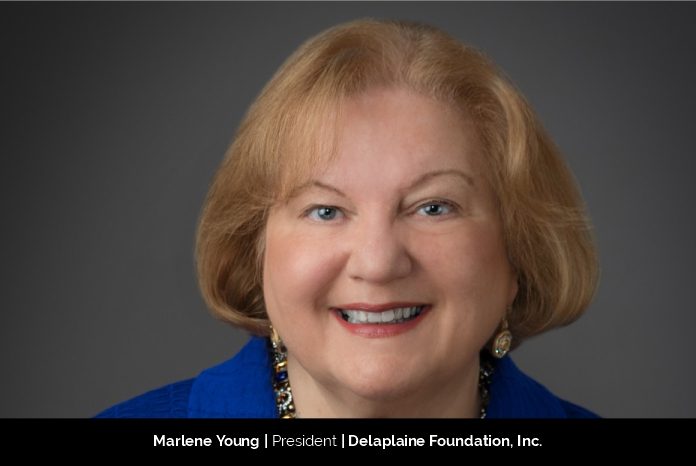 Marlene B. Young is president of Frederick-based Delaplaine Foundation, Inc., a private Foundation dedicated to enhancing communities and families by funding initiatives that advance the arts and sciences, historical preservation, spiritual enlightenment, education, human services, and physical wellbeing. She also holds the position of Vice President at Frederick-based management services company Great Southern Enterprises, Inc., which specializes in some select venture capital funding projects and management of public and private investments.
Marlene's background is in corporate administration in publishing and telecommunications. For her nearly 25-year service to the cable sector, she received the Founders Club Award from the Maryland-Delaware-DC Telecommunications Association. She is a five-time winner of the Maryland Department of Labor, Licensing and Regulation's Outstanding Media Award for her continued support of the Maryland Job Service.
"A good and worthy leader is well versed not only in financial bottom lines, but also in humankind and servanthood to others." – Marlene B. Young
Bringing Positive Change
The motivation behind Marlene's narrative springs from ambition and a desire to make a positive and lasting difference, rather than to merely earn a living. Beginning her career in customer service, it was through her strong work ethic, commitment, perseverance, and dedication that led to her roles as an administrative assistant, director of human resources, and vice president of administration for a sizable privately held communications company, Great Southern Printing & Mfg. Company, which owned and operated the daily newspaper and cable TV company in Frederick, MD. As the businesses expanded to include not only the daily newspaper but also cable television operations in four states, a commercial printing operation, and a website development company, she was fortunate to work closely with visionary CEO George B. Delaplaine, Jr. who also was a mentor who gave her great autonomy and the opportunity to work hard, take on additional professional training, education, certifications, and development opportunities.
In 2001, the parent company's ownership decided to sell the assets. The Delaplaine family decided to set aside a portion of the sale proceeds to create Delaplaine Foundation, Inc. as a way to perpetuate the family's generosity and giving back to the community through grant funding through a non-profit private foundation, in keeping with the philosophy of making generous corporate donations during the years of the family's for-profit business operations and the legacy of the Delaplaine family business dating back to the 1880s.
With the founding of Delaplaine Foundation, Marlene's mentor, Foundation Chairman George Delaplaine, once more gave her the chance to "take the ball and run with it" by laying the groundwork for the organization and running the operation. She is appreciative of and cognizant of individuals who have supported her throughout her career and mentored, encouraged, and believed in her. Marlene is encouraged and inspired to give back to the community by giving people hope, opportunity and empowerment, beyond financial support.
Marlene is honored to serve as President of Delaplaine Foundation, which, with a 12-member Board of Trustees, has provided grant funding in excess of $22.5M to over 300 non-profit 501(c)3 organizations since 2001 in support of its mission to enrich communities, families, and quality of life for all through a diverse range of programs and services to strengthen the Cultural Arts, Educational Advancement, Health, Human Services, Historical Preservation, and Spiritual Enrichment. She shares, "I've found that focusing on people, passion, and purpose has opened many doors of opportunity along with developing a network of relationships, partnerships, and collaboration within the communities we serve." She has also found it to be her joyful obligation in turn to mentor and support others, aiding in their professional development and reaching their potential.
Additionally, Marlene has been able to establish, with her husband Mike, several college and high school scholarships for youth pursuing higher education in the areas of business, education, the humanities, and music. Marlene adds that to mentor and follow these young people has added so much to her person and professional journey.
"I believe there's a universal law that says we only get to keep what we give away. In other words, strive to give back or to pay it forward, for what we have done for self alone dies when the individual dies, but what we have done for others remains and is immortal." – Marlene B. Young
Delaplaine Foundation, Inc.
The Delaplaine family has historic ties to Frederick County, Maryland, and its ancestors are among the region's oldest immigrants. The Delaplaines have long valued giving back to the larger community as benefactors. The Frederick, Maryland-based private foundation continues working to enrich both the community where the team is headquartered and other areas within its state and region. The foundation also offers a small amount of grant financing on a national and international level. Marlene states, "We carry out our philanthropic mission by forging synergistic relationships with dedicated non-profit organizations whose respective goals are closely aligned with our own."
Marlene's leadership is governed by the values of accountability, integrity, respect, inclusivity, and equity treatment of all with whom the foundation comes into contact, commitment to preserving public trust, responsive attention and compassionate awareness of community needs; and the dedicated pursuit of excellence in philanthropy in order to carry out Delaplaine Foundation's mission and commitment to the enrichment of communities, families, and quality of life for all.
Making Efforts to Strengthen the Community
While the Delaplaine family legacy is rooted in a dedication to identifying and serving others' needs, working with Marlene's fellow board members, the Board acknowledged that Frederick County has changed significantly since the foundation was established and that the area is now much more diverse, both in terms of its population and its economic makeup. Humanitarian needs, according to her, have grown both before and since the pandemic because of COVID-19's effects and the associated socioeconomic difficulties.
Over time, as the foundation's resources and grant requests have increased, so too has the assessment of its stewardship. Marlene advocated for the foundation to create the first-ever Community Advisory Council in response to the community's needs and its ever-increasing diversity (CAC). By utilizing local resources and recruiting volunteers from the community to contribute their professional expertise and/or personal experience as subject-matter experts within the six areas of giving defined in the foundation's mission—the arts and culture; educational advancement; health; human services; historical preservation; and spiritual enlightenment—the CAC is intended to sharpen the foundation's knowledge of current trends, challenges and opportunities relating to what is happening in the funding sectors. The CAC acts as an additional source of specialized insight and experience for the Board of Trustees as well as community ambassadors and advocates for the Delaplaine Foundation.
The direct engagement of community experts further educates the Board of Trustees and provides access to well-informed viewpoints to assist and inform funding decisions. This informed advocacy and body of community expertise helps identify additional meaningful opportunities to engage influential volunteers in support of mission-related funding initiatives. In order to be eligible for consideration as a CAC member, qualified nominees must live or work in Frederick County and cannot be currently employed by or serve on the board of any non-profit organization that is currently receiving or has previously received grant funding from the Delaplaine Foundation.
The Community Advisory Council serves as an intentional action to add voices reflecting equity, diversity, and inclusion that can help inform, enable, and equip a philanthropic board to make the best-informed funding decisions and help the foundation to stay more closely abreast of issues that impact the community and affect social change, Marlene sees the establishment of a Community Action Council as her contribution to redefining the industry. Building bridges and removing barriers is a way to acknowledge that a community is at its strongest when its members embrace the diversity of its members' backgrounds and viewpoints and champions what unites them. This includes having respect for the various cultures, beliefs, and historical periods that make up the organization as a whole, which creates a vibrant community that looks out for its own and is unified in its desire to succeed.
"Leadership is a privilege. A dynamic leader's influence has the potential to affect positive change in our communities and our world while also impacting the trajectory of people's careers and lives. We are here not to see how important we can become, but what we can do to help lift others to a better place." – Marlene B. Young
Proud Moments
Marlene says that as a successful company leader, the organization's grant funding work has made a lasting positive impact on the lives of others and has also influenced her life through the people with whom she works and those she has met and been privileged to serve through her work, giving her many moments of satisfaction. Knowing that her job improves the lives of people, and their quality of life is something that fills her with pleasure, achievement, and appreciation for the numerous possibilities to bring about a major, beneficial, and long-lasting impact. Her leadership career has had specific moments of success when she has been honored for her accomplishments and her fervent devotion, leadership, and action have been recognized by her community, industry, and state. Such as:
Awarded an honorary Doctorate of Humane Letters degree by Hood College in 2014 in recognition of leadership, long-term support of the college, community contributions and positive impact in Frederick County and the State of Maryland.
Named one of Maryland's Top 100 Women in 2015, for a second time in 2020, and in 2022 after being named to Maryland's Top 100 Women for a third time, was inducted into the State's Top 100 Circle of Excellence, an honor reserved for those identified as inclusive change agents recognized for their outstanding achievements demonstrated through professional accomplishments, community leadership, mentoring of others.
In August 2022 was awarded the Shero Heart Award by the Frederick County Chamber of Commerce for making a positive difference in the lives of others and service to community.
Awarded The Eagle Award, the highest award given by Frederick Community College Foundation in 2020 for positive impact on the college, its students, higher education and the community overall.
Awarded the Presidential Medal award by Saint John's Catholic Prep High School in 2020 for leadership and making a significant difference in the lives of others through leading by example to improve the community and the State.
Responsibilities as the President
While there is no such thing as a "regular day" at work, Marlene's responsibility as President of Delaplaine Foundation includes being responsible for evaluating the overall impact of the Foundation on the communities it serves. Her responsibilities also cover:
Develop policy formulation, implementation, and interpretation.
Work with her fellow trustees on the Board to set strategy and vision, lead the staff and set strategic goals for the Foundation in consistently fulfilling the foundation's mission.
Understand the dynamics of local, regional, and national environments and trends and how to mobilize resources for the common good.
Direct organizational spending, monitor budget compliance, and ensure that goals of inclusivity and diversity are being met.
Reach out to the communities the foundation serves to establish meaningful relationships through public presentations and by being an active and present member in attending business and civic events, conferences, and gatherings.
Sponsor special events designed to promote Delaplaine Foundation's mission or the like-minded missions of our non-profit impact partners.
Serve on collaborative initiatives with other community influencers; implement strategic plans, based on data-driven analytics, projections and financials; ensure compliance with relevant state and federal laws.
Be engaged in community networks to leverage the Delaplaine Foundation's community presence and funding for enriching and affecting social change.
Marlene also meets with non-profit leaders to vet funding proposals, participates in philanthropic surveys, and sits on educational panels.
View on Success
Success, in Marlene's opinion, is the capacity to zealously and purposefully lead by example; to work hard, inspire, and empower others to achieve results that add value to the organization and those it serves; the capacity to ask the difficult questions; have courageous conversations, set a vision, establish strategic goals, and seek to make a positive and lasting difference through consistently executing one's business's mission.
Vision for the Future of Delaplaine Foundation, Inc.
By virtue of its charter, Delaplaine Foundation, Inc. is structured as a perpetual foundation. Future actions will be in accordance with the Foundation's strategic plan, which calls for maintaining the Foundation's status as a significant funder, collaborative community partner, and convener of resources and networks to support the non-profit sector, as well as evaluating and reaffirming those roles. It makes use of databases and technology to study and evaluate grant making methods in support of the Foundation's objectives and its substantial financial commitments to non-profit impact partners. The group develops new board member training programs and practices, nurtures the next generation of board members, and evaluates skills, networks, and characteristics. It ensures that future board members are passionate about supporting philanthropy and preserving the foundation's identity and original donor intent while ensuring a well-structured succession plan is in place for implementation.
"To be in service to humanity is a calling. The work is challenging, but uplifting. It's not about making a donation, but about making a difference. When you connect with real people who have real human need, you acknowledge and respect the inherent dignity of those most vulnerable. Using available resources to transform challenges into opportunities to lift people to a better place, is to advance the common good for all and achieve a greater good for all."- Marlene B. Young