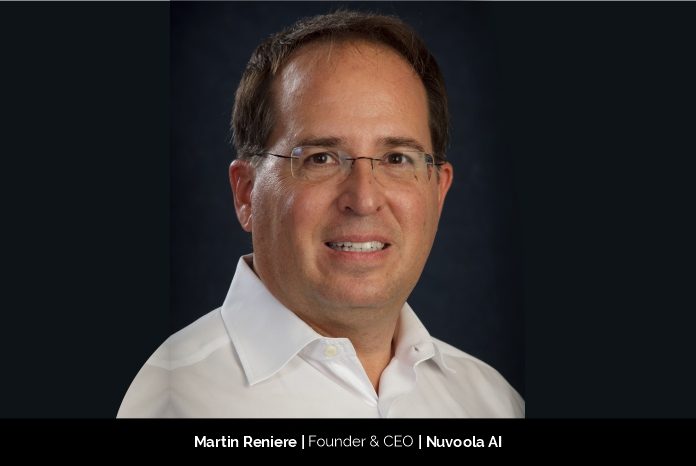 In the past few decades, technology has grown rapidly, but artificial intelligence, a branch of computer science has seen the fastest growth. artificial intelligence is indeed a revolutionary feat in the world of technology and innovation, and Martin Reniere, CEO and Founder of Nuvoola AI aims to use it for the benefit of humanity.
Founding a Company with a Vision to Help Humanity
With a focus on developing intellectual property, Martin started his entrepreneurial journey in the telecommunication industry, in 1996. He has worked in various companies as a senior executive, designing, planning, and delivering multi-million dollar projects in many countries. He decided to work on AI years ago as he could see the potential it could have on human life.  He says, "Technology is so advanced that there are no reasons why we can't use it to benefit humans, societies, and nature".
Martin's vision is to create a place where he and his team could dream and explore big innovative ideas, then build products based on those ideas. He wants to help companies tackle unsolved business challenges and find efficient ways of working. That's why  he founded Nuvoola AI.
About LUKE AI
The company focuses on artificial intelligence, machine learning, and IoT. Martin states, "Nuvoola is a Saas AI solution provider whose goal is to improve a company's performance through automation and real-time visibility. Our company has expertise in computer vision, natural language processing, and data prediction. Basically, we transform video, voice, and data into actionable intelligence to help people make better-informed decisions." Currently, the company is focusing on healthcare, the supply chain, and the financial sector.
Their solution, called LUKE AI for Manufacturing and Distribution Centers (MDC), uses artificial intelligence to automate gate operations and provide real-time visibility into logistic operations by digitizing and centralizing information automatically. This not only helps  streamlines the logistics operations of a company but also provides data that's accurate, available, and easy to retrieve from a dashboard.
Another solution, LUKE AI for Health Screening and Protection is an automated health screening solution designed to help organizations limit the spread of viruses and control access to facilities. This has been a blessing for organizations during the pandemic as it involves a contactless screening kiosk that screens employees' and visitors' health status rapidly. It is able to provide a real-time overview of multiple sites so that risks can be managed remotely.
Nuvoola creates AI solutions leveraging the cloud, allowing them to scale and deploy solutions efficiently without the need to install servers locally. This helps  reduce the IT costs for both, the company and the clients.
Values Of Nuvoola AI
A company that has clear core values ensures that all the employees are working towards the same goal and supporting the company's vision. Martin has built his company around three core values – customer satisfaction, innovation, and teamwork. He believes in putting customer satisfaction before everything else. He strives to allow innovation to flourish throughout the company by providing an environment where every employee can think independently and find new ways to solve problems. In his words, "If you empower your employees, they will bring value to the organization. Allowing employees to feel they have a voice and then to listen to them, explore their ideas and provide feedback as a group – these are all excellent ways to foster integrity. Our workforce is diverse and that diversity allows many different ideas to emerge". He is a strong believer in teamwork; often co-creating solutions by teaming up with his clients. He adds, "We believe that when we collaborate, we achieve more. We are always stronger as a team – which also includes our partners and clients."
In his company, Martin considers his role as that of a coach and sees his company as a team. He ensures that everyone is playing the position they are best suited for.
He finds motivation in new ideas. He explains, "The status quo is never enough, I am excited by the possibility of what could be".
Roadblocks and Lessons
There are many factors that influence the industry and are beyond our control; companies need to be agile to pivot quickly to respond to changes in the market.  But the pandemic was a wave that nobody could foresee and many businesses were affected. Martin's company was affected too but they worked together as a team to help with the situation. They created touchless, automated systems to screen people at entry points using computer vision and natural language processing. "We quickly came together as a team to build a solution to protect workplaces and senior residences from COVID-19 outbreaks.
On Work-Life Balance
Martin is so passionate about his job and his company, that he doesn't consider it work. But he believes in taking a break to free his mind. In his words, "I am fortunate enough to have a second home where I can go to unwind with my family, walk my dog and take in nature. My wife and I also enjoy spending time on our boat in the summer. Some great ideas are born when you free your mind."
Future of the Company
Martin started his company with very few employees but it quickly grew and he extended its services further. Moving forward, he wants to improve their existing solutions and also build new ones. He is currently working on making the supply chain more resilient and also working with the financial sectors to leverage the LUKE AI SaaS platform for better data prediction.
The company's future includes new projects in the healthcare as well as with federal and provincial departments. But his main focus is to empower people by providing technology that can make their jobs easier and help them make better decisions. He states, " I believe in using technology to build products that empower humans".
The company's health screening solution also presents new opportunities; today, it can capture data on an identity card or identify someone using facial recognition, but Martin hopes that someday it could capture more than that.  He adds, " Imagine if you could screen people for health issues such as anxiety and stress? How much time and money could be saved if you could provide support and alert management to these issues before a burnout happens? What if we could alert for signs of deception as well and alert if someone showed signs of deceit? " The possibilities with Artificial Intelligence are endless, and Martin is determined to help mankind by leveraging this technology.