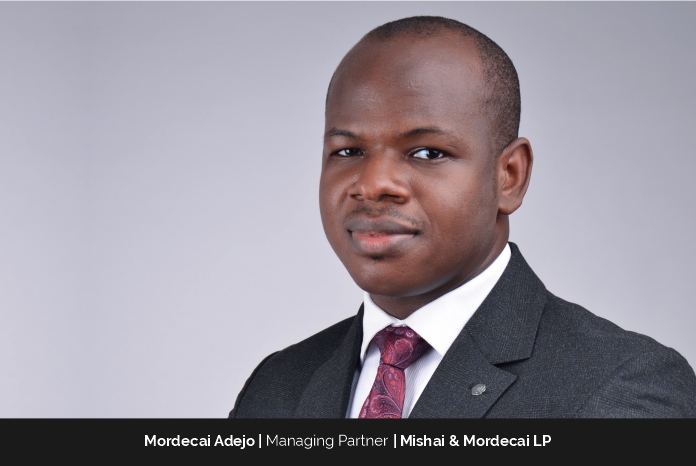 As the Managing Partner at Mishai & Mordecai LP, Mordecai Adejo possesses expert skills in Intellectual Property and Technology Law and focuses on the Finance, Technology, Transport, Manufacturing, Infrastructure, Entertainment, Energy and Health Sectors. He is a strong business development professional.
Mishai & Mordecai LP is a Nigerian business law firm. They service individuals, corporate bodies, and government establishments throughout Nigeria and around the world, on a broad range of legal issues. They pride themselves in their progressive and innovative approach to resolving legal issues, applying procedures, and delivering client service. Their lawyers deploy a proactive and commercial approach with relentless drive to deliver superior results. They are built to take on tough matters and are poised to help their respective clients make the right decisions in the most effective way, by eliminating the doubts to recommend which move to make in a complex commercial environment – and why.
Mordecai's definition of success as a business lawyer
One of the principles that have formed part of Mordecai's belief system, which he got from Zig Ziglar's book – 'See You at the Top' is that "I can get what I want, if I help enough other people get what they want. Drawing from that, my ultimate goal in lawyering has been helping my clients achieve their goals."
As a business lawyer, Mordecai Adejo's feels successful every time by his ability to help his clients achieve their goals. And this is because he is highly satisfied, not just from what he gets, but from what he can do for others. At Mishai and Mordecai they understand that result matters, and the results he is able to achieve in terms of his clients' goals are how he defines success.
The growth of Mishai & Mordecai under Mordecai Adejo's fierce leadership
Mishai & Mordecai started as an idea of a law firm where goal-oriented service is at the forefront of their entire operations, and where lawyers will have the freedom to express themselves and achieve their professional goals. Over the years, they have been able to build that culture where their approach is to relegate their individual interests in favor of their clients' business interests.
"This has improved our clientele and exposed us to a broad range of satisfied clients across different industries and across geographical territories," states Mordecai.
Lessons Mordecai learned throughout his professional journey.
Mordecai grew up in Northern Nigeria, and after becoming a lawyer he moved down to Lagos in Southern Nigeria to start his career. At the time, he had no social network in the city he chose to practice his profession. This situation posed a huge challenge for him.
However, with the help of mentors, and later the relationships he built through membership of professional associations and clubs, he was able to build the network that has today brought him so much success, and for which he is grateful.
"This experience taught me how important professional relationships are, and how they are inevitable in building a successful career in the legal profession," Mordecai says.
The start of a successful career as a leader in the legal industry
As a law student, Mordecai started out unclear on a definite career path. But in his final year, he found his passion in Intellectual Property and Technology Law. Upon his call to the Nigerian Bar, it immediately became apparent, including to those in his circle that these areas of law were his focus and where he would leave an indelible mark. "I undertook international courses in these areas, found mentors and made friends and professional contacts in these spaces, and a combination of these factors have contributed to the spark that ignited my career in this current path for which I am grateful," he says.
After being called to the Nigerian Bar, he was posted to Southeastern Nigeria to undertake the compulsory National Youth Service Corps scheme, where he worked with a law firm. He also volunteered for the Legal Aid Community Development Service group and later served as President of the group.
"After completing my service year, I moved to Lagos, in Southwest Nigeria, and worked, at different times, with law firms, where I honed my lawyering skills," Mordecai says.
Mordecai states that the media mentions and the kind words of his team members and colleagues that have worked on projects together could be a great recognition he has received as a leader. However, he claims that the testimonials from clients who have experienced positive growth in their businesses and personal lives through the services Mishai & Mordecai offered and continues to offer, is the best and most satisfying recognition.
Responsibilities as Managing Partner at Mishai & Mordecai
As Managing Partner, Mordecai, who defines himself "an astute lawyer", states that his responsibilities entail overseeing the day to day running of the firm, serving as relationship manager for their clients, and developing growth strategy in collaboration with Partners and Consultants.
As a lawyer, he is also hugely involved in the professional services they offer.
Work-life balance and staying motivated.
At Mishai & Mordecai, prior to the COVID-19 pandemic, they implemented a remote work policy with flexible working hours. Mordecai states that this helps him and his team in a number of ways: first – they are able to work at periods of each individual's peak performance; and secondly – due to the geographical spread of their clientele, they are able to adjust their working hours to suit their different time zones.
In order to keep himself and his team members motivated, Mordecai does not only do set internal goals, but to deliver great client services, as a company they first ensure they have clarity on their clients' goals; and from time to time, they, along with their clients' teams, have appraisals of their efforts, and re-strategize on better ways to proceed. "That way, we are always able to celebrate our small wins, and remind ourselves of our goals, and this keeps us focused," he explains.
Mordecai's future plans for himself and for the firm.
Mordecai states that he is full of gratitude for the success he has achieved so far in his career. However, he still has a number of dreams yet to be achieved, and the desire to live those dreams is what keeps him going each day.
At Mishai & Mordecai, they are now focused on helping foreigners take advantage of the vast business opportunities in Nigeria, Africa's largest economy. The investment landscape in Nigeria is ripe and attractive for foreign investments. Hence, they are providing foreign businesses and individuals who are considering the Nigerian market with bespoke advisory services on a broad range of legal issues. "We do not just stop at advisory, we go with them all the way from setting up their business to compliance and acquisition of all relevant licenses, negotiation of contracts with third parties, and development and implementation of relevant policies," explains Mordecai.
As a great law firm, Mishai and Mordecai, have lawyers who have studied in Africa, Europe, and North America, and who also speak English, French, and Italian; thus, they understand the global business terrain with their multicultural dimensions.
On a personal note, Mordecai claims to be working on a series that provokes discussions among regulators, industry players, and practitioners on the legal issues relevant in today's business landscape. He believes this will help in creating a better understanding between the players and help propagate needed reforms.
Mordecai's message to aspiring lawyers is to build strong belief in their abilities and in addition find exemplary mentors, join professional groups, and strive to build an extensive network.