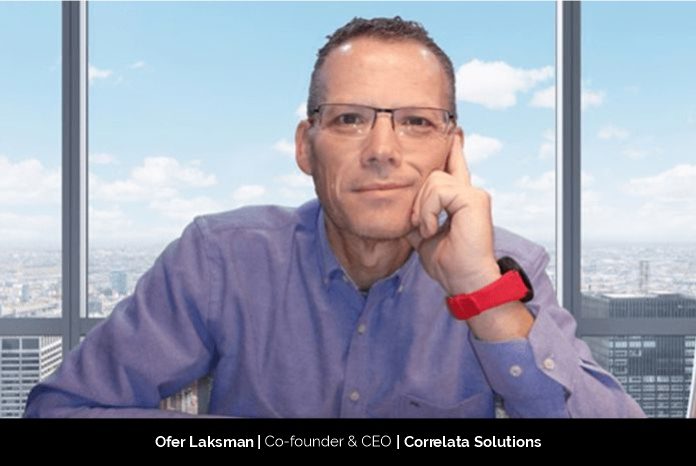 Digitization is a widespread technology that has impacted business operations in a great way, fostering growth and development. While there are many intellects who are exploring this industry and innovating new techniques, Ofer Laksman, Co-founder and CEO of Correlata Solutions Ltd has brought a new innovative concept in the Cognitive Analytics and machine learning market. With 30 years of industrial experience and with a vision to redefine the ways of communicating and engaging, Ofer has led Correlata Solutions on the path of success and innovation. Facilitating the growth of the company and building new strategies is a vital role that Ofer plays in the success of the company. As he shares his thoughts with us in this exclusive interview, we are certain that his journey will be an inspiration for all our patrons.
What were your dreams and aspirations while growing up?
When I was 10 years old my biggest brother took me the first movie of Star-wars in 1997 (the new hope). This movie was a kind of a game changer for me and my dream was to be a pilot. Moving forwards in the time machine,  when I served in the military, I served in the Israeli Air force in one of the electronic intelligent unit. What led to the foundation of Correlata Solutions? While working in the ICT for more than 30 years and serving in different roles in local and leading vendors, I realized that the market is moving fast and shifting towards what it's called today the Digital edge. We are as users would like to get our service from any service provider, fast, reliable, no risk – any time any place. This is a major challenge for the service provider to provide this kind of service, and why? Companies are spending between tremendous amount of money and resources on a yearly basis to maintain their IT operations. Companies are struggling with how to balance cost, performance, security and compliance, while retaining flexibility and control of increasingly complex IT operations. However, I believe that Information Technology is not in business, " IT is the Business "! companies which will not understand that in the digital edge, the IT is the most critical area to look into the organization, they will not be able to grow and succeed. Companies should start to think strategically, they need to evaluate how can the organization to transform the IT resource to become more business oriented, more transparent and more effective to the business?  In order to do so, the Technology part is not the blocking part anymore… technology is not the block anymore, but the lack of fusion platform shared by Operations, Management & Executive roles based on Operations Efficiency and Proactive Approach! THE only way Organization will be able to drive the business in the future is to align Technology to business strategy and objectives and therefor you need the right tool that will convert IT operations to business KBI's (Key Business Indictors) and helping the organization to drive his business more effectively.
What were the initial challenges and setbacks that you faced and how did you overcome it?
The first challenge was to bring new innovative concept into a very conservative environment. I'm taking about presenting our idea to investors as well as customers. As we all know, we need founds to operate and making sure we get to the market, but in the other hand we need customers and prospects to get in front of them and getting their interest. This is what I call the chicken and the egg situation which in that case every one of the sides is looking if you achieved the other side first. Meaning… when you approach to investors, they would like to see traction, but when you approach to customers, they would like to see a working solution and that fact that you're already been funded… we could not pass the investors stage so we started to look for "friendly" customers which will be willing to test our solution, using it and sharing feedbacks. In the meantime, time is passing, you're investing tremendous time and efforts hoping to get the first client.
Tell us in brief about the services of Correlata Solutions;
Correlata is an ISV that specializes in Cognitive Analytics and machine learning market, specifically around data center management efficiency and risk mitigation. Correlata Solutions offers a unique set of tools combining a unique dashboard that incorporates data analytics and machine learning targeted to data center operational activities to help companies with their daily data center operations complex.
Correlata Solutions delivers the first business-IT collaboration solution that generates the intelligence needed to sense and visualize the DNA of the daily IT operational activities, monitor IT operations from a management viewpoint and increase company profitability.
Our Value proposition: Fast ROI & Cost Savings
The best way to explain Correlata solutions is to compare it to a MRI, a technology that will give you a deep look inside how your network is performing. Correlata uses pattern discovery techniques that will help identify issues on data center that you would not otherwise identify. Much like an MRI, you will have a deep visual view that will help quickly identify problem areas in your IT system and help you see potential problems occurring on your network before they become evident.
The company has strong and strategic partnership with IBM, driving and setting unique offering for IBM LinuxOne and Zsystems, awarded GSA schedule 70 and signed contracts with US service providers.
What is the importance and scope of digitization?
Digitization represents simplicity and efficiency in service delivery from my point of view. The ability to provide high quality of service, any time, any place, secured and simple. The fact that users will be able to consume relevant data which is important for them in a very efficient and effective way.
How has technology changed and what has been the impact on Correlata Solutions?
The business has radically changed over the years, affecting and exposing some of the greatest risks to the largest data centers in the world. Today's businesses must understand GDPR, governmental policy and regulation to include the recent Department of Homeland Security Task Force assembly, data and privacy laws, third party, and supply chain ecosystems. Likewise, awareness of cyber-threats is vital to tackle rapidly advancing cyber-attack strategies.
Companies are constantly forced to expand their IT program to support the growing data demand from customers and the Internet of Things (IOT), Social, Mobility and more…or otherwise consider moving to the cloud.
Today, the data center management domain is experiencing a dramatic transformation with increasing cost and complexity. Organizations rely on a multi-vendor IT maze and operational "silo" concept. This, together with the way datacenters are designed, doesn't allow them to "right manage" and "right size" their Business IT with the insight needed to achieve their commercial goals.
IT departments are more than just hardware – they're made up of people, Hardware, Software, strategy, and policy. An errant key stroke or ill-conceived deployment could potentially endanger your most critical systems, causing faults that cost a fortune to fix, and you wouldn't know what hit you until it's way too late!
All companies rely on their IT infrastructure in order to function and deliver. Yet, far from being easy to visualize and manage on a macro level, IT infrastructure is a dense network of intricate and interdependent structures. Disrupting even one element of this fine balance runs the risk of affecting other systems, thereby causing irreparable damage to the company's business. For this reason, IT testing does not occur as often as compliance guidelines recommend, as each test poses a real data loss threat to the company.
IT leadership is struggling to manage and control their IT operation. What's more, they're striving to communicate the needs of that operation in a way that can enable management to understand the imperative contribution that IT makes to the business.
In the reactive world of IT, Correlata CorreAssess ™ places you at the forefront of IT leadership. From both the technology and operational perspectives, beyond preventing the catastrophic slowdowns that commonly draw attention as front page news, Correlata provides you with full and comprehensive access to the data generated by your IT assets, anywhere and at any time.
With Correlata CorreAssess ™ – for the first time ever – you can manage all your IT business needs in one place – Simply, Efficiently and Cost Effectively!
What is your vision for the company?
My company thrives on pushing limits and redefining how we communicate and engage.
To this end, enterprises must work to bridge the gap between access and security, revenue and brand integrity. The revolution of how, when, and where we engage starts at the Data center!
Give us a brief of your life before Correlata Solutions:
Before setting Correlata, I joined SUN microsystems in 2008 and served as SUN's regional business unit manager for the SUN X86 volume systems practice sales manager for the MEDI region (Israel, Greece, Turkey and the Balkans). In 2006, I joined AMD Advanced Micro Devices as the business development and country manager. Within a year after joining, AMD has increased its market share from 0.2% to more than 21% in Israel. Prior to joining AMD, I worked for several companies in the computing and telecommunications industries, including Compaq, HP and local service providers.
Tell us about your roles and responsibilities as the CEO of Correlata Solutions and how does it make you feel?
At the core of my responsibilities as the company CEO, I'm managing the growth strategy, strategic business development, finance, legal, compliance, investors relationships, business relationships, and talent acquisition. At the end of the day as a CEO I believe it is imperative to have the capabilities to drive the vision forwards, to motivate the team and to make sure everyone is aligning with the company vision and business objectives. This is not an easy task at all. The be able to drive and motivate others to perform in their best is a challenge! Once you achieve your targets, the satisfaction is speechless, you feel like you are on the top of the world!
How do you manage to balance your personal and professional life?
This is a major challenge since you have the feeling that if you will not do this small task, you will lose or miss something. This is a major mistake which I'm trying to work on that issue right now. You must balance right between your personal and professional life. This critical since the balance will provide you the power and energy you need to continue.
Describe yourself in one word and tell us what inspires you?
Ambitious, is the one word that describes me and what inspire me is my wonderful family.
What keeps you and your employees motivated?
The fact that we know that we have something great, that we have a unique solution and the fact that maybe we will be rich.
What does the future of Correlata Solutions look like, globally?
We will continue pushing as long as we can making sure that companies will be able to communicate and drive technology in more effective manner. We will continue to look for strategic partner to join forces with our vision and making sure that the IT department will be more service oriented and align to company business objectives.
The revolution of how, when, and where we engage starts at the data center. Become a datacenter transformer – "be about IT or without IT."– Ofer Laksman
Pushing their limits and going beyond the conventional is what Correlata Solutions excels in. Under the resourceful guidance of their leadership, Correlata Solutions will transform digitization in their own unique way that will open new doors to innovation.