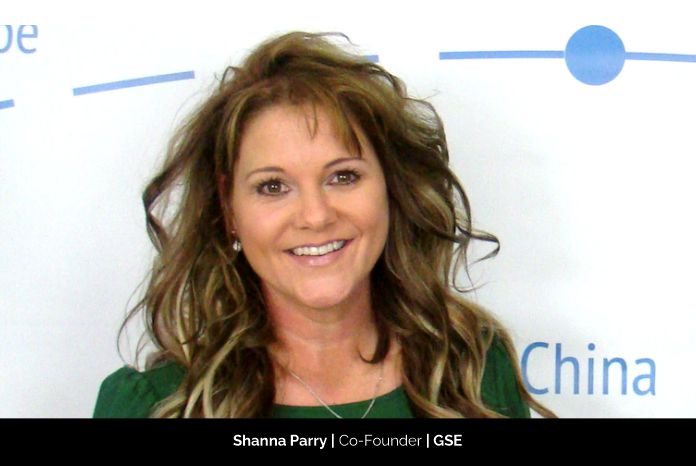 Education is the most powerful weapon that can change the world. However, to provide access to high-quality education to every nook and corner of the world is a mission next to impossible. Shanna Parry, the Co-Founder and Senior Managing Partner of Global Services in Education (GSE), has undertaken this challenge and a responsibility to fulfill it. Demand for GSE's expertise and knowledge about education was clear at the outset but they were not sure what to expect at the start.
Shanna adds, "We had been successful as educational leaders and also demonstrated an understanding of business and the new emerging markets. We also have the unique ability to navigate complex cultural contexts." It was when investors took a strong interest in them that they finally kickstarted their own venture. However, it was not all easy. She adds, "We have worked long hours and endless days but have loved every minute of it. Our passion today is as strong as it was in 2011 when we first founded our company."
Conquering the roadblocks and climbing the success ladder
Roadblocks helped in becoming stronger and achieving the best success in no time. Shanna says, "When GSE first began, we tried to be everything to everyone. It was a good place to start. However, we quickly learned that by narrowing our focus, we could better serve school communities and the demands that were developing in education."
As they started their operations first in China, they had many challenges. Shanna shares, "Keep in mind, it is hard enough to start your own business, but to do so in a foreign country definitely added another layer of challenges for us. We not only had to forge our own way as new business owners, but we also had to navigate "business rules" and culture in a country that was far different from our home countries."
All these challenges required perseverance and patience. These are invaluable characteristics to build long-lasting relationships and enjoy many successes. Shanna states, "In the traditional sense, success to me is achieving my personal and professional goals and aspirations. Success is also being kind, thoughtful, and giving to other people. It is about developing others and helping them find a pathway that develops their character, values, and beliefs."
Vision of Global Services in Education to Reach the Zenith
When commencing the operations of Global Services in Education, they had only one aim. Shanna says, "We have a belief that high-quality education should be available to all. We have a mission to bring improved education quality to all regions of the world and all market segments." To attain this goal, GSE maintains integrity and delivers top-notch quality at all levels in developing, as well as premium, international schools. Innovation is not only about creating something new, but also changing your direction and speed as market conditions change.
Shanna shares, "At GSE, our core business is to set up and operate international schools on behalf of investors and developers. We also work on school improvement projects and teacher training and development. We have more recently been involved in mergers and acquisitions in the K-12 space. We build new brands and represent others." These steps have helped GSE expand their horizon and achieve their goals around the world.
For future aspirations, Shanna says, "Our vision for GSE is to continue to expand our brand and services across Asia and the world. We believe that the world becomes a better place as we improve access to education. This will allow the next generation to make informed decisions towards a better future."
Shanna's Enriching Experience and Awards
Shanna has been in the education field for quite a long time. She shares, "I am a former teacher, principal, director, and education consultant. With extensive experience as a curriculum writer, I have a reputation for leading curriculum reform in a range of different geographical and cultural contexts. I have also co-authored two books." Her strong educational background has fostered a genuine passion for education and built a strong foundation of all the desired skills needed to succeed.
She also states, "Every day I am checking in with leaders and teachers in other parts of the world to see what kind of support and guidance I can offer." She is proud to have been mentored by some of the greatest educators in their field including, June Stegall, Judy Elkins, and Sharon Shaver. All of these women reshaped the way she views education and helped her become the instructional leader that she has become.
Further, sharing her long list of awards and recognitions, she says, "I have been recognized as a 'Global Guru in Education (2019, 2018)'. GSE has been recognized as a Top Ten Best Education Solution (2018), Best Global Brand in International Education (2016), Best Global Brand in Secondary and Vocational Training (2015), and Asia Pacific Corporate and Social Responsibility in Education Award (2015)."
Perfect Balancing Between Professional and Personal Life
In her professional world, she heads the curriculum and academics of many schools and leads accreditation and school improvement projects. Besides this, she also coaches and mentors' principals and other emerging leaders. Moreover, she has an unusually open-door policy that enables her to connect with almost everyone ranging from school owners to parents of students as well.
Working long hours, travelling extensively and the intensive demands have delivered many benefits to educators and children, but they can take their toll unless care and attention is given to balance. Shanna has now mastered the art of balancing her personal and professional life. She says, "I invest a significant amount of time enjoying recreational pursuits and hobbies. I love reading, ziplining, hiking, traveling, learning about other cultures, and collecting treasures from the unique places we visit, from Chinese door knockers to antique marionettes from Myanmar. I make sure to schedule my time to do the things I love so that work commitments don't take over my life." She believes self-care must be prioritized, and that's why she genuinely takes an interest in her employees' personal and professional well-being.
Emphasizing on being grateful and kind, she wants to lead a life of gratitude and thus, cherishes every joy in her life, big or small.