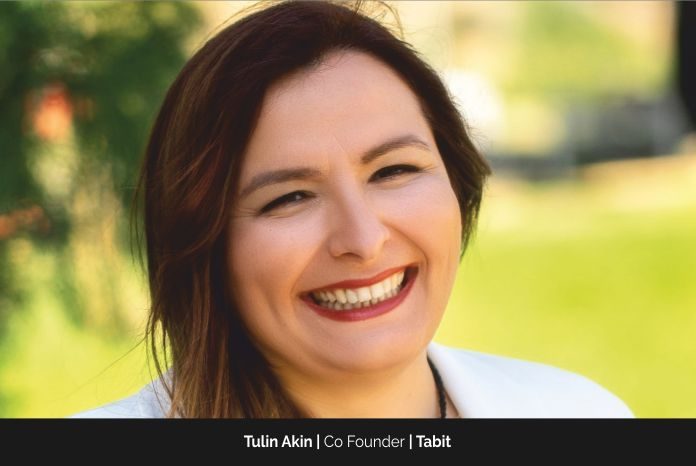 Business executives are expected to be able to express a compelling vision of a chosen future that motivates and inspires the next generation in the face of multiple global uncertainties. Ms. Tülin Akin, founder of Tabit Agricultural Information and Communication Technologies Inc., pioneered Turkey's first communication, e-learning and e-trade media in the agriculture field through the website tarimsalpazarlama.com that she created in 2004 while still a student. She is forward-looking, sees exciting possibilities and engages others in a shared vision of the future. She made sure farmers could receive financing without suffering losses by simulating their credit cards with banks.
Ms. Akin established the Vodafone Farmers' Club in partnership with Vodafone and launched early warning notifications in agriculture to provide 1 million 400 000 farmers and their families with information and services through unique farmer applications. In 2015, work on implementing the Vodafone Farmers' Club business model in India, Ghana, Kenya, New Zealand and Tanzania began. Thanks to Intel's cooperation, she was able to build a Farmer Computer program that enables any literate person to utilize and ask questions to specialists regarding information, communication, marketing, and whatever else they require.
She executed social responsibility projects for developing water awareness in rural areas and preventing tractor accidents. Currently, Ms. Akın is working in the village of Aydin in order to bring rural life into the future by establishing an implementation area of intelligent agriculture technologies, which is the Vodafone Smart Village, where the farmers can see either farming or technology at the same place.
Idea to Inception
Ms. Akin was a student before Tabit. When she started Tabit, she was 22. She held a few brief jobs when she was a student. She initially believed that being a young woman in fields like agriculture and technology, which are often controlled by men, was a barrier, but as she became more aware of the breadth and size of her job, she became both terrified and inspired.
Ms. Akin attended a computer course, worked as an assistant in accounting for a business and learned how to design. Everything she learned helped her make a difference in what she does. She asserts, "I still continue to study and learn new things. My trainings can be related to work or in a completely different field that I am curious about." Ms. Akın thinks that differentiation comes from touching on different thought systems. Although the company works in agriculture and technology, it can also be inspired by theatre and music. For example, consider operations management, order and rules.
Combining Agriculture and Tech
When she was a student at Akdeniz University's Agricultural Marketing division in 2004, Ms. Akin launched Tabit, a social venture that combines agriculture and technology. The first agricultural e-commerce system and the first agricultural social communication and information network in Turkey were two of Tabit's initial ventures. She shares, "As we saw the shortcomings in the sector, we started to work on them, and by modelling Turkey's first farmer credit card, we enabled the farmer to find financial resources without any financial troubles."
By establishing the world's first Smart Village, which provides applied management technology training to farmers, Ms. Akın and her team have enabled more than 1.5 million farmers in Turkey and 7 million farmers in African and Middle Eastern countries to come together with information and technology. She states, "Can agriculture be done with technology in places that are not currently suitable for agriculture, for example, in a desert? We are working on this subject. All our projects continue successfully. It is becoming an agricultural policy in the countries we work with. It's being sampled. That was our aim, too, to inspire and to radically transform the system."
True Success
"When you do a new job that hasn't been tried before, people who learn what you do talk like this: "What a ridiculous job. Will that work? Did it just occur to you, don't bother with vain things?" But you work hard, time passes, everyone adopts the job and it comes to such a point that your business line has become an inseparable part of the sector. Then you hear things like "So what, everybody thinks about it, of course it would be like this, we knew it anyway" So most people always express negative opinions no matter what." For Ms. Akın, success is the time it takes to achieve this change of mind. She and her team have been so successful that a seemingly absurd business has become a part of life and the thought system, which has begun to be perceived as normal, has radically changed. She can't think of a higher achievement. Ms. Akın received many international awards from huge institutions, but the best appreciation she received was the words of an old farmer woman in a village where she went to promote Tabit's work, "I always wanted to see Atatürk, but now I see you, I will not feel sorry even if I die". While Atatürk was the commander-in-chief in the freedom struggle, he is a leader who helped establish modern Turkey with his administrative innovations, whether in education or in the equality of men and women.
Mistakes Lead to Perfection
"If you are doing an innovative business, it means you are doing it for the first time. If you don't have any past experience in what you do, you move forward by guessing, trying and often by mistake. These mistakes bring you many difficulties, but when you overcome this difficulty, you can discover the solution to many difficulties that you may encounter in the future. On the other hand, if you have started to create the experience, others will come from the path you have opened and the experiences that say they will try other ways will diversify," says Ms. Akın.
Ms. Akn had the greatest challenges in her professional life as a result of the lack of legal definitions for the rules governing creative firms. This taught her an important lesson: in the absence of rules, anybody may set the rules.
On smart agricultural technologies, Tabit is engaged. It works to guarantee that farmers in rural regions make products that are simple to use, inexpensive and that increase output. For the producers impacted by climate change, for those who have trouble getting food and for a sustainable, healthy production by safeguarding nature—that is, for the Earth—Ms. Akn regarded this as a crucial step. She acted because she felt responsible. She believes the sense of responsibility and imagining and being excited about what happens next is all inspiring.
Revolutionizing Agriculture
7 million farmers in Kenya, Egypt, India, Tanzania, New Zealand and Ghana, as well as 1.5 million farmers in Turkey, have access to information regarding weather conditions, natural disasters, assistance, product-specific material and new agricultural techniques.
Through the mobile phone application, farmers may locate consumers for their goods. They can ask veterinarians and agricultural engineers questions.
With affordable and simple-to-use rates, the technology, which only huge firms can invest in, has expanded throughout rural regions. The smart village that Ms. Akin and her team created served as inspiration for other initiatives, and with the team's help, it began to take root in other nations, such as Azerbaijan.
There is a growing understanding that technology is the only way to completely eradicate the detrimental impacts of climate change on agriculture. Team Tabit is pleased to receive international honours after successfully implementing these change procedures because it makes them feel as if their efforts are being recognized.
In order to ensure a culture of honesty and innovation in Tabit, Ms. Akın focuses on the purpose of life and dreams that she/he wants to realize, rather than professional and educational information while recruiting. After all, a person can be taught to do business, but not to be a good person and dream. She says, "Even if we have hired a person in the team who does not have this spirit, she/he soon realizes that not to belong here. Our company considers business life as a lifestyle, not a career step." She goes on to say that there are already far too many companies where those with career goals can work to meet KPIs. Here we fulfil our life goals.
Passion for Work
Ms. Akın's most important responsibility is to provide an environment and management where the team can work in harmony, with a heartfelt sense of the organizational goals. She says, "To mentor the ideas and development of each team member while leading the team according to our founding purpose. Thus, we can take the steps of unique and big projects."
Every workday and schedule are different. There is no routine that Ms. Akın does every day. She always starts the day with breakfast in the office kitchen. She gets information about the issues the team focused on that day by having short conversations with those who go in and out of the kitchen. She believes that informal knowledge and informal knowledge management are more important than sharped and pre-prepared manipulable reports. She shares, "KPIs are not the success criteria of our field of study." Since meetings, interviews and trips are planned well in advance, Ms. Akın gives herself time to prepare for them, but what she cares about most is interacting with the team, feeling excited and acting together.
Sometimes Ms. Akın finds herself very patient and sometimes extremely excited, but the most she has heard about herself for all these years. She says, "how can one be so excited when you're still talking about your work. I think I'm most excited."
Planning for Keeping Everything Align 
Ms. Akin makes an effort to have two distinct lives and avoid blending her personal and professional lives. "I shouldn't transform a Sunday morning brunch with my family into a business meeting or consider my daughter's puberty issues while I'm at work," she argues. To me, planning is crucial. Ms. Akin planned everything, including what she will do when and how she will spend her time, even though she doesn't have routines. She makes plans to balance her professional and personal life.
A Woman with Vision
As the possibilities offered by technology develop, Tabit is moving forward with the aim of ensuring its simultaneous adaptation to agriculture and strengthening the rural area both technologically, economically, and socially. Today, the company is working on agriculture in the desert, making improvements on easy-to-use, economically accessible, yield-enhancing agricultural technologies. She says, "Regenerating the Earth and making the trip to Mars unnecessary is among our goals. However, agricultural needs at the space base are also one of the projects we are working on."
Ms. Akın's personal goal was to show her two daughters that they can change the world and she does. Her message to promising businesswomen is 'Dream! Move on! Be patient! Then your dreams will go beyond reality.'