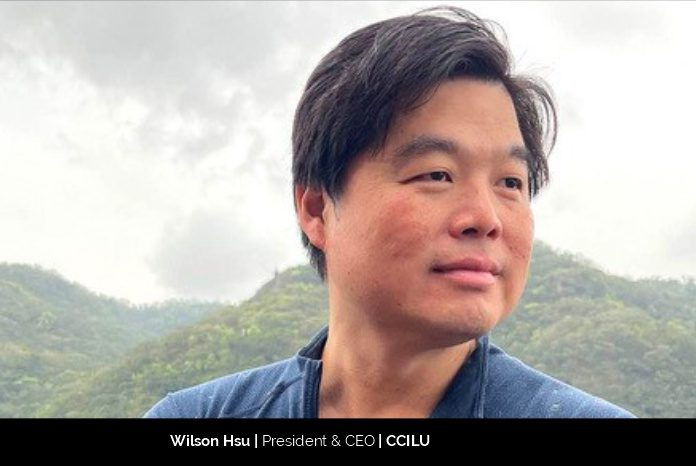 Wilson Hsu, the CEO of CCILU, developed the brand CCILU in 2011 and successfully introduced it in Japan, where it quickly gained a large following. Its footwear combines cutting-edge performance technology with trendy, fun, cool, and sensual design to create one-of-a-kind commercial "everyday" footwear. The brand's distinctive style, AMAZON SUMMER, earned the Silver Award of Design at the 72nd International Gift Show in Tokyo, developed by Hsu himself.
After graduating from college, Wilson went to work for a global bank, where he rose through the ranks to become an Assistant Vice President in just a few years. He quitted his job and founded CCILU International, which has received 15 accolades and honours in a variety of sectors since 2017. For example the XpreSole® Panto (the world's first rain boots made from upcycled coffee grounds) received a series of prominent international design awards in 2021, including the Red Dot 'Best of the Best,' the iF Design Gold Award, and the A'Design Silver Award.
Expanding its Reach Globally
CCILU is a global footwear company that specialises in lightweight, comfortable, and ecological footwear, as well as sock goods. It was first introduced in 2011 and is currently available in over forty countries, with over forty CCILU outlets in Asia and a permanent presence in North America under the CCILU USA label. "CCILU" (CHEE-loo) means "to liberate" in Japanese, and "liberate yourself" is the company's call to action, a reminder that everyone has the power to defy limitations. For CCILU, this means bringing its creativity and independent spirit to footwear evolution. Thanks to CCILU Footwear's revolutionary technologies, it is able to commit to light & flexible, instantly comfortable and sustainable footwear.
A Constant Change in the Shoe Industry
People thought about the shoe industry very differently 10 years ago, and there were also many big changes too. Wilson says, "Mainstream industries were taking the mainstream trend. Emerging brands like us didn't have a chance to shine."
As digital technology advances, new businesses have more opportunities to differentiate themselves. CCILU, according to Wilson, can take initiatives that are already being funded through crowd fundraising platforms and scale them up. It now has first-hand knowledge that it can use to connect and communicate with customers.
Not only that, but people are becoming aware of and concerned about the notion of sustainability. This concept must be adopted by CCILU. As a result, CCILU began to alter the materials used in its footwear.
Wilson leads with the belief that being inventive is critical in any firm, and that as the world changes swiftly, more people are adopting this practise as well. He asserts, "We always try to be innovative since most of the people think footwear industry are old-schooled. This is important that we can make a difference in the industry."  
CCILU's perspective on products and business evolves throughout time as well. The team does not want to manufacture the same shoes over and over again, and is always striving to improve and stand out in the footwear market.
CEO of CCILU International
Wilson's role as CEO requires him to interact and engage with his co-workers in various roles, as his people are critical to the company's success.
He spent a lot of time as a CEO balancing social and community participation, in addition to motivating all of his staff to keep moving forward. He also enjoys combining his professional and personal lives so that he may learn new things every day.
Transformation Achieved Through the Years
CCILU used to be a typical footwear and clothing manufacturing and retailing firm. Within this tradition, Wilson's ambition is for CCILU to become a really distinctive, inventive, and important firm. Every day, the organisation strives to achieve this aim. Wilson is motivated in the same way.
Technology, products, and social and community involvement are the three pillars of CCILU International.
Technology: To embrace Circular Economy and Sharing Economy: Making footwear from upcycled coffee grounds, upcycled ocean plastics, upcycled silicon wastes, upcycled agricultural and aquacultural wastes, etc.
Product Excellence: Design, comfort, functions, performances, costs, etc.
Social & community engagement: If we do the above (upcycling the wastes and turn them into high-performance footwear material) well, we will engage and connect with more people in the community, since all the wastes are from people's daily life.
He asserts, "We won many product awards, and contribute to mother earth by selling shoes. Different from other mainstream brands, CCILU creates a model which interacts with the consumers much better, because CCILU collects the wastes from the communities and sells the shoes back to the communities."
Success for Wilson 
Wilson's definition of a successful leader is a person who is highly respected by others (employees, co-workers, shareholders, competitors, etc.). There are, of course, different definitions of success, including financial outcomes, organization, and SROI (Social Return On Investment), but at CCILU, Wilson is not only looking for profit, but to have some positive impacts on society.
Plans for the future of CCILU International
As the saying goes, "A team wins a game, but teamwork and intelligence win the championship."  Wilson's long-term strategy is to strike a balance between profit and non-profit, and to lead his firm to be valued and respected by others. He hopes that CCILU will be able to attain two goals in the future. First, in 2022, the teams hope to create the world's first carbon-neutral or carbon-negative footwear line. Second, by 2025, the corporation wants to be carbon-neutral or carbon-negative in its overall operations.
He asserts, "All the leaders need to think about what value and what social impacts they can create, in addition to making profits for their organizations. They need to be honest with themselves too."