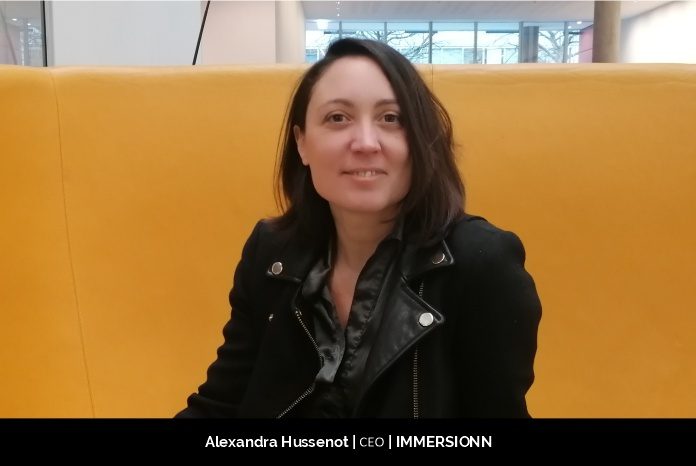 It is inspiring to see what a creative person can do with the limited resources he or she has. At the tender age of 14, Alexandra Hussenot, Founder and CEO of Immersionn, managed to tutor 8 year old kids with rudimental software resources that existed back then. As she grew up, being inspired by her parents and following her passion, Alexandra founded Immersionn a leading content discovery software company. In this exclusive article, Alexandra shares some wonderful insights of her journey that is inspired by passion and excellence.
Were you always passionate about software? What led to the foundation of Immersionn?
For as far as I can remember, my mum was always in front of a computer, and I played Digger, Pacman, and Tetris in length at weekend.
In the early 90s, my parents held an accounting software company; they were bundling with services and computer equipment for SMEs. My dad was the sales guy, and my mum was in charge of the tech and product. They were entrepreneurs. When I was 14, I gave Maths and French computer lessons to 8 years old kids leveraging software that existed at the time. I had 4 PCs to operate from and hosted an average of 8 kids every Wednesday afternoon. I had no idea it was a passion; I was just using what was made available to me. As I grew up, I was attracted to this industry simply because it felt comfortable and like home. I am not an engineer. I have just been surrounded by technology all my life and I enjoy working with it.
Immersionn is a content discovery company. We create 3D web maps for brands that act as "content homes". Immersionn is born of a willingness of powering humans with technology, giving them agency in their web navigation journey. It was always my understanding of what telecommunications and technology could do since I started my career at Ericsson in 1999. I am curious to discover new business models where capital and technology serve humans better.
Learning is a part of the growing process. What were some of the initial challenges and setbacks that you faced that helped you in learning valuable business lessons?
In the beginning, I took every setback very personally. I lacked confidence and it took me sometimes days to get over objections and client rejections. It makes me laugh now but the first one was a top international news channel and it took me a couple of weeks to take over. In the real world, as a CEO, there is no time for such sensibilities. Rejection is probably over 70% of the probability so you cannot let it affect you. The valuable lesson is somewhat of an adage: take pride in every lost opportunity as an opportunity to learn. If you do not lose you cannot learn. Now I am glad in nearly 80% of the time I lose because it gets me closer to the goal, I learn valuable lessons. In business 24 hours is really the maximum you shall lament a loss or celebrate a win anyway!
Tell us in brief about the services of Immersionn and how do these services help to serve your clients?
The majority of websites are short transactions focused on responding to a customer's immediate need. Customers have the potential to stick around for longer and buy more products from brands. Websites miss establishing an emotional connection with customers. With lockdowns, this gap is even more obvious.
We create discovery maps that increase customer knowledge and maximise brand advocacy. We unblock blind spots for customers that increase cross-sale opportunities for brands. Customers stay 3 times longer to browse freely. A Web-Twin is a digital experiential channel. In the blink of an eye, customers get to connect with your brand on a human level.
I hope this clarifies 😊
How do you define the growth of the company over the past few years? (Can be explained with statistical data too)
Hats off for some interesting questions…I could take the airplane quote "An entrepreneur is someone who jumps off a cliff and builds a plane on the way down." — Reid Hoffman
Or we could present ourselves in a VC funnel kind of way:
Founders funding, Incubation of the idea: 2018
Founders funding, Prototype, no client: 2019
Crowdfunding, Pivot => Clients => Product market fit: 2020
Angel investor, Land and start scaling => 2021
I am told we are expected to "explode" from 2022 onwards!
As a technology professional, what is your vision?
To power humans with technology. I would like to invite everyone to watch the Social Dilemma on Netflix and to follow the activity by the center of human technology. As a professional in tech, it helps me explore a new path for design.
Technology is a massive industry with great competition. How does Immersionn stay abreast with the growing competition?
I don't think it is possible to try to compete by constantly looking at what others do and reacting to it. I tend to be mostly listening to our customers and meet their needs. As long as we are relevant and responding to customer's needs we will be competitive. As long as we can exceed their needs, we will lead the market.
"Whether you think you can, or you think you can't–you're right" Henry Ford
Tell us your views on the changing software landscape.
I can only speak for the XR licensing landscape and more specifically for social VR platforms. Some software companies appear to believe that 3 days virtual XR event can replace 3 nights at the Hermitage in Monaco in the real world. It does not. Some software solution requires per event SaaS models that meet realistic price points, taking into account the guest will be experiencing everything from home.
Share with us your contribution to making Immersionn a successful tech company.
It's my company. My contribution is very significant but the actual size of it is something only the future will tell. Right now, I am giving all my heart to it and I want it. We focus on WebXR but with a desktop-first (big screen) user experience. This is an unusual direction in our space and most of our competitors are focused on either mobile-first or VR first. I believe this is leading us to our own very unique journey.
Tell us about your roles and responsibilities as the CEO of Immersionn and how does it make you feel?
It is a great honor to grow your own company and hire people. Then to take care of these people and make the foundation grow to something bigger. In my role as CEO, I often feel split between what I now call the "4 legged race": People, Product, Sales. It is a constant balance between the 3. I try to maximize my time with sales which is essentially how a company survives and grows beyond the initial stage.
What marked the beginning of your career as a business leader? What do you regard as your greatest achievements?
My children are my greatest achievements and they taught me how to be a leader in business. Failures both personal and professional also taught me to be the better person I am now than I was years ago. I feel I really became a leader when I started my own business. Before that, I was never too sure if I had the ability to do it.
How do you ensure a culture of innovation and integrity in the company? What keeps you and your employees motivated?
We operate on a culture of "high challenge high support". It is not for everyone. As long as we onboard the type of profiles that like freedom with lots of challenge and high expectations to deliver, we are doing just great. I have been told a few times I am very "motherly" (protective) of my people and give them plenty of support. Of course, this won't always be like this as we grow, but for the moment, everyone in the team is pretty much a formula 1 racing car…
What does the future of Immersionn look like, globally? How do you plan to widen the company's services?
Immersionn will become a sort of immersive/visual website builder for a vast community of web creators and agencies. In the long run, we aim to license our software and capabilities to the creative crowd to scale our business. We will focus on delivering the best possible user experience and interface for immersive/3D websites.