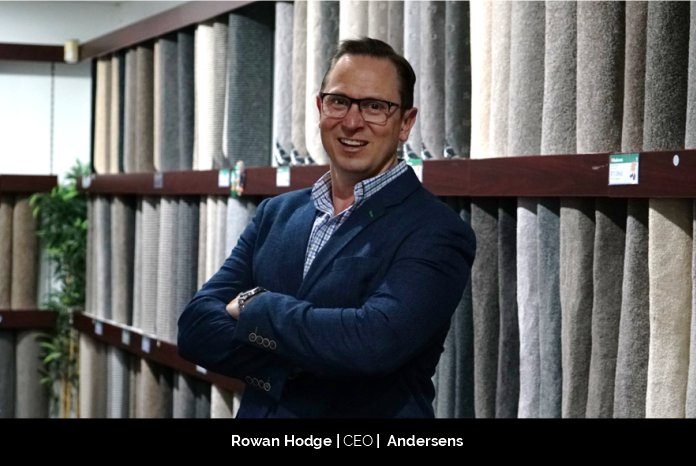 Every little thing in the house is an important asset that contributes towards making it a home. People build an emotional connection with each little piece of furniture of their home that is a salient part of their everyday life. Understanding this amazing feeling, Jack Andersen founded a leading retail business offering floor coverings, blinds, shutters, and awnings, to enhance the value of life. With over 60 years' experience in the business and over 47 conveniently located stores, Andersens are the biggest retailers in QLD and Northern NSW.
From the moment you walk in the door, every step you take at Andersens is the right one. They are proud to be a customer centric company, taking the time to guide their customers through the entire process, helping them make the best decisions possible. Built on a solid foundation of three key principles; Integrity, Honesty and Respect, Andersens has achieved milestones in their journey of success. Their high standard of professional service and commitment has made Andersens a household name and a preferred choice for floor coverings. In this article, Rowan Hodge, the CEO of Andersens shares his journey with Andersens with us that highlights the challenges, growth, and success of the company.
The Inception of Andersens
Andersens was founded over fifty years ago when a young man named Jack Andersen was working in his father's furniture store in the small town of Gatton in Queensland. His father wanted to get out of selling floor coverings. Sensing an opportunity, Jack offered to take them on as his own business. Fifty years and fifty stores later, the Andersens franchise network is the legacy of this entrepreneurialism, and above all the importance of country town service as a retail differentiator. It was Jack's passion that grew a humble carpet business into a flourishing company that is known as the respected name in floor coverings throughout Queensland and Northern NSW.
Challenges are a part of every growing business, however for Andersens the story was different. Andersens has been remarkably resilient to economic cycles, recessions, fluctuations in currencies. The basis of this long-term stability lies in the fact that, with the right training; selling and installing flooring is very simple, but incredibly difficult. The key is local franchise ownership. Nobody takes the same level of care as the owner of the business. Andersen knew the impact of franchising and leveraged this for the expansion and stability of the company. Thus, franchising enabled the company to thrive through the rocky patches. As Jack Andersen was fond of saying, "the best franchisee treats the customer like she is their best friend's mum". Gauging the benefits of franchising, Jack wisely established the business with an exceptional reputation.
The Distinctive Services of Andersens
Andersens is a full format floorcovering and window furnishings retailer, taking care of everything from free measure and quotation, to professional project management of even the most complex installation, including furniture removal, floor preparation and installation by trade qualified installers. At Andersens they have a keen eye for design. They have the most extensive range, including carpets of all styles, types and color tones, ceramic tiles, real timber, and laminate timber flooring, as well as cork and vinyl flooring products. With Queensland's biggest warehouse at their disposal, you can be sure you will get the product you want, when you want it.
For many years Andersens has enjoyed the title of the trusted name in floor coverings. Today this is reinforced by a unique 100-day peace of mind guarantee. This allows any customer 100 days to change their mind about even the color of the product purchased – even after being fully installed. Andersens is only able to offer this incredible offer because of the high level of care taken to help their customers choose exactly the right product for their own home. At any point in time, over half of their network is enrolled in interior design courses to make sure their team members can best help their customers find a style that suits them.
This dedication to their customers means that they are always striving to be at the forefront of advances in flooring technology, innovations and market trends, which ensures that Andersens is able to offer their customers the best quality brands and the latest products in flooring. Not only that, but many of the products that can be found in their stores across Queensland and Northern New South Wales have been exclusively developed for Andersens by Australia's leading flooring manufacturers. Their desire is to be a one-stop shop flooring retailer; stocking everything a person could possibly need for their home.
The Role of Technology
Andersens pioneered Australian flooring retailers in the launch in February 2020 of an Augmented reality showroom to enable their customers to view Andersens products from the comfort of their own homes at their convenience.
The team of Andersens understand that while this new launch will never replace the care and attention of great designers; technology will be increasingly important in the industry. This is consistent with the wider retail trend playing out over the last 20+ years where the biggest gains will be:
Linking franchisee (retail) and franchisor (wholesale) operations seamlessly in one ERP (a current project)
Leveraging AI to develop optimized retail pricing tools
Further pioneering augmented reality where it adds to the guest experience and lets their shoppers browse and shortlist from home
Further developing Andersens' online rug store
Leveraging a quality CRM to better manage the whole of life-cycle guest journey
"We are tremendously interested in innovation. But not just for the sake of innovating. It must be all about improving the customer experience. What we will resist is taking the tactile moment out of our business.", says, Rowan. Customers will always want to browse, touch, and feel the products prior to placing an order. Andersens' technologies which enable this, rather than replace it, will be the ones which stand the test of time.
Leading the Team to Success
Rowan Hodge was fundamentally brought to the Andersens network as a franchise and retail expert. He comes with 25 years of experience in both fields. This positions him well, to steer the ship without ever losing sight of their primary stakeholders – their franchisees – nor the critical importance of the customer experience. "On this latter group, I often slip into my hospitality roots, and call them 'guests'. To my mind this is a positive thing, for any strong retailer", he shares.
Rowan is the President of the Australian Retailers Association. This helps him be actively engaged with the latest trends and issues in the retail sector. This is vitally important to making sure Andersens evolves, even as they remain steadfastly and deliberately rooted to their primary cultural differentiator – their country town origins.
Defining his role as the CEO of Andersens, Rowan says, "I am the servant of my franchisees and my shareholders, but what this often boils down to is that I am the chief innovation and culture officer." Rowans believes that if the culture is strong, aligned, and positive, changes and innovations will come more easily and will deliver the biggest return on investment. Today, Andersens is operating in an innovation rich environment. Hence, Rowan takes it on himself to lock the network onto positive innovations and to deliver them to continue the 50-year success story of Andersens for the next half century.
Rowan makes a constant effort to keep his team and himself motivated as he believes it is a very important factor for a successful business. He lists the main areas to stay motivated everyday"
Measurement – measure everything that is important, track it, rank it and compare it often
Rhythm – Take the things that can be measured and communicate on them and anything else topical to the business at regular intervals without fail. This lets everyone stay on precisely the same page, while giving the business a predictable rather than chaotic drumbeat for communications, events, and key performance indicators
Alignment – adopt a simple common language that is inclusive and bound to the data and communications of 1. and 2. above. In the case of Andersens, it is all about country.
"If all else fails, and just because it's fun, I believe in the liberal use of competitions and incentives.", Rowan adds.
Growth and Development for the Future
To date the Andersens network growth – 50 stores in 50 years – has been impressive without being fast. The greatest care has been taken to make sure the right franchise partners are chosen to fly the flag for the brand they all love. Their future will be defined by a period of more rapid expansion as they now seek to take this winning formula and replicate it in new territories to the South and West of their current footprint.
Andersens' present strategy is to color in the map in Australia. Beyond that, they will remain courageous and opportunistic to be best placed to seize opportunities wherever they find them. At any such moments, alignment with their country town service culture will be the chief determining factor to make sure they stay strong, rather than just getting big.