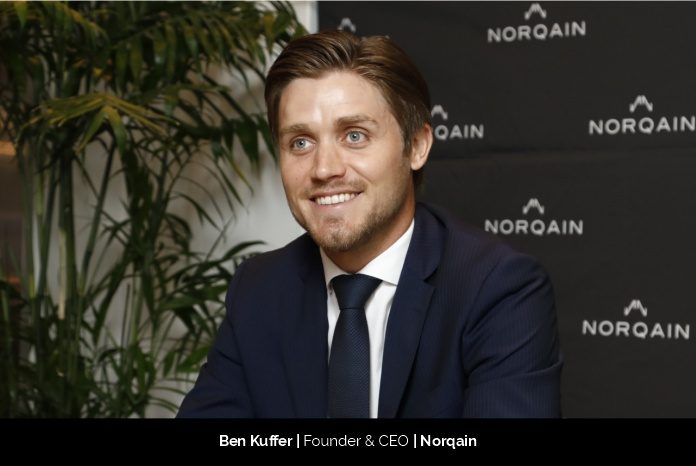 Montres NORQAIN SA is a watch brand established in 2018. Founder and CEO Ben Kuffer has taken the brand a long way in a short time. He attributes his success to a motivated, passionate and happy team. He believes that the mindset and body language of employees is a great indicator of success. For him, success is the result of passion and happiness!
When Passion is Motivation
Ben's father was an entrepreneur and a great role model. He started as a trainee at the age of 20 and gradually climbed the ladder to become the CEO of Roventa-Henex, one of the leading watch production companies in Switzerland. He instilled great values in Ben and taught him what it meant to be independent and a leader.
Watches are a cultural part of Switzerland but currently, there are only a handful of family-owned companies remaining in Switzerland. Ben thinks that it is important to educate the new generation and the open-minded about mechanical watches. This passion motivated him to establish Montres NORQAIN SA especially in the times of the smart watch boom.
When Criticisms Challenge You to Grow
In 2018, Ben visited the Baselworld watch fair because he was euphoric about launching NORQAIN but he was also still nine months away from market entry. The final products were not yet ready. However, he expected people to understand what they are doing. Unfortunately, this was not the case as he could not prove the high quality and long-term vision of NORQAIN without finalized products. The feedback at the watch fair was critical since there are so many watch brands out there.
Ben returned home from Basel with a challenge. He realized that he had nine months more. Nine months to prove himself, nine months to realize his dream, nine months to meet the high standards set for NORQAIN. Ted Schneider (Son of former Breitling owner), Mark Streit (Former NHL Star and Stanley Cup winner) and Ben made sure that the bar of standards was set high. Ben decided that he would not meet any former customers or friends for a presentation before everything was finalized. As soon as everything was finalised they went out in the market and the feedback was very positive finding partners in 12 countries within the first 12 months.
When Personalized High-Quality Timepieces are The Goal
NORQAIN is a watch brand that dares to go its own way. They are family-owned and independent, based in Nidau (Biel/Bienne), at the heart of Swiss watchmaking. They are driven by the excitement that comes with exploring the road less traveled.
Their three collections ­– Adventure, Freedom and Independence – are exclusively equipped with mechanical movements and original striking design elements. Every NORQAIN watch is Swiss-made with absolute attention to detail and ready for whatever adventures await.
NORQAIN produces the highest-quality timepieces with one of the best price-quality ratios in the industry. They work with leading suppliers and exclusive Manufacture Calibres movements produced together with Kenissi founded by watch brand Tudor. They offer a unique solution for the personalization of the timepieces by engraving the NORQAIN plate which can be found on the left side of the case of every model.
When Competition Leads to Best Quality Innovative Products
Competition is high in most industries and is also an important driver for innovation. At NORQAIN, they knew that there are several watch brands in the market and they had to be different. They had to offer their customers something special to develop NORQAIN as a strong independent brand in the Swiss watch industry. They wanted to offer the best quality innovative products with stylish designs. The launch of their Manufacture Calibre in 2020 was a great first step and there are more innovative projects in the pipeline.
They want to continuously invest in their products. Ben feels that it is a key advantage for an independent company to have no profit pressure from the stock market and shareholders.
When Adversity Turns into Opportunity
Before NORQAIN, Ben worked for the Swiss watch brand Breitling. He was responsible for the Swiss and Asian markets
In April 2017, he became a first-time father of a beautiful boy Ryan. Two weeks later, Breitling sold the company. This blow left him in a shock. A few days later, he decided to utilize this adversity as a stepping stone to launch his business. He decided that this was his life moment to establish one of the last remaining family-owned watch brands.
The COVID-19 crisis was a blow to several businesses. But not for NORQAIN! Ben thinks the greatest achievement of NORQAIN is that they managed to see the COVID-19 crisis as an opportunity for their dynamic and agile company . Their sell-out in 2020 grew as compared to the previous year. This is an exceptional result and Ben is very proud of his team that always kept a positive mindset and always searched for new solutions despite all the challenges.
When Responsibilities Lead To High Standards
Ben strongly believes in leading by example- working hard and being positive. He keeps his team motivated by giving them a lot of responsibilities and by setting high targets. He expects his team to strive for excellence in everything. The high sense of responsibility motivates the team to reach high standards. He hopes that these will become their personal standards over time.
When Family Helps You Maintain Balance
Ben is an out-and-out family man. It keeps him grounded and helps him maintain the balance between his professional and personal life. He has two lovely kids, Ryan and Zaya, and a fantastic wife who supports him wherever she can. For Ben, a regular day would include making breakfast for Ryan and Zaya to spend some quality time with them. Then he is off to the office or the market. Later in the evening, he goes for a run to clear his mind. The day is then concluded with a dinner with his wife.
When You Are Trusted in The Industry
The international expansion of NORQAIN since its market entry in 2019 has led to 80 point of sales in 12 countries. They are extremely happy and proud of the trust and support of all the leading retailers in the watch industry like Tourneau, Westime, Moyer and Govberg in the US. They are currently establishing the NORQAIN US subsidiary in Miami since the US is one of their leading markets. They are also planning an expansion into China and Southeast in 2022 and 2023. They also have new interesting projects planned both in terms of movement and product. For NORQAIN, the calm of the COVID-19 pandemic has allowed them to sit down and it will be a key driver of innovation for the coming years.