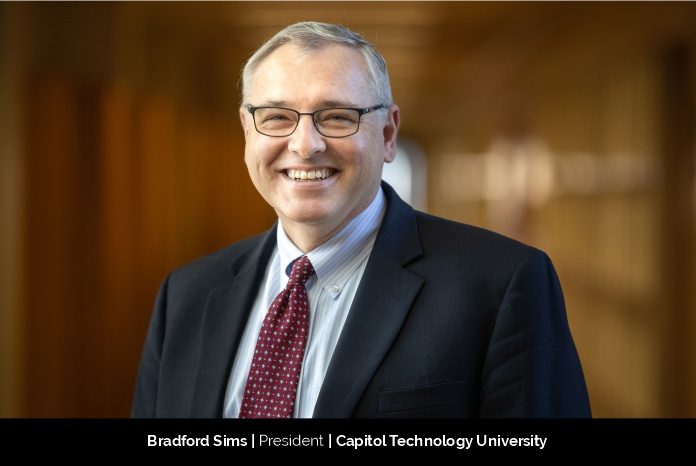 Capitol Technology University has a rich history and strong foundation in technology education. It is the only independent college dedicated to engineering, computer science, information technology, and business in Maryland. The University is a STEM-focused institution of higher education—providing undergraduate and graduate degrees in engineering, information sciences, and technology leadership that has the flexibility and opportunities to grow, and which adapts offerings to emerging workforce needs.
The University's four-year programs lead to a college diploma and a promising career in a high-technology field or technology-related business field. Students choose to study at Capitol Tech because it is "part of the job-rich pipeline supplying human capital to America's most technologically advanced government agencies and their private sector supply chains." Dr. Bradford L. Sims, President of Capitol Technology University, says that the Capitol community is dedicated to the success of its  students.
An innovator in Engineering Education
Navy veteran and radio operator Eugene H. Rietzke founded Capitol in 1927, seeing the need for an advanced correspondence school that would produce talented radio and electronics technicians. At the time, the University was called Capitol Radio Engineering Institute (CREI). As technology improved and the need for experienced professionals grew, the institute evolved and expanded. By the end of World War II, CREI became one of the first three technical institutes accredited by the Engineers' Council for Professional Development (ECPD, now "ABET"). Today, ABET, or the Accreditation Body for Engineering and Technology, recognizes Capitol Tech as an "innovator" in engineering education.
Capitol Tech encourages innovation amongst its students and wishes to influence change by providing an unmatched education and campus-life experience so they may become innovators in their field. "We aim to accomplish this by providing an environment of advancement, diversity, and inclusion to facilitate the dynamic growth and success of our students," says Dr. Sims.
Center of Excellence in Cyber Security Education 
Over the years, the number of students steadily increased at Capitol Tech. It also expanded its degree offerings. The University introduced its first online doctoral program in the field of cybersecurity in 2010, recognizing the importance and prevalence of cyber and information security education. Dr. Sims says that Capitol Tech is one of the first schools in the nation to be designated as a National Center of Excellence in Cyber Defense by the Department of Homeland Security (DHS) and National Security Agency (NSA). The University's cybersecurity program was also announced as the winner of the prestigious SC Media Award for Best Cybersecurity Higher Education Program in 2020 and is home to Dr. William Butler, the recipient of the Outstanding Educator at the 2021 SC Media Awards.
"Cybersecurity isn't just another program at Capitol—it's what they do and is at the core of the curriculum they offer," says Sealing Technologies CEO Ed Sealing, an alumnus of Capitol Tech who started his own business shortly after graduating. Sealing is just one of the many Capitol Tech graduates who become successful innovators in their field due to the hands-on laboratory training and quality education received.
"Our labs are what attract students to Capitol so that they can do what they like to do," says Dr. Butler, Vice President of Academic Affairs. The Center for Cybersecurity Research and Analysis serves as the University's hub for training, research, analysis, and programming in all things related to cybersecurity.
At Capitol Tech, they recognize that today's world is technology-driven, and the job marketplace is fierce for recent graduates, and because of this, they have developed many unique cyber offerings for students to stay at the forefront of their field, including degrees in cybersecurity, cyber analytics, artificial intelligence, information technology, and cyberpsychology.
Education by Real Industry Experts
Capitol Tech believes that the best educators are those who have industry experience—those who have done the work themselves and excelled in their field. Hence, Dr. Sims, who also has extensive industry experience, ensures that classes at the University are centered around hands-on learning taught by real industry experts.
The opportunity to acquire practical knowledge at the University provides students with the key to success. The strong emphasis on learning through doing, or practical knowledge, prepare them for the industrial job market, where they excel. Dr. Sims says that their students learn more by doing than by reading textbooks, and they encourage them to explore innovative and creative ideas.
Many of the University's courses are also taught by academics from across the world. Dr. Sims points out that their professors and faculty are not only leaders in their fields, but many of them are internationally recognized subject matter experts. Because of the active involvement of faculty and the development of programs that consider job market applicability, students are able to craft a successful career for themselves in the highly competitive tech industry.
"Our students are ready to hit the ground running at technologically advanced government agencies and their private-sector counterparts," Dr. Sims says.
Core Values and Motivating Factor 
Capitol Tech's mission is to educate individuals for professional opportunities in cybersecurity, engineering, computer and information sciences, critical infrastructure, and business management, and to provide relevant learning experiences that lead to success in the evolving global community. Its nine core values include:
Quality – always striving for continuous improvement
Growth – expanding and changing to meet the needs of society
Leadership – offering creative, supportive, and shared leadership
Balance – maintaining a balance between competing needs
Integrity – being honest, ethical and open
Teamwork – exercising collective effort to support students and staff
Communications – providing timely and useful information
Flexibility – discovering and seizing opportunities
Safety – maintaining awareness and prevention of accidents and threats
At Capitol Tech, faculty and staff stay motivated because of their students. "We strive to provide them with the best support possible while they work on their rigorous programs," Dr. Sims says. "We take great pride in everything they accomplish."
Students and alumni never cease to amaze the faculty and staff at Capitol Tech, as they go on to do great things and become true innovators in their field – whether they are starting their own businesses, launching space telescopes, or catching cybercriminals. Dr. Sims calls their accomplishments "truly inspiring."
"Knowing that we can provide them a path to the career of their dreams and that they can become the voice of change in today's world is highly motivating for us," he adds.
Challenge during Pandemic
The education sector was among the hardest hit by the Covid-19 pandemic. Initially, Capitol Tech, too, struggled with providing in-person education. But, in March 2020, it was very successful in pivoting to all online instruction.   "In fact, our students commented that they enjoyed completing their group projects at a distance since it is much like the type of work they will do when completing projects with coworkers all over the world," Dr. Sims says.
A Long List of Achievements 
Capitol Tech has many achievements to its credit. ABET has accredited several of its programs, and the University is also accredited by the Middle States Commission on Higher Education. It is designated as a National Center of Academic Excellence in Information Assurance Education and Cyber Defense Education by the National Security Agency (NSA) and the Department of Homeland Security (DHS).
Dr. Sims points out that they also have long-term educational partnerships with NASA, and they are a partner of the National Cryptologic School (NCS). Capitol Tech's Bachelor of Science in Construction Safety is recognized as a Qualified Academic Program (QAP) by the Board of Certified Safety Professionals (BCSP), meeting the qualified credential requirement for the Certified Safety Professional (CSP) certification.
Washington Business Journal listed Capitol Tech among the Top Ten in Computer Science enrollment. And the University has gained every right to boast about its excellent placement rate. For the past 25 years, over 80 percent of graduating seniors have been employed in their chosen field, Dr. Sims says.
For three consecutive years, GI Jobs Magazine and Military Advanced Education identified Capitol Tech as a Military Friendly Designation. GetEducated.com, a consumer group that publishes online college rankings, has also identified 3 graduate degrees of Capitol Tech as Best Buys: Computer Science, Electrical Engineering, and Information Assurance (now Cybersecurity).
Capitol Tech also has many firsts to its credit. Its Bachelor of Science (BS) in Telecommunications Engineering Technology was first in the nation, while its Master of Science (MS) in Network Security and its Doctorate in Science (DSc) in Cybersecurity were among the first in the nation to be offered online. Dr. Sims also notes that their Master of Research (M.Res.) degree in Cyberpsychology is one of the first in the nation and their Cyberpsychology Dept. Chair and Professor, Dr. Mary Aiken, is a world-leading expert in the field.
Five Strategic Goals
Dr. Sims says that they have several strategic goals in place as an outline of future plans for the University, including:
Goal I – Expand Educational Offerings, Increase Program Completion – Capitol Tech will continue to offer career-relevant curricula with quality learning outcomes, expand educational offerings, increase completion rates, and raise learner qualifications and outcomes.
Goal II – Increase Enrollment and Institutional Awareness – Capitol Tech will accelerate its goal pursuit to become more globally renowned and locally active through student, faculty, and staff activities.
Goal III – Improve the Utilization of University Resources and Institutional Effectiveness while Expanding Revenue – Capitol Tech will likely continue to be 80% financially dependent on student tuition and fees. They plan to enhance their resources by expanding the range and amount of funding from other streams and aligning costs with strategic initiatives.
Goal IV – Increase the Number and Scope of Partnerships – Capitol Tech's service to their constituents and sources of financial viability both depend upon participation with continuing and new partner corporations, agencies, and schools.
Preparing Students with Real-World Experience 
Capitol Tech has been equipping students with real-world experience that can be applied to their job practices, which makes them the most marketable in their careers. Many of its students go on to work with NASA, General Dynamics, Lockheed Martin, and other leading technology companies.
"Capitol has given me the knowledge and skills to pursue my career goals in working with an investigative body like the FBI or a non-profit such as the National Center for Missing and Exploited Children," says Elliot Ownbey, a Bachelor of Science (BS) student in Cyber and Information Security at Capitol Tech.