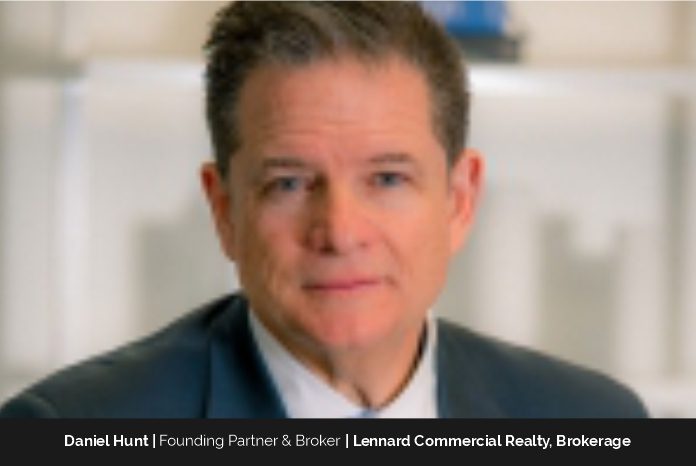 The real estate sector is one of the most globally recognized sectors and affects all sectors of the economy globally. The growth of this sector is well complemented by the growth in the corporate environment and the demand for office space as well as urban and semi-urban accommodation. The Canadian real estate industry is constantly surprising both buyers and sellers and only the strong and determined can stay afloat successfully in this competitive industry.
Lennard Commercial Realty is an independent Canadian commercial real estate brokerage offering a complete range of real estate services to occupants, tenants, owners, and investors in the office, retail, industrial, land, and multi-family sectors in Toronto and the GTA, and across Canada and North America. Dan Hunt, who is one of the Founding Partners and a Broker at Lennard states that the company is poised for ongoing business expansion, and the firm remains characterized by high performance and its special focus on putting people first.
The foundation and growth of Lennard Commercial Realty, Brokerage
Lennard was founded in 1980 by Gordon H. Lennard in Calgary, Alberta. After a remarkable career as a banker with CIBC, Gordon ventured into commercial real estate, establishing Lennard Corporation. Soon after its inception, the Toronto office was opened on June 29, 1983. On April 20, 1999, Jim Russell, Andy Baker, and Dan Hunt purchased the company from Gordon and Beth Lennard and created what is known today as Lennard Commercial Realty.
The three entrepreneurs dreamed of building a multi-disciplinary Canadian commercial real estate brokerage like no other. A brokerage:
with only high-performing, successful, and well-respected professionals
where agents "take home" more than at any other brokerage in the industry
with the best tools and support but without any corporate red tape
inspired by a culture that promotes freedom, collaboration, and work-life balance
Today, over 40 years later and with more than 150 employees in offices across Ontario, Lennard's entrepreneurial spirit thrives, and they continue to grow.
Lennard Commercial Realty, Brokerage, and its services
At Lennard, the foundation of their business is the strength and depth of their commercial real estate specialists. Dan notes that their brokers and real estate agents have extensive experience across the GTA and Canada and a thorough understanding of all commercial real estate markets.
"Lennard is an all-services commercial real estate brokerage and can fulfill our client's most complex requirements," says Dan. The services they provide to occupants, tenants, owners, and investors include – property search and selection, investment services, leasing, and commercial real estate consulting. Their agents specialize in all commercial asset classes including office, industrial, retail, land, and multi-family. This expertise also extends to data centers, medical and special-use properties like airports, marinas, resorts, hotels, and golf courses.
"You can rely on Lennard to have the experience, knowledge, and resources needed to meet the unique challenges of our client's transactions, and we ensure that we create an environment for our clients to make the most informed decision possible," Dan proudly states.
The vision at Lennard is to transform the commercial real estate industry by providing a collaborative, fun, and free environment that benefits their respective clients, employees, families, and the community. "I try to lead by example by showing the next generation of salespeople how it is possible to be very successful at your profession, be a positive influence on others and in our communities and maintain a healthy balanced lifestyle where the family is a priority," explains Dan who considers himself successful when he sees others at Lennard succeeding. He strongly believes that by making the success of their salespeople the primary goal, the company's success follows naturally. First come our clients, then our agents and employees, then the company.
Challenges are important to innovate and grow a successful business
Success for Dan is helping to run a profitable real estate brokerage that conducts itself with honesty and integrity, making meaningful contributions to the clients they serve, and nurturing high-quality balanced lives for everyone that works at the company. They have created a commercial real estate brokerage model like no other which benefits everyone involved.
"Lennard has been successfully growing in numbers and geographically – we opened two new offices this year, one in Ottawa, and another in Waterloo and we are gearing up to expand into other major cities across Canada, such as Vancouver, Montreal, and Calgary," Dan states.
Lennard created a new category in the brokerage industry. In the early years, they spent most of their efforts educating and convincing agents that a new system of the brokerage was possible and could be 'agent centric'. With the passage of time, they have been able to demonstrate that their model is superior and will allow their agents to grow their book of business while enjoying a unique remuneration package.
"Today, we are still the market leader in this new category, but the lessons learned to this point are still fresh and a key part of our philosophy. I think this makes us sharper and more responsive than our competitors," explains Dan.
Lennard's contribution in redefining the real estate industry
No one thought it was possible to create a full-service brokerage with Lennard's remuneration package. In conjunction with this, agents typically doubted the ability of a brokerage to create a positive and cooperative work environment. From day one, Lennard has worried more about the 'Who' and less about the 'When', which is a departure from their public market competitors, and from that perspective, the foundations of something truly unique were created.
Dan notes that by combining superior remuneration, incredible support, and an unparalleled peer group – all the pieces of a larger puzzle that all fit together strategically – Lennard created and continues to lead this new brokerage category.
At Lennard, they support a work‐life balance where each person's well‐being and family come first. It means so much to them that they have coined their own tagline for it: WORK TO LIVE! And Work to Live is one of their core values. Dan promotes this by leading by example. "Also, by staying challenged. Pushing yourself at work, at play, be it physically or mentally, is very healthy. I love to be challenged and I thrive on learning new things. We try to hire people with this same mindset," Dan states.
Dan's life before Lennard and responsibilities as a leader of a successful company
Dan considers himself to be extremely fortunate to start in the industry with Oxford Development Group in Toronto. He was able to see Don Love and Jon Love on the front lines of the industry. "Working directly for leaders such as Eric Wesling and Brent Chapman, I believe my experiences and training were both unique and invaluable," he says.
"I am pleased to also report that my partners today are the same two individuals that brought me to Lennard in 1990. I continue to run a very successful book of business and I thoroughly enjoy being on the front lines of our business. I think this direct perspective helps me continue to stay at the forefront of sales support and agents' needs. I start early and I think that is an advantage. I don't need much sleep! I balance my book and corporate responsibilities with ease," he states.
Corporately, Dan is always searching for pieces that fit together. As a group, he claims that they are stronger, aligned together, and unstoppable.
Lennard has grown from a single office with five people, to 5 offices and 150+ people. That growth makes them the largest independent commercial brokerage in Canada. They have built a superior mentorship program for those just coming into the industry, while also providing a superior home for senior agents to work their book of business with a complimentary peer group. Lennard has had a minimal turnover throughout the years which is a testament that we are doing something unique and executing it well.
Plans for the future of Lennard Commercial Realty, Brokerage
Dan sees an opportunity for Lennard's business model in several other Canadian provinces and selected US cities. He is quite convinced that they are at a place and time with a truly unique business model, with a marketplace ready and looking for an alternative like Lennard.
Dan states that he would like to focus exclusively on building this company to its fullest potential. He sees the next 5 years as being transformative. "I had a vision for a business in 1994. I trusted my judgment and began to execute the plan. If you have a vision and see a pathway, follow it!" he exclaims.