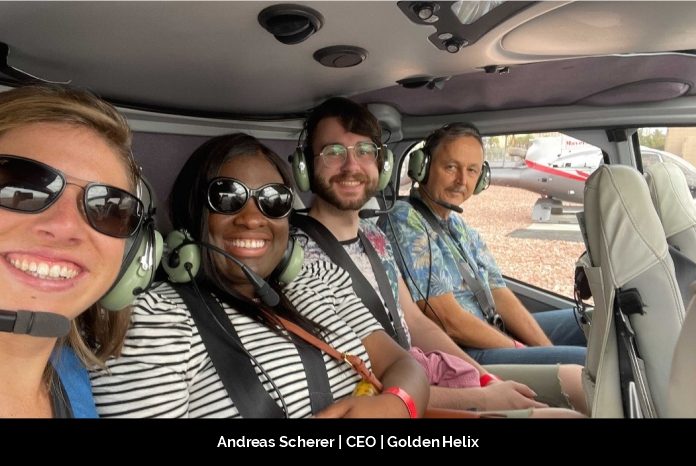 Golden Helix, a Montana-based global bioinformatics company, is laser-focused on providing innovative NGS analysis software to their customers. Founded in 1998, they have been at the forefront of the genomic revolution while empowering the world's top clinicians and researchers to derive meaning from their increasing volume of genetic data
Not only is Golden Helix recognized as a top biotech company worldwide, the Montana-based company is equally as dedicated to fostering a healthy workplace and supporting each of their employees. From competitive wages to comprehensive medical insurance to profit sharing and paid educational courses or the office favorite free lunch perk, internal growth and development make up the core of Golden Helix's work culture.
With extensive experience in establishing organizations and great leadership and management skills, Andreas Scherer, Ph.D., President and CEO of Golden Helix, is a proven change agent with a track record of jump-starting organizations. He's also known for working with Fortune 500 businesses and fast-growing private companies to help solve tough business issues. As the CEO, Dr. Scherer is responsible for the company's vision and strategy, as well as ensuring that shareholder expectations are met. On a day-to-day basis, he removes roadblocks and works to create a dynamic, enjoyable, and rewarding atmosphere.
A Workplace with Countless Benefits
Golden Helix's mission centers around a fantastic cause. Precision medicine is at the core of the company's efforts through its software that enables the healthcare industry to improve patient outcomes that can save and lengthen life. This gives every employee a fulfilling outlook on their day-to-day projects.
Along with the purpose of improving healthcare on a big scale, employees enjoy a high quality of life thanks in part to the location of company headquarters. The small town of Bozeman, Montana boasts proximity to Yellowstone National Park, world-class ski resorts, and blue-ribbon trout streams. In fact, Forbes Magazine referred to Bozeman as the gateway to mountain adventure. After a fulfilling day at work, employees head to the bike trails around town or to play in the company's rec-league soccer team.
And touching on work-life balance, every employee is equipped to work from the office or from home. Golden Helix provides them with dual setup of desks, monitors, chairs and anything else employees need to do their job well. This allows for a quick transition between the office to their home with one simple plug-in. "We found out during the pandemic that we could operate 100% virtually, if need be, and so now we allow our employees a high degree of flexibility," noted Dr. Scherer. This can make all the difference for employees with kids or other important obligations at home.
Along with fulfilling work, headquarters in an outdoor mecca, and remote flexibility, the company provides a comprehensive compensation package. Competitive salaries, semi-annual bonuses, company equity, 401(k) matching, profit sharing, and health insurance for the entire family include a few of those benefits. Then there's earned PTO for up to two weeks, two weeks of PTO in December and July, a local gym membership, catered daily lunch and paid educational courses help to draw the best in biotech.
Though most notable in any company is the office culture. Delaina Hawkins, Senior Director of Operations and Marketing, is focused on just that. "Our team is our most important asset, and we are very committed to making sure they are taken care," she said. "We are highly focused on creating a positive workplace culture to attract talent, drive team engagement, and create a large impact on happiness and satisfaction for our team so we can continue to maintain our position as a leading biotech company."
Committed to Integrity
Dr. Scherer cites a healthy team mentality as a precondition for positive work relationships and the ability to solve problems. The Golden Helix team has a chance to focus on their team dynamics with "quarterly meetings," which deviate pretty far from a classic boardroom environment. So far this year, the team took a snowmobile trip in West Yellowstone. Last fall, they all took a helicopter tour of the Grand Canyon. These experiences help to create positive morale within the company and its work environment.
According to Dr. Scherer, "There is more work to do than we can possibly deliver. We need to preserve a focused and stimulating environment that avoids burnout," he said.
The team at Golden Helix stays committed to integrity and follows a simple rule: Do what you say, say what you do. He believes that it's important that the team is clear about the company's goals and priorities and that they remain stable. This allows people to accomplish tasks without having to constantly multitask.
As the Director of Field Application Services, Darby Kammeraad notes the freedom and encouragement to explore possibilities within biotech. "Capturing and applying all the real-world genomic knowledge is an enticing value of the position. Many of our FAS' come from a background steeped in genetics in the research realm. This opportunity allows their profound knowledge to be applied and molded by the real-world application," he said.
Enhancing Impact on a Global Scale
As a biotech company, Golden Helix naturally strives to innovate. Gabe Rudy, Vice President of Product and Engineering works closely with customers to ensure the product grows to match their changing needs. "Our users are making a real difference in the lives of patients while pushing the bounds of clinical genomics. We maintain a high pace of innovation to stay on the cutting edge, while earning their trust as a partner by setting a very high bar for service and quality," he said.
To this end, Golden Helix operates with a cutting-edge quality management system that enables both iterative development and large-leap innovations. At the same time, the company follows a process designed to create a high-quality medical device that meets regulatory requirements. All aspects of the design and implementation go through an analysis to consider and mitigate potential risk to the patient. The cycle continues after each release, monitoring feedback and engaging advanced users as stakeholders in the next step of the product roadmap.
Prioritizing Customer Satisfaction
At Golden Helix, the team takes a straightforward approach to client satisfaction and management. It all begins with the group. According to Dr. Scherer, the team must ensure that everyone has the opportunity to develop and fulfill their professional and personal goals. This results in a laser-focused workplace that prioritizes consumers and maintains high customer satisfaction and retention rates while competing in a dynamic, inventive industry.
Dr. Scherer is also a firm believer in a lean, efficient company and delegates a wide range of tasks to his management team and empowers people. He mentions that everyone in the company has exposure to different aspects of the business, which encourages employees to leave their comfort zone and gain new skills and insights. "Ultimately, we want to provide an equally interesting and challenging learning environment that fosters growth on a personal and professional level," he said.
The company ethos involves believing in equity and promoting employees to join as stakeholders. This way when people walk through their office doors, they're not just employees but owners. This can be one of the most powerful, fundamental concepts that fosters strong and dynamic teams.
Growing Fast but Maintaining Values
Dr. Scherer defines success as all of Golden Helix's major stakeholders, including its employees, customers, and shareholders, feeling satisfied with the company's output in terms of work environment, product experience, and shareholder return. According to Dr. Scherer, "The management takes care of its employees. Our employees take care of our customers. Happy customers create shareholder value. In a way, this is a very simple answer to a very complex question."
For the third year in a row, Golden Helix has been listed on the Inc 5000 List of Fastest-Growing Private Companies. The company's achievements have been recognized by a number of publications, including Montana High Tech, Global Health & Pharma, and Medhealth Outlook, which named it one of the Top Biotech Companies in its field. The company has received multiple funds from the National Institute of Health for the development of its clinical analytics platform. This is just a small sample of Golden Helix's many accomplishments in recent years, but it demonstrates the team's success.
Dr. Scherer also remarked that the company is in the right place at the right time; the industry has the opportunity to double or triple its bottom line and impact in a short amount of time. "Now it's our time to enhance our footprint on a global basis. I can say with conviction that the entire Golden Helix team is behind that plan," he said.