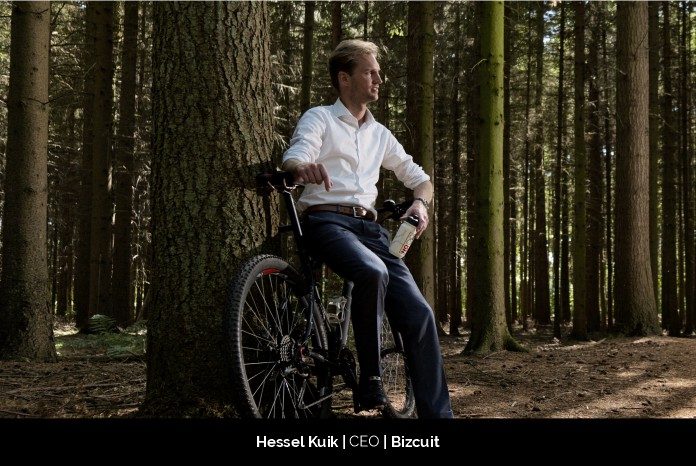 Hessel Kuik, Founder, Owner and CEO of Bizcuit, believes that success for every company, especially for SaaS companies, is to keep their customers happy. This is evidenced by customers acting as ambassadors for the product, referring to other customers at their own initiative.
He adds, "If your existing customers are your primary driver of growth, you can be truly proud of what you are achieving."
Journey to success
Working on projects and businesses that combine Finance and IT runs like a thread through Hessel's career. He studied Technology Management at The University of Groningen, started his career at ABN Amro, and then worked for consultancies Protiviti and Accenture. He grew up in corporate land and used everything he learned there in the SME domain.
He adds, "I experience daily that merging the best of these two worlds results in the best outcomes. Small businesses are much faster in decision making and execution, whereas larger companies often pay more attention to, for example, compliance and structured processes. Also, my experience with corporate thinking and politics makes it easier to do business with larger companies. I strongly believe the future for both larger and smaller companies lies in partnerships, which makes my past experience very valuable."
Before joining Minox and founding the Bizcuit Group, Hessel worked at Protiviti and Accenture. He has learned a lot about strategy, accounting, fintech, banking, and payments. All of this has proven to be invaluable in his current CEO role.
The Bizcuit Group consists of 4 companies (Minox, Bizcuit, Bizcuit Payments, and Fresh Flows) and 2 participations (Jonar and Klippa). All companies are early-stage SaaS companies.
The group started with Minox, an "almost-forty-year-old-fintech", founded in 1983. Minox delivers cloud accounting software to its customers in The Netherlands. The company and its products transformed from on-premise delivery to SaaS between 2015-2020, led by Hessel Kuik, who joined Minox in 2015 as CEO and completed a 100% management buy-out in 2017.
In 2016, in the early days of the Minox transformation, Hessel spotted the new European payment services directive, PSD2, as a major opportunity. According to this directive PSD2 license holders are allowed to connect to all European banks to retrieve bank transactions and initiate payments on behalf of their customers. Minox wanted to connect with the Dutch banks, make online payments more secure and boost innovation, but banks did not allow new entrants to their existing legacy integrations. Hessel recognized the potential of PSD2, not only as the solution to this challenge for Minox, but as an innovative opportunity in a much broader context.
With PSD2 as the key enabler, Kuik founded Bizcuit in January 2017, an innovative new proposition with the purpose of making the lives of entrepreneurs easier. Bizcuit was to become the entrepreneur's pocket knife, a super-app that brought together everything that's relevant to the entrepreneur, from freelancers to larger SME businesses. PSD2 was a key enabler for this new proposition. The concept was visionary, as the PSD2 legislation was not even implemented at the time – this happed early 2019. By then, Bizcuit had already built a complete PSD2-ready platform.
In 2019 Bizcuit Payments was founded to serve as the licensed payments service provider. End of 2019, Bizcuit Payments was granted the extensive PSD2 license, enabling the Bizcuit platform to bring PSD2-based account information services and payment initiation services to its customers.
After this, Kuik invested in Klippa (document processing technology) and Jonar (cloud ERP solution ParagonERP) to further ameliorate the services of the group.
Learning through the challenges
Kuik says, "Entrepreneurship is full of challenges. It is a lifestyle more than anything else."
While progressing forward, Hessel learned the value of having a solid team to create better results. He realized that doing everything alone is not going to take the company anywhere. Moreover, he learned surprises and setbacks are the part and parcel of the journey.
He adds, "Key ingredients of entrepreneurship are grit, commitment, calculated risk-taking, continuous learning, some luck, a bit of naivety, and a lot of optimism."
Overview of services of Bizcuit
Bizcuit brings together everything that's relevant to the entrepreneur. This ranges from supporting administrative tasks, such as receiving receipts and approving and paying invoices, to banking, monitoring cash flows, and paying salaries and taxes.
Bizcuit brings all of this together in one app in an integrated way. Entrepreneurs have all their documents, bank accounts, and payments in one place. The app can be linked to all banks and accounting systems, automating most of the processes and facilitating efficient collaboration with your bookkeeper.
Hessel mentions, "We have built all this ourselves. But what makes Bizcuit truly powerful are the features and integrations that we offer in the Bizcuit in-app marketplace through our partnerships. The availability of services in our own marketplace is growing rapidly. Soon, entrepreneurs will find all their financing and insurance solutions in Bizcuit, as well as find their mobility, HR, and legal needs met in Bizcuit."
Redefining payment processes harnessing the power of technology
For a bank, as a customer, you are either a consumer or a corporate. Only a few banks emphasize the SME segment where the SME gets tools to deliver documents to the accountant but gets limited value out of these tools for themselves. Bizcuit serves these SME customers by providing true added value from streamlining document management, banking, and payments in one app. By delivering integrated documents, bank transactions and payments in the core processes of an entrepreneur, integrating 3rd party solutions and services and exchanging data (with consent of the entrepreneur of course), all the processes become much more efficient. Bizcuit imparts insights and saves time.
Especially in the payments business, trust is crucial since payment service providers process sensitive information and facilitate payments. Values like integrity, security, and privacy are the pillars. Hessel says, "Many banks and fintechs see compliance as a burden on top of their service delivery. We have these values in our DNA, which makes compliance follow naturally as we do what is needed anyway."
Sharing his company's vision, he says, "Our ambition is to make Bizcuit the best entrepreneurs app in Europe. We aim to serve our customers and partners in the best way possible, giving back time and supporting better decision-making, enabling them to focus and run their businesses better."
Hessel's role in leading Bizcuit to success
As the CEO of Bizcuit, Hessel mainly concentrates on recruiting talent and learning. "Learning is required to shape and maintain our vision and to keep track of developments in tech and in the market. This way we know what we need to do. Recruitment is required to put those learnings in action. With great talent on board we get the vision executed the right way."
He shares, "A great team working on the right things and with the right partners is what defines success. My job is to orchestrate these dynamics." Thus, he spends most of his time talking to potential partners, both on the supply (features and integrations) and demand (new customers) side, and is recognized as the 'dot connector.'
Sharing his biggest feat, he says, "For me, the best recognition that I received as a business leader is when Bizcuit Payments was granted the PSD2 license by the Dutch Central Bank. I am extremely proud that we were one of the very first companies that have obtained the license."
Next to his role as CEO of the Bizcuit Group, Hessel is a non-executive board member of Holland Fintech – an industry group for, as the name implies, fintechs in Holland – and chairman and co-founder of the PSD2 Software Industry Group (PSD2SIG) – an industry group for PSD2 license holders in The Netherlands.
Balancing personal and professional fronts
Spending quality time with his family and on a mountainbike is his way of enjoying his life to the fullest. He states, "I work hard, but also pause for these quality moments. That's not always easy, given that there are always bumps in the road and new opportunities to pursue, but it's crucial to keep that balance."
Promising future plans
Hessel plans Bizcuit to become the #1 entrepreneur's app in Europe. Personally, he wants to continuously replace himself, transferring what he does to others in the companies so that others can grow by handling more responsibilities and pursue new challenges. This is crucial for his personal growth as well as the company's growth. "Basically I want to scale the companies up and myself down."