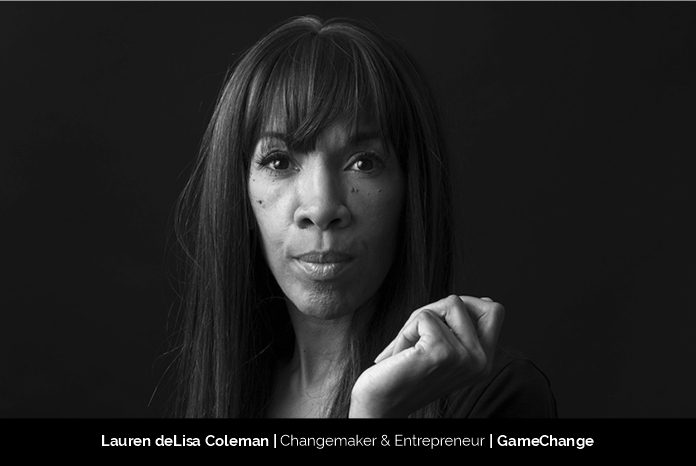 Status quo disruptor Lauren deLisa Coleman is not one to settle for things remaining stagnant. She has based her career on pushing the envelope to make the tech world more inclusive and culturally innovative.
Most recently, she's launched a mission that unites her passion for culture, future trends, and technology, resulting in a next-level approach to social impact. It's called GameChange, and it has its roots in the challenges and triumphs that occurred during which the Columbia University undergrad founded her first business, Punch Media Group.
With Punch Media Group, Coleman dove full force into the male-dominated hip-hop music industry as a public relations boss. She soon expanded the agency into an overall digital branding powerhouse and developed a reputation for creating tech-driven concepts. Coleman and her team worked on projects from Snoop Dogg, Ice Cube, Eminem, and a slew of others.
Despite her successes, Coleman has had to combat sexism and racial discrimination all along the way. She can trace the fight back to college.
Attending an Ivy League school didn't shield her from the harsh realities of racism.
There's one incident that is seared in her memory. She took a History of the City of New York class that included a midnight bike ride the class professor organized annually to actually see some of the historical sites discussed in class. When she couldn't keep up with the other bikers, two white senior males and one male of mixed race "adopted" her. They joked as they rode and looked out for her. A few days later she encountered them in the class for the first time. They had previously missed each other due to the massive size of the class. When one of the white males bumped into her, he said to her, "Oh, you really do go to school here. We thought you lived in Harlem and just heard about the event and decided to come along."
"I was crushed," said Coleman. "I realized then that it didn't matter how I presented myself, or even that I got in early decision and they did not, I was Black and female and not equal in their minds. From that moment, I knew this stemmed from preconceived notions about who gets to own intelligence and excellence in the eyes of even intelligent people.  It really was eye opening."
Coleman's experience in college carried through her career, even when building her own business, Punch Media. Always ahead of the trends, Coleman had been obsessed with tracking mobile phones as powerful media devices. Even back in 2000 she envisioned video snippets to promote projects on which she was working in her Paris office, only to be laughed at that such things would take decades before any interest would even develop. Undaunted, she kept tinkering. Fast forward to 2007 and major mobile telecommunications companies in the U.S. were trying to enter the arena as video content distributors. She saw a prime business opportunity for a Punch Media partnership. However, try as hard she might, Coleman found herself being locked out of the mainly white male tech domain.
"I was developing mobile content after learning how to code a bit and had created a solid team of partners. It was such an exciting opportunity for expansion not only of my business but for overall storytelling," recalls Coleman. But despite her solid pitches, she faced constant rejection even though she kept seeing white males land deal after deal in the sector no matter how wacky. Eventually the entire business model in the industry would be re-imagined. Indeed, both the traditional industries where Coleman garnered success began to shift, and the new ones were either not quite developed and/or unwelcoming.
"I eventually became a statistic that I actually didn't even realize at the time," says Coleman. Historically, Black entrepreneurs have been locked out of funding opportunities. It commonly takes longer for Black people, especially women, to obtain capital.
"I couldn't get support via deals, I couldn't get support via funding and actually had to even live back at home for a while," shared Coleman. "It was humiliating but I learned innate strengths and came back even stronger."
Indeed, the experience could have broken Coleman's ambitions, but instead, she re-evaluated. She took various courses online, read, researched, and went on to expand her journey to better understand herself and circumstances to that of the larger context of analyzing the intersection of emerging tech and overall popular culture. It soon gave way to her becoming a digi-cultural trend analyst, author, writer, and speaker all centered on deciphering this powerful intersection.
"I could have been satisfied there, but there was no way I could look at the future with both troubling as well as exciting trends and not actually do something about it, knowing, personally, how traumatizing it can be to not be included in breakthrough areas. So, I decided to do something about it," declared Coleman. "I want to make sure other women of color have a chance to contribute to the Pop Culture Innovation Economy and really thrive."
Coleman has channeled her mission into GameChange. GameChange is an edgy, new initiative led by Black women for all women of color that expands the TimesUp conversation to finally include our biggest focus which is that of economic justice and media innovation inclusion. Since Black women and women of color out-index in everything from media consumption to emerging tech adoption yet do not share nearly enough in equity of the Information Age, GameChange is on the scene as an unprecedented movement. It is a 501c3 non-profit with public awareness campaigns and hip programming: social events, demos showcase, leadership educations series, advocacy, and relationship-building opportunities across genders and ethnic backgrounds so that women of color can fully participate in what we call the Pop Culture Innovation economy — the intersection of emerging tech (AI, 5G, digital currency) and mass media/entertainment. Through GameChange women of color can help control the flow of information, influence and perspective in America and around the world.
"I knew in my heart the pre-stage of the 4th Industrial Revolution which now includes AI, 5G, digital currency, and blockchain was going to be massively powerful down the road. I've always been able to spot the impact of the future before it hits. So, I was super excited about this and knew my company had something to offer," she says. "No matter what I did, I could not be heard to pitch, partner, or try to align with celebrated names over months."
With early support from Mark Cuban, Tamra Simmons (Emmy-winning producer of "Surviving R. Kelly"), Goldman Sachs, Nielsen, and Microsoft, GameChange is building as a force with which to be reckoned.
Through a mix of media campaigns — the first entitled "The Genius of Black Women" featuring rap recording artists — programming, research, and content, Coleman intends to do all she can to tip the scale at least 15% in the next five years from the number of content women of color consume, to that which is more equitable in terms of leadership positions.
As if creating GameChange weren't enough, she is simultaneously working on launching her own AI startup VaporMedia at the very same time.
VaporMedia is the first-ever AI-driven media company. "It's such an exciting endeavor. It will be the first-ever company that leverages proprietary AI algorithms and original video to create the next level of social connection first in the U.S. and then territories around the world," explains Coleman, who penned an Amazon book entitled Best New Media Studies, "It's going to empower voice unlike any other platform out here. Everyone wants to be on the AI train. This gives investors that opportunity – but with an edge."
Coleman is currently cultivating advisors for VaporMedia (some of whom are soon-to-be-announced hip hop artists and producers). She is also developing the BETA, informing early-interest investors, planning a gritty go-to-market street approach, and identifying users.
Already, she has gathered a killer team, which consists of not only a former award-winning Universal Music Group exec but also a top AI whiz based in China. Together the three of us have a new take on AI and pop culture that also has not only a deep social impact component but also several different revenue streams. That's all I can say publicly for now, but it's going to be super powerful," she explains.
Coleman's plate seems full, but she's excited about how both GameChange and VaporMedia will change the tech landscape forever. Such innovation is the order of the day. And yet, we all have the capacity to make a difference. Lauren deLisa Coleman is about using that capacity along with innovation to make a difference in technology, in society, and in culture overall.  Just watch.