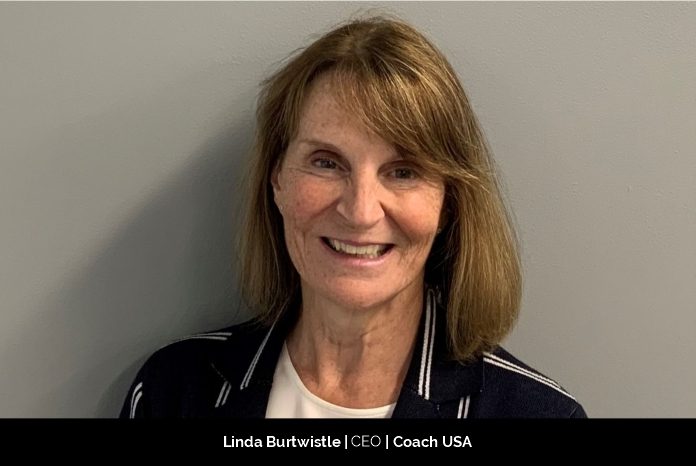 "There is a solution to every challenge – the key is to have a team that is knowledgeable, focused, committed and motivated to overcome that challenge," says Linda Burtwistle. She is the CEO of Coach USA.
Linda has been working in the transportation industry for over 25 years. She has a finance background, having worked in the UK bus business before first moving to the US 20 years ago and holding the post of CFO Coach USA. After a brief stint in the UK rail sector, she returned to the US to fill the roles of President of First Transit, President of First Student, and lastly, CEO of Coach USA since 2015.
Linda began her transportation career in the UK at a period when big transportation businesses were growing outside the borders of the country. This provided her with opportunities that were at times a leap of faith, but which she now recognizes as critical to her professional and personal development. She has now headed three of the largest transportation companies in the US, each with its unique set of opportunities and challenges, but she can honestly say she has enjoyed every minute of it.
"Our employees are the heart of our business and are the key to our success. Without them, we are nothing.
Linda is the CEO of Coach USA and is responsible for the company's short, medium, and long-term strategy formulation and implementation. She says, "I am fully supported in this by the entire Coach USA team."
Linda's days are filled with frequent meetings, dealing with ad hock issues as they emerge, supporting her staff, supporting industry initiatives, promoting the Coach USA brand and lobbying activities.
One word that can define Linda is 'determined'.
Coach USA, Inc.
Coach USA, Inc. is one of the major transportation firms in North America, with the highest safety compliance grade (Satisfactory) from the Federal Motor Carrier Safety Administration of the United States Department of Transportation.
Coach USA has one of the best-trained driving teams in the industry. In Elizabeth, New Jersey, it maintains a specialized centralized driver training school. Before starting in service, new drivers must complete at least 150 hours of classroom and behind-the-wheel training. Even individuals who already have a commercial driver's license must complete more than 90 hours of theory and practice. Regardless of the vehicle they will eventually drive, all drivers who graduate through the training school receive the same instruction, and the firm also employs state-of-the-art technology. The firm has specialized in retraining programs to guarantee that its high standards are maintained even after drivers have been certified.
Coach USA, based in Paramus, New Jersey, owns and operates 25 local companies in North America, some of which have been in operation for more than 75 years, and operates scheduled bus routes, contracts, charters and motor coach tours, as well as being the parent company of megabus.com and its intercity service.
Success that Allows Equal Participation
Aside from the obvious priorities of safety and financial performance, Linda's unique definition of success is to build a high-performing team in which each member contributes not just to their own area of expertise but also to the creation and execution of the company's overall plan.
Changing Technology and Trends  
Almost every aspect of the industry has been altered by technological advancements. The world has witnessed significant technological advancements in areas like as maintenance, safety, and ticketing, but the most significant shift is how technology has altered customer expectations. Customers now demand the same degree of innovation and convenience from all transportation service providers, as Amazon, Uber, and Apple have altered the way people go about their daily lives. Coach USA understands that its customers want their journey to be as simple as possible, so it has launched a new digital platform for its commuter and airport businesses that allows customers to purchase tickets, board its vehicles, and even track where their bus is via the Coach USA website and app.
Linda states, "Obviously growth is one of our key priorities. To stay ahead of the game, I believe we must keep questioning and challenging which revenue streams add most value and where our core strengths as a business lie. Play hard in the space where your strengths lie but continually challenge your norms. "
Going Green
Coach USA is committed to becoming an environmentally conscious organization. The group is working to make bus travel the finest and most environmentally friendly mode of transportation available. In the United States, it has decreased its carbon footprint (CO2 emissions per dollar of sales) by 37%, while in Canada; it has reduced its carbon footprint by 26%. This has been accomplished through initiatives aimed at increasing energy efficiency in its buildings, lowering carbon emissions from its fleet, and assisting consumers in obtaining greener transportation services. The American Bus Association named the company's megabus.com intercity bus service as the greenest operator in the bus business. Linda asserts that Coach USA has also invested in a hi-tech system called GreenRoad to cut the risk of accidents while reducing fuel consumption and carbon emissions.
If you have a strong safety culture embedded in your business, everything else will fall into place.
The core values of Coach USA
Coach USA's fundamental principles revolve around providing safe and dependable transportation to its customers, which is delivered with integrity and to the highest of standards by motivated, well-trained, and talented staff.
Coach USA's intercity service, Megabus.com takes great pride in offering top of the line customer service and has been awarded on Newsweek's list of America's Best Customer Service in the Transportation and Travel Bus Carriers category three years in a row. This prestigious award is presented by Newsweek and Statista Inc., the world-leading statistics portal and industry ranking provider. America's Best Customer Service brands were selected based on an independent survey from a vast sample of more than 25,000 U.S. customers who have either made purchases, used services, or gathered information about products or services in the past three years.
Additionally, Megabus.com was the first bus company to have our proactive efforts for safe travel approved by the World Travel and Tourism Council.
As per Linda, "We exist in a highly competitive, fragmented sector.  Our philosophy is never to stray from our core values and to strive for continuous improvement in everything we do to keep us ahead of our competition."
Managing in Unprecedented Times
Linda is an enthusiastic dressage rider and likes to keep fit.  She finds time to do those activities, whether early in the morning or late at night, to help her maintain a healthy balance that allows her to perform better at work.
Communication with workers and consumers has been more vital than ever before during the exceptional times that management has experienced over the previous 18 months. She says, "Our entire Coach USA team has performed above and beyond despite these difficult times, and I am so proud of them."
"There are no problems, only challenges, and there is always a solution."