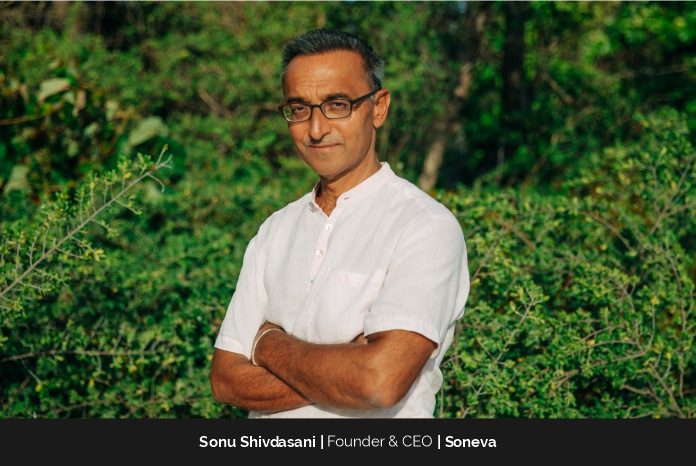 Sonu Shivdasani (born 1965) is an Indian-British hotelier and the founder and CEO (Guardian of the Culture) of Soneva, which operates the award-winning Soneva Fushi and Soneva Jani resorts in the Maldives and Soneva Kiri in Thailand. Sonu first visited the Maldives with Eva, his wife, in 1987 and fell in love with the place. He states that he had never seen anything quite like it. Eva, who had been going to the Maldives for modeling shoots in the late 1980s and early 1990s, loved the untouched, simple way of life. Together they decided they wanted to open a resort like no other, whilst ensuring they protect the environment.
"We believe that a company must have a clear purpose beyond turning a profit. It must serve and contribute to the society in which it operates and should not negatively impact the environment in which it is located," says Sonu.
"Fortune has its roots in disaster."
Sonu's personal definition of success is to continuously learn, enjoy what he does daily, and achieve a good balance between work and life. When it comes to the resorts, he and Eva are both owners and operators of the resorts, which allows them to ensure that they are very focused on their philosophy and enhancing that.
"We can evolve and innovate rapidly as the world changes. A visit to a Soneva will clearly show how different we are from any other luxury experience that exists in the markets where we operate," explains Sonu.
Eva and Sonu have been through many crises during their long careers. They have always operated on the basis that they have no control over the cards which they are dealt, but they have complete control over how they play the cards. Difficult times can bring out people's true character. One can either make good or bad from difficult events, and it depends very much on one's attitude and one's frame of mind.
Sonu finds the saying by Lao Tzu, "fortune has its roots in disaster" very inspiring and relevant, during crises. He truly believes that when facing roadblocks, the most important thing is that we do not lose our values and our humanity.
A luxurious island getaway in the turquoise waters of the Indian Ocean
Soneva is a name that has become synonymous with luxury. One simply thinks of Soneva and images of never-ending seascapes of turquoise waters and the feeling of having sand between your toes, pop up.
With climate change and its effects so apparent, the whole world is striving for real experiences. Living in the moment is everything everyone needs. This is exactly what Soneva strives to provide their guests on holiday. They don't want their guests to do the same thing they do at home – they want them to escape, to dream, to feel and they deliver exactly this.
At Soneva, guests are offered the ability to completely disconnect from their daily lives. They encourage their guests to walk barefoot, turn the Wi-Fi off in their villa and ignore the news. They invite them to immerse themselves in the beauty of the resorts, the experiences that they offer and, most importantly, to connect with each other. At Soneva, they are rich with learning experiences, whether it is at their observatory, learning to free dive, or snorkeling with their Marine Biologist. There are also learning opportunities from interesting visitors, whether it is an astronomer, glass artist, world champion athlete, famous author, Michelin-starred chef, winemaker or a Grand Slam tennis champion like Jonas Björkman.
Sonu states that SLOW LIFE is a guiding principle for all their employees, who are known as Hosts. It is their moral compass, as well as their operating compass. "Sustainability runs through our core and we always strive to limit the negative environmental impacts of our activities – which is both difficult, and yet critical, for a company which operates resorts in remote places of pristine natural beauty," he further explains.
Being a pioneer in the hospitality industry
Soneva has always endeavored to be a pioneer in the hospitality industry, whether it is opening some of the first spas in resorts in Asia, introducing private pools to villas, redefining the water villa with slides into the sea, introducing retractable roofs that open up the sky to the master bedroom, making 'barefoot luxury' a signature, a floating villa experience with the Soneva in Aqua ultra-luxury yacht, and their focus on sustainability and commitment to existing in harmony with their local, natural environment. This is in addition to complimentary ice cream and chocolate parlors, open-air bathrooms, observatories and private cinemas at all their resorts.
"We always continue to innovate, both reinforcing our existing concepts and creating new, unforgettable experiences for our guests," says Sonu.
From assisting in the family business to becoming a successful entrepreneur
A descendant of Indian parents, Sonu was born and educated largely in England, with some periods of his life also spent in Nigeria and Switzerland. He is an alumnus of Eton College and a graduate of Oxford University, where he studied an MA in English Literature – really nothing you would normally associate with a business or hotel career. During this time at Oxford, he met his Swedish wife, Eva, at the Monaco Grand Prix.
When Sonu and Eva met, he did not have clear career plans at that time. They first went to the Maldives when Sonu was in his second year of university. As he was graduating the next year, they decided that they wanted to develop a resort in the country, as they both fell in love with the untouched beauty and simple way of life in the Maldives. This became one of their life goals.
The first four years of Sonu's career were spent in Geneva working with the family business and assisting with some of the assets owned by the family. He did not have any hotel experience before starting Soneva. "In fact, an absence of hotel school, training, and experience has been the hallmark of some of the most successful visionary hoteliers," explains Sonu.
Sonu and Eva always wanted to develop a resort that would satisfy their desires for a dream destination for those who liked to travel in luxurious style, and they both had an overwhelming desire to protect the environment. They came across a lot of skepticism in their quest to build their dream. They also faced challenges to get funding for the construction. One of the reasons for this was that they refused to build hundreds of rooms and aim at the low-end mass market, which was the norm in the Maldives at that time. They did not want to offer a product that served tuna in tin cans and relied on volume. Instead, they opted to build a limited number of villas – 42 initially – despite being situated on one of the largest islands in the Maldives. Additionally, they built a spa, which was also unusual at that time. Today, you would be deemed crazy if you did not include a spa in resort development.
It took a good four years to raise the funding and construct the resort and, in 1995, they opened Soneva Fushi. Their focus on low volume, high quality, and high-end clientele was a conscious decision. They wanted to preserve the natural beauty of Maldives, and they needed to limit the number of people coming.
Sonu strongly believes that combining luxury and sustainability is the right business model and that, when done right, is the most successful. However, he had no idea that this intensely personal vision of a locally crafted villa and environmentally responsible lifestyle would form the basis of a successful collection of world-class resorts. But that's exactly what happened.
Soneva Fushi was the first castaway resort in the Maldives, pioneering a trend for back-to-nature luxury holidays. What they also did not realize was that their decision helped transform the Maldives from a three-star high-volume destination into the luxury destination it is today.
Day-to-day responsibilities as a CEO living close to nature and splendor
At Soneva, they move the clocks one hour ahead because they are located close to the equator. This act allows more of their guests to enjoy both the sunrise and the sunset, the two most beautiful times of the day. Sonu says that he is usually up at 6:30am with the sound of the birds. "We are blessed to be surrounded by such incredible wildlife and biodiversity. I read somewhere that birds tend to wake up half an hour before the sun rises as they are roused by the plants and trees emitting a high level of oxygen in the air," he states.
It's a lovely time in the morning. "I quickly brush my teeth and shave, take my morning supplements (a probiotic, a tonic that is good for stimulating gut bacteria, cod liver oil, and glutathione). Nowadays, if I am meeting people, I also take Andrographis Paniculata, a fantastic anti-viral that has been extremely successful in fighting the SARS virus, both the earlier version and more recently, COVID-19," says Sonu.
After his morning routine, Sonu sits on a sun lounger on the beach and looks through emails and messages that have come in overnight. At 8:00 am, it's either 40 minutes of yoga or an hour in the gym followed by 30 minutes of meditation. He is then ready to start his day with calls with his team and investors who work remotely all around the world. Then at night, he is usually in bed by 11pm so that he gets a good 7.5 hours of sleep.
To Sonu, staying motivated is about finding the right balance and growing with innovation and constant improvement. At Soneva, they are always trying to better their services, offerings and the pristine locations and communities that their resorts are surrounded by.
Plans for the future of Soneva
Over the coming months, Soneva have several exciting new launches, including new one-bedroom beach villas at Soneva Jani. They also recently unveiled their all-new family zone, The Den, at Soneva Jani.
Earlier this year, they partnered with Teamwork Arts to bring JLF to Soneva Fushi. Together, they brought over 30 authors and artists from all over the world to celebrate literature, music and art. Following its success, the event will return for its second edition from May 12-21, 2023.
Next year they will also be hosting a wellness festival, SOUL, which will be held over a ten-day period from September 29 to October 8, 2023, featuring some of the world's leading practitioners for a series of insightful talks, presentations, and specialist wellbeing offerings.