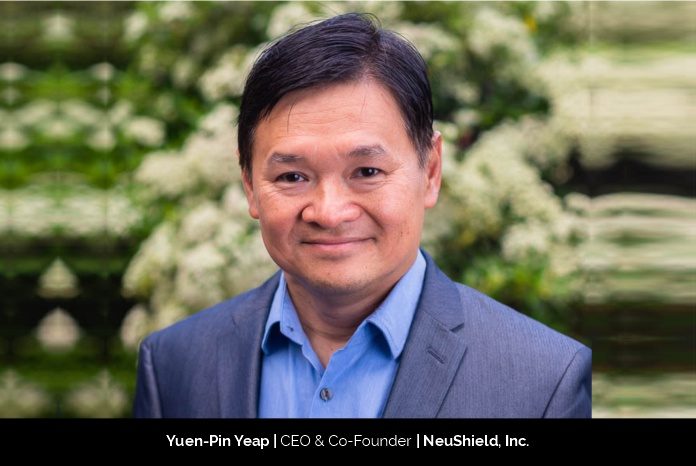 Success is defined as the accomplishment of an aim or purpose. For Yuen-Pin Yeap, CEO & Co-Founder of NeuShield. Inc, success is measured when he creates a product that makes a difference; and for the company the goal has always been to create a product that becomes ubiquitous that will eventually tame the ransomware pandemic. NeuShield provides a software product that not only helps defend against cyberthreats, but also is the only ransomware protection that recovers your lost data. Rather than trying to detect and block threats one-by-one, the company's patent-pending NeuShield Data Sentinel product shields important data to prevent threats from modifying it. This technology, called Mirror Shielding, allows instant recovery of data from any Fully UnDetectable (FUD) or zero-day threat without requiring updates or signatures. Revolutionary indeed!
Yuen-Pin Yeap believes that although there have been many breakthroughs over the years in the form of Next-Gen endpoint security, they are still various forms of detection and require constant updates. As good as current technologies are today, threats still seem to avoid detection at some point and infect systems. "The bad guys are equally tenacious and always come up with new ways to avoid being detected," he says. The notion of having a global "undo" button just popped up during a lunch with his co-worker at the time, Elisha Riedlinger, now NeuShield's COO. They both understood the difficult and costly battle of keeping up with the threat of ransomware as an endpoint security company. And so, the idea was hatched. "We knew that if we could provide a simple way for users to easily undo changes to the system and data files within a finite period, then we could get rid of the ransomware without the need to detect every single malicious file," he explains.
Complications & Blessings
NeuShield initially focused on the recovery capability of the product against ransomware. However, many customers were confused that this approach was too similar to a regular backup solution. By tuning the message to highlight the facts that endpoints protected by NeuShield can perform instant recovery in a fully self-contained manner, they successfully explained how and why their product allows the user to easily recover many infected machines remotely at the same time. Added to that in the early days of COVID lockdowns, many of their SMB customers were badly affected and everyone was scrambling to figure how to work remotely. This turned out to be a blessing for NeuShield as their product is designed to allow IT personnel to manage all the endpoints in the cloud. Yuen-Pin says that many of their customers find their product's ability to trigger instant recovery for their remote workers remotely convenient and a huge time saver as the users no longer have to bring the computer in to an on-premises facility for service.
Life Before & After Becoming a CEO
Prior to founding NeuShield, Yuen-Pin held positions as an early engineer, architect, engineering director, and vice president of engineering at early startups to top-tier cybersecurity companies such as Sygate Technologies, Symantec, Websense/Forcepoint, and SkyDRM.
As a CEO of a startup, he says that his initial responsibilities are making sure they have adequate funding and a good viable commercial product that does what it claims and does it well. "We are now at the phase where I am focusing on building up the customer base and revenue so that we can be self-sufficient and grow quickly," he states. Yuen-Pin recalls his proudest moment as that time when he managed to recruit the best endpoint security team in the Silicon Valley and founded NeuShield. "My team has an average of over 20+ years in producing endpoint security products and are all very excited to be able to build a new paradigm in the crowded endpoint security space," he proudly explains. They truly have proven themselves by building the patented Mirror Shielding technology, which is the only product that can recover ransomed files via deleting bad data rather than restoring or rolling back good data.
Work From Home Is Good
We are all be working from home since early 2020. The advantages are that we can spend more time with family, have meals together, even lunches. But that also means we work longer hours and Yuen-Pin says that it is common for him to work late hours to support customers on the other side of the pond. However, he does enjoy spending time with his family, and they often find time on weekends to do family activities such as walking around the neighborhood, or even a quick getaway to the beach.
The Roadmap of NeuShield
The eventual plan for NeuShield is to have a product that can protect the customer data from any mishap. They currently address the data integrity component of the CIA triad principle. In the very near future, they aim for their product to also cover the other components in the data security model. The company will also expand their offerings to cover more use cases for the enterprise.
NeuShield aims to be the first company that produces a product that successfully restores any data that ransomware destroys. "I want to see our product on every computer in the world," Yuen-Pin exclaims.