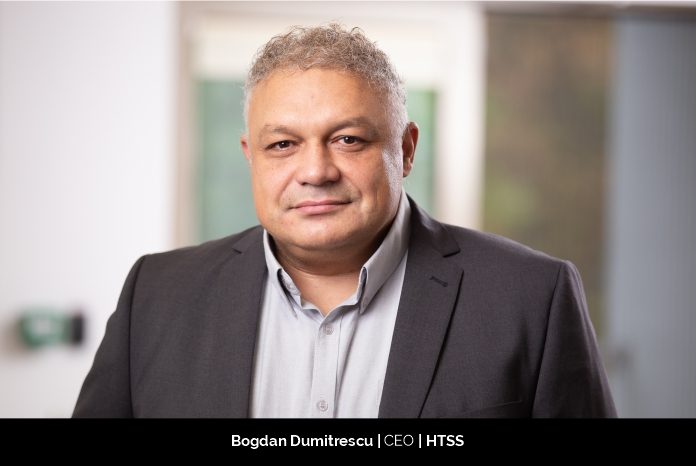 With over twenty-five years' experience in the ICT field, managing ICT activities as an executive director, project leader, business and information systems analyst, programmer, network and systems administrator, Bogdan Dumitrescu's business experience has developed in areas such as the healthcare sector, production, distribution, and retail. He has been the CEO of HTSS for the past 12 years.
Bogdan worked for multinational companies in Spain, the United Kingdom, Austria, Holland, the Czech Republic, and other countries, managing activities and resources and overseeing complex operational IT & C environments. His responsibilities included overseeing activities and resources serving complex operational ICT environments, as well as being accountable for deadlines and budgets.
As per Bogdan, being the CEO of HTSS, with a diverse portfolio mainly focused on software development, is a real challenge and pleasure to work for. He says, "In my role, I am up to date with the product evolution, and due to the fact that I trust our products, I have become able to promote and sell them across our markets, trying to sustain in this way the colleagues from sales."
Every day has enough differentiators in Bogdan's work, and he is supported by a solid team of specialists that make up the HTSS board. The Chief Officers have the responsibilities for Human Resources, Transformation, Finance & Controlling, Sales & Commercial, Marketing, and Technical, Retail and Finance.
HTSS
HTSS is a Romanian firm that specialises in software development. HTSS, which was founded in 2012 and focuses on innovation, has swiftly grown its client base. More than 1,000 clients, SMEs, and businesses from various spheres of operation, such as healthcare and retail, as well as logistics and finance, employ its services and solutions. The largest shares of revenue are represented by the development and implementation of software solutions dedicated to the healthcare and retail industries.
"For our company, being agile is the optimal choice in the context of digitalization and changes in the legal framework in the industries where we are present (like healthcare, utilities, banks, etc.)," says Bogdan.
HTSS experts always stay up to date on the latest breakthroughs in technology and medicine in order to create software solutions that are suited to the needs of its partners. The company's solutions are intended to assist clients in achieving their business objectives as well as provide their patients with the care they require.
HTSS has a department dedicated to product research and development that uses machine learning and artificial intelligence to assist clients in making the best business decisions.
Principals of Success
Bogdan thinks success is generated by attitude, good understanding of the stakeholders' needs, actions and deeds. For sure, most of the time, it is also about perseverance and consistency. He asserts, "The success of the company I am working for is a consequence of the value we are creating for our customers through the desired software solutions they need." He also Continuous learning and adaptability are required in all this process to achieve success and from his personal point of view, following a few principles was helpful:
Continuous improve my technical and soft skills
Assume the risks arise and be prepared to manage them
Be able to manage your time in the most optimized manner
Be proactive and take initiative
Love for New Technologies
Bogdan enjoys technology, and in order to stay current, he tries to keep up with the most significant advancements in this field. He is interested in electronics, automation, and programming. He has been programming since he was a child. He says, "I knew somehow what my career-path would be."
Now, after almost 25 years of experience in ICT, Bogdan still feels amazed at how fast technology is advancing and how this is changing the entire world through digitization. "I was acting in the customer teams and now I changed to the technology providers, having learned a few lessons throughout my life," he says.
ICT, in Bogdan's opinion, is about more than just technology. It's also about collaborating with others to create something valuable (a technology product or software) for someone else in the market. It's also about being innovative, working in teams, utilizing technology, experimenting, and adapting to become one of the top alternatives in the market.
Constant Learning Makes Growth Possible
It was critical for Bogdan to gain as much experience as possible when he first started his profession. He should learn from his peers as well as his professors. Try to be honest and, on the other hand, be prepared to take responsibility. "Wasn't always easy and was putting me in discomfort a lot of the time," he recalls. He further adds, "No matter what you are doing, you will not know everything, so it is reasonable to stay humble, show your abilities when is needed, and be ready to share your experiences and work with others."
"People in our world are better and better connected," says Bogdan. "Therefore, we shall socialise and be prepared to adopt the new technology for doing this. Human relationships are very important in a more and more digitalized world."
In HTSS, Bogdan was always near his colleagues when they had to launch a new solution, a new activity, respond to a new challenge, or build something new. In all these activities, for Bogdan, the one constant is: "I have the chance to work with a team of real professionals and a team of technically creative people."
Bogdan has been a part of the HTSS company transformation for all of these years, and he has grown professionally with his colleagues. He and his team have been able to transform the entire organization they work for into an agile and product-centric company with over 400 employees and the ambition to grow to 600 in the next 2-3 years.
"At the end, we are all proud of our results, and for me, that is a great achievement and recognition," says Bogdan.
Bogdan wants to see the HTSS team reach its full potential by ensuring that his coworkers have a career path that suits their goals. The corporation runs an IT academy, which it uses mostly for internal purposes to develop its workforce.
Integrated System Solutions
HTSS is developing an integrated ecosystem of healthcare software solutions that will be ready to adapt to the industry's requirements and problems. The team is always learning from its partners' experiences and is up to date on the newest software development trends. HTSS is more than simply another ICT firm; it has a thorough grasp of the healthcare system's activities and operations.
"With our products, we aim to simplify the work processes of healthcare providers and improve the services they offer," says Bogdan.
Appreciating Personal and Professional Lives
Bogdan sees work-life-balance as an extremely debated concept, especially in these times of crisis and when working partially from home. He personally sees that the two environments cannot be separated, they are a whole. He says, "You have to take care to be happy some hours working and remain happy going home to your family." He also believes that it is extremely important to enjoy what you are doing, to feel that you are learning new things and growing with every task you do. He asserts, "All of us, certainly need time for our inner selves, and the way we divide it keeps our personal and professional lives in balance."
HTSS has come to the rescue of employees and implemented a flexible schedule that involves the distribution of 8 hours of work according to a discretionary model.
Planning to Deliver Cloud and SaaS Solutions in Future
In Bogdan's 12 years in business, he and his firm have helped a wide spectrum of businesses by delivering high-quality services and software solutions more effectively and quickly than HTSS's competitors and they want to continue doing so. In the next few months, the firm also plans to work with numerous players in Northern Europe, where it has recognized substantial expansion prospects.
HTSS management has ambitious intentions to spend more on new solutions and significantly expand the company's international footprint, which should improve the company's market share.
HTSS already has clients in 11 Western and Central European nations, and the team hopes to collaborate with a variety of players in Northern Europe in the future, where the firm sees genuine prospects for growth.
To achieve this aim, HTSS is putting a lot of effort into increasing its teams and providing high-quality training for its employees, so that the company can increase its presence in each new area it enters. "In this expansion, we are looking to deliver cloud and SaaS (software as a service) solutions," says Bogdan.
Lead with Passion and Curiosity
Bogdan finds it difficult to send a message to any other business leaders. He observes that each business and each company has its own life. "My way of doing this is to decompose the complex problems into smaller ones and tries to solve them one by one," says Bogdan. "Making experiments and learning from these, adapting and working committed to achieving our strategic goals." Bogdan further adds that this is an exercise for the entire company and not for one person, no matter what their position may be inside the company. "Alignment is needed at all levels in the company, and all employees shall have clear objectives to be achieved in the short and long term view and then have a similar model to analyze their results."
Passion and curiosity, according to Bogdan, are essential for each new endeavor. He emphasizes the need for gathering and verifying knowledge from a variety of sources, asking questions, seeking advice, meeting as many new people as possible, and never ceasing to learn and accept responsibilities.