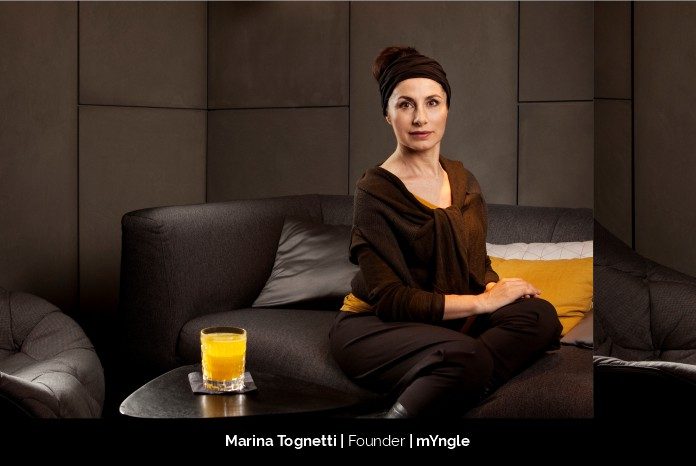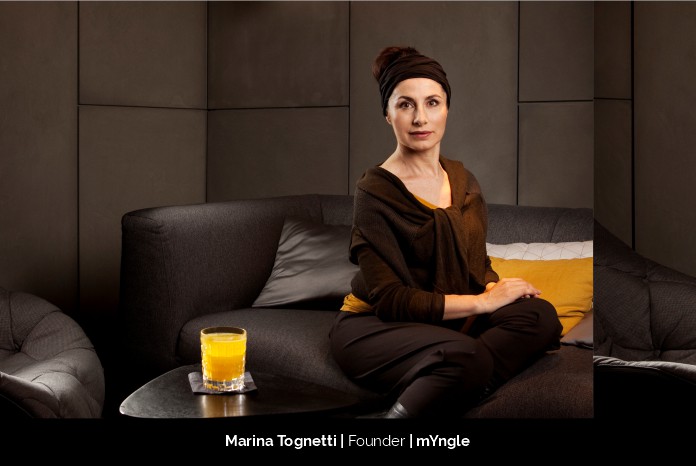 Marina Tognetti is the Founder and CEO of mYngle, the leading online multi-language school, amongst the first global players to deliver one-on-one tutoring of all languages over the internet. Having lived in numerous countries and speaking 6 languages herself, she knows first-hand the difficulties you face when learning a new language and culture, which is why she came up with the idea to start mYngle.
Marina has built the company on strong values that are customer-centric and is committed to deliver excellent services with passion and innovation. As an entrepreneur herself, Marina encourages entrepreneurship where every employee of mYngle is encouraged to acts like an owner to help them live up to their full potential. Diversity is another important element that permeates the work environment of mYngle. These incredible values define Marina Tognetti as a successful leader who not only achieved a mark of excellence in her professional journey, but also paved the way for her employees to follow. We are glad to share her wonderful journey with all our patrons.
➢ Did you always dream of becoming an entrepreneur? Tell us, what inspired the foundation of mYngle?
I like challenges, in everything I do. Entrepreneurship, especially in tech, allows you to look far ahead, innovate, change traditional business models, and disrupt industries. However, the passion for entrepreneurship came later in my career. It was when working as a consultant on a project on the internet strategy that I first saw the potential of the internet to disrupt entire industries and change forever the way we buy/sell/interact. I had to be part of that! That was the driver element for me to start an innovative company as mYngle, as I knew I could make a real difference, putting in practice all I had learned in my career till then.
The initial idea came from my own personal needs. Like many people back then, I was looking at China for opportunities. The first step was learning Mandarin. But finding a way to learn the language was not easy for me as a busy manager. I tried everything: an evening school, CDs/ DVDs, a Dutch teacher trying to teach Mandarin, a Chinese student that could not teach… I got quite frustrated. If I were living in China- I thought- I could easily find a good teacher! That was when the idea hit me: there are thousands of teachers all over the world, I just needed to use the power of the internet to connect teachers with students. This is how mYngle was born. And languages were something I was passionately keen on!
➢ Setbacks are a part of every growing business. Tell us about a few roadblocks and learning lessons that helped you and the company grow through the years?
The biggest challenge was when we had to 'pivot' from the initial business model to a completely different one, which is the mYngle we are now. We had launched mYngle as a marketplace, something I knew very well from my previous eBay experience. We thought we got it all: funding, lots of Awards and PR, a very motivated team. But something in the business model was not working as we expected. We listened to our customers and they gave us the new direction, from an open marketplace to a quality global online school. That brought us to a ''different place'' where companies more than consumers were interested in the service we were offering. The second 'pivot' was from B2C to B2B. That is the mYngle that you see now. My biggest lesson here was that "Change is an essential part of being entrepreneur." That was the key to success of mYngle. Success as an entrepreneur is in fact not a straight line. It is how you deal with uncertainty and change that set you apart.
➢ Explain the products and services of mYngle in brief.
mYngle offers customized language training programs through video conferencing in 45 different languages anytime, anywhere. Our lessons are one-on-one, with highly qualified native coaches and related to the learner's job-position. Our virtual classrooms enable learners to take classes 24/7.
mYngle is the solution for busy professionals who need language training to be successful in their international business, and for Companies that want great learning results and a transparent and controllable learning process to make their investment a success.
Our lessons score is 4.8 out of 5.0, so results speak for themselves. Having satisfied customers!
You can see how it works: www.myngle.com
➢ How has the client's response been since you first started? Tell us about an exceptional client feedback mYngle has received that keeps motivating you to do your best.
The best recognitions are always those that come from customers. Our students are very satisfied with our service, with average lessons' scores of 4.9/5.0. Results speak for themselves!
This is also reflected in a very high satisfaction of the corporate clients overall, with very high retention. 9 of the Top 10 clients have been doing business with us for over 4 years. Our first corporate client is still with us! This is for me the best feedback you can receive from your clients!
➢ As a pioneer in online language lessons, how has mYngle contributed in changing the landscape of online training?
The (language) training market was already in the transition from offline to online, and we were part of that. Now even more, as COVID-19 is fast-tracking the shift to online education. In this age of quarantine, social distancing and remote working fast-tracked the trend, online education in many cases becomes the only possible way of learning. In response to this increase in demand for online training, many traditional offline players have been rushing to find a quick fix, moving their existing solutions online. Good remote training, however, is not just a matter of adding a tech solution for the virtual classroom and moving a teacher from a physical classroom to a computer, but it requires a whole new set of expertise and capabilities different from those of offline education. The way the training is delivered, the teaching, the content, the interaction etc., all need to change to provide a good user experience. mYngle was one of the pioneers in live online (language) training, so now that we are at the crossroads, we can benefit from many years of experience and proven capabilities to deliver successful online training.
➢ Tell us about your vision for the company.
Our mission is to bring high quality language education to learners in any part of the world. In mYngle we are paranoid about customer satisfaction, which is also one of our key strengths. We never compromise on quality- of teachers, content, tools- which brought us to be recognized in the industry as a provider of high value services with very satisfied customers. And we look to continuously improve by constantly listening to users' feedback. This is particularly important when you are in an industry that, like that of online education, is in a transition or evolution phase, where the main challenge is not competition but the customers' unawareness or inexperience. This is also reflected in our internal evaluation systems and how we assess our job. We constantly monitor our users' reactions and try to adjust accordingly, using adapted versions of NPS (Net Promoter Score), which defines that only excellence counts.
➢ As a businesswoman what marked the beginning of your career? What do you regard as your greatest achievements?
My career did not start with entrepreneurship as the dream or direction ahead, but with the more typical highflyer corporate career. When I graduated from University it was in fact an era when entrepreneurship was not very common for academics.  First I built a successful career at large multinationals, Procter & Gamble, Philips, Sara Lee, The Boston Consulting Group and eBay; living and working in different Countries and got an MBA from INSEAD.
With regard to my greatest achievements, the entrepreneurship journey! Building a business from scratch is always challenging, building a tech start-up disrupting an industry as traditional as that of education, is exponentially more challenging (especially more than 10 years ago, when we started). There are all sorts of resistance – those of a still immature market- that you must bypass: from the stereotypes that consumers have in their minds to the (conservative) opinions of people around you. Now online language education is setting the standards in terms of quality and flexibility. And we have been part of that. This has been for me the greatest professional achievement to date. For these reasons, mYngle has also won numerous awards in recognition of its contribution to online education. Immediately at the start (2008): Accenture Innovation Award, European Ventures Summit Award, Benelux Venture Summit Award, and more even later. I also received numerous awards as a founder and CEO of Myngle, such as 50 Most Inspiring Women Tech Leaders in Europe, 50 Most Inspiring Women in Dutch Technology Sector, Iconic Women Creating a Better World for All, and many others.
➢ As the CEO of mYngle, what are your major roles and responsibilities? Also tell us what inspires you and your employees every day
My role is primarily to develop the long-term vision and drive the company towards it, foster the company culture and values, guide and align the team, represent mYngle in the outside world, our investors and all stakeholders, and with the education industry in general.
What inspires me and my team most is the vision, and sharing it throughout the organization, as well as our entrepreneurship drive. In mYngle we stimulate a culture of experimentation and allowing mistakes. Innovation cannot exist in a culture of fear of consequences. We try to develop people who think and not only do ''jobs''. We look in our staff for entrepreneurs, people who do not keep the status quo, but push themselves beyond their comfort zone. If you try ten new things, some will fail, some will be OK, and one will make a difference. We are looking for that ''special one''.
➢ How do you manage to maintain a balance in your personal and professional life? What is your message to the aspiring businesswomen?
I know that the 80 hours' week cannot hold forever. That is what many entrepreneurs do, especially at the beginning or when they go through difficult periods. But I learned that it is especially in periods of challenges that you must find the energy and motivation to keep on pushing forward. To keep the balance, I mix time for mYngle with lots of sports and time for myself. I know that my being happy and in balance gives my company the right leader able to drive it in the most difficult situations. Probably the most important advice I can give to aspiring businesswomen is to stop comparing. The stories you read about the few that ''got it all'' are rare exceptions and often not the full truth. Women often tend to do injustice to themselves… If we are not 100%, we are not good enough. Comparing does not help and can only makes you feel insecure. Also, what you often see of others is just the surface, there is often more to it that you do not see. Stop all that. Stop trying to imitate types of leadership you see around but which are not you and be true to yourself. Do not look around for answers, look inside.
➢ What does the roadmap of mYngle look like, for the future? What are your goals for the next few years and how does mYngle plan to extend its services, globally?
The future challenge for mYngle will be in keeping on innovating and being ahead while the market is moving from early stage to a more mature one. It is a critical transitional phase, when it is easy to rest on what has been achieved and ignore new signals. Moreover, COVID-19 has completely changed the world as we know it, causing major disruption to many businesses.
While many of the traditional offline players have been challenged by this sudden shift, mYngle was already in the 'right place'', as our solution was already remote. We built on many years of experience and know that migrating from existing classroom training programs to digital is not just the mere application of existing technology solutions. Rather, it requires a more fundamental rethinking of the total learning experience, from trainers to content, to the blended form. We will keep on improving this while aligning to this growing market trend.
Marina and her team have built a successful company that can face and navigate any challenges along the way. Marina is a responsible leader who cares about the growth of her company hence part of her vision is also to let her people know that their work matters and makes a difference in the success of mYngle. She ensures that everybody has an important role in mYngle, no matter the level.