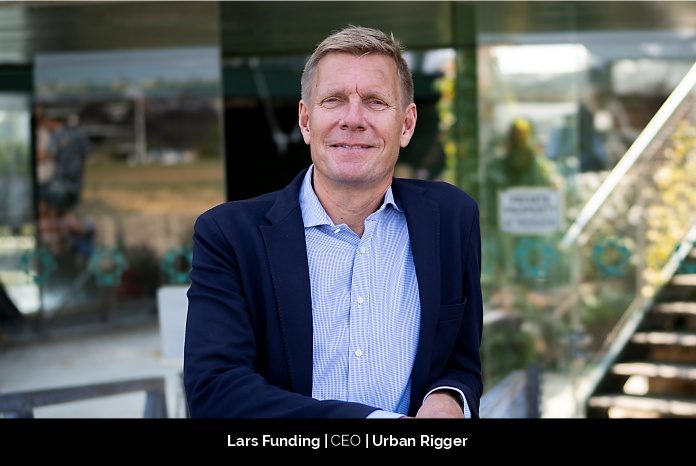 Tapping into his vast experience, Lars Funding, CEO of Urban Rigger, is revamping the construction industry. Having worked with different companies has allowed him to widen his skill set, which he uses to deploy successful strategies and deliver outstanding business results.
Rise of a seasoned leader
Lars has spent a great deal of his time living abroad and particularly in shipping ports and onboard vessels. Besides this, he has a passion for real estate and refurbishment, which he has been doing as a hobby for the past 20 years.
For 25+ years, he held senior positions within the container shipping industry. He got the privilege to work with some impressive leaders that had a great impact on the industry. The goals for those companies at that stage were, however, mostly related to monetary measures.
After spending many years in the corporate world in 3 of the biggest container shipping lines in the world, Lars was ready for a new challenge. As the world entered a critical stage with several important issues to be addressed like climate change, Lars wanted to be a part of bringing change and doing things differently. He was especially inspired by the launch of the United Nations Sustainable development goals. He adds, "I started to look for companies I could assist, either as a non-executive Board member or play a more active role, where I knew I would be able to make an impact. Thus, it was not a difficult decision when I was offered a job in the innovative start-up, Urban Rigger. The main focus of Urban Rigger is setting a carbon-neutral footprint while focusing on solving the housing shortage by using the space and features provided by the bodies of water in the big cities around the world. It was perfect as I could use my experience building strong companies ready for growth whilst aligning with a passion of mine."
Adding sharp arrows to his quiver
Lars worked in a Danish company for several years, which molded his perspective with very strong Danish values and culture. While climbing the ladder of success, he went through different challenges, and he learned key lessons through them. He realized the importance of understanding the culture and values of the company before joining it and the value of a solid network.
He even witnessed that politics and bureaucracy delay the crucial decision-making process, which in result kills initiative and innovation and slows down success. So, now he aims to reduce politics and bureaucracy wherever he works and distributes the decision-making process across the organization instead of keeping it centralized.
Bringing groundbreaking solutions with Urban Rigger
Lars mentions, "At Urban Rigger, we will assist in solving the housing crisis by building housing communities on water."
Urban Rigger is living on water, not on land. The houses are built on a floating concrete hull. They call them a rigger after the word full rigger, which is a ship. Their floating houses are also a ship, in fact, a barge and registered as such in the Danish ship register. They are bringing life to former industrial areas before the areas are ready to develop buildings on the land. Every Urban Rigger is a small floating community with 12-18 apartments.  The riggers can be used for many different purposes like housing, retail, hotel, offices, etc. The riggers can all be connected and made up into a floating village.
They can be placed everywhere where there is water. They generate heat from the seawater and have solar panels on the roof, and work hard to minimize CO2 emission, which has a negative environmental impact. Our goal is to be CO2 negative as soon as technically possible.
Innovation at Core
Driven by smart innovation, the riggers were designed by the world's famous architect Bjarke Ingels (BIG). While at BIG, their innovation ideation is pretty unique, this is why Urban Rigger also adopted it. Explaining it more, he shares, "Ideas can come from anyone in the company, as we need to constantly be thinking innovatively in an ever-changing technological society. Change is the only constant."
To bring a huge change requires the setting of a long-term company vision. Lars outlines the company vision, "We believe sustainable floating houses and villages on the water could be one of the solutions for the recent floods, rising sea levels, extreme weather conditions, housing shortage, and the overheated housing market. In order to make this dream come true, we want to see our floating communities all over the world. We work with real estate companies, politicians, and other stakeholders in order to make it happen."
A Persistent Entrepreneur
As the CEO and board member of Urban Rigger, Lars is bringing a huge metamorphosis into the company from a technical point to become more client-focused and commercial. From rebranding the company's services to landing on new projects, they display a 'never-give-up' attitude and work closely with the shareholders and other main partners.
Stating his biggest accomplishment, he says, "When the Maersk acquisition of Sealand (American shipping line) in late 1999 and beginning of 2000 was taking place, Sealand had a Shared Service Center in Cork Ireland and all staff had been terminated. Unfortunately, they were responsible for all working capital in Europe, and I was made in charge of getting the Centre organized and motivate the staff to work and recover a working capital of several million euros, and we ended up with a write-off of less than 1%."
Ever since Lars stepped into the work domain, he always defined his job as one of his hobbies. Thus, wearing the entrepreneur's shoes, he spends more time on his work hobby. Currently, he resides in Copenhagen. However, he also owns another home on a small island in Denmark with beautiful nature and a slower pace than the capital. He loves to run, sail and enjoy other outdoor activities.
To keep his motivation levels heightened, he always tries to surround himself with people who possess a can-do mindset and who can add strong competencies. For keeping his staff happy, he imparts them maximum freedom as long as the tasks are completed on time. They also stay motivated together by celebrating progress as often as they can.
Charting a better tomorrow
Urban Rigger holds a bright future ahead since it aims to develop the world's largest and most sustainable floating village in Copenhagen. They even have plans to place 1000 riggers across the world in the coming 10 years. It will be the beginning step as after this, more than 18,000 homes will be developed with a rental payment system that most people can pay without any hassle.
His best advice for all aspiring leaders involves surrounding yourself with good competent people that exhibit a can-do mindset. Give your people maximum trust and remember to celebrate every tiny and big accomplishment.